Chimichangas have got to be in my top favorite foods. They are so full of flavor and texture, and everything you could ever want in a food. I love these Baked Shredded Beef Chimichangas because they are healthier, easy, require minimal ingredients, and come together in minutes.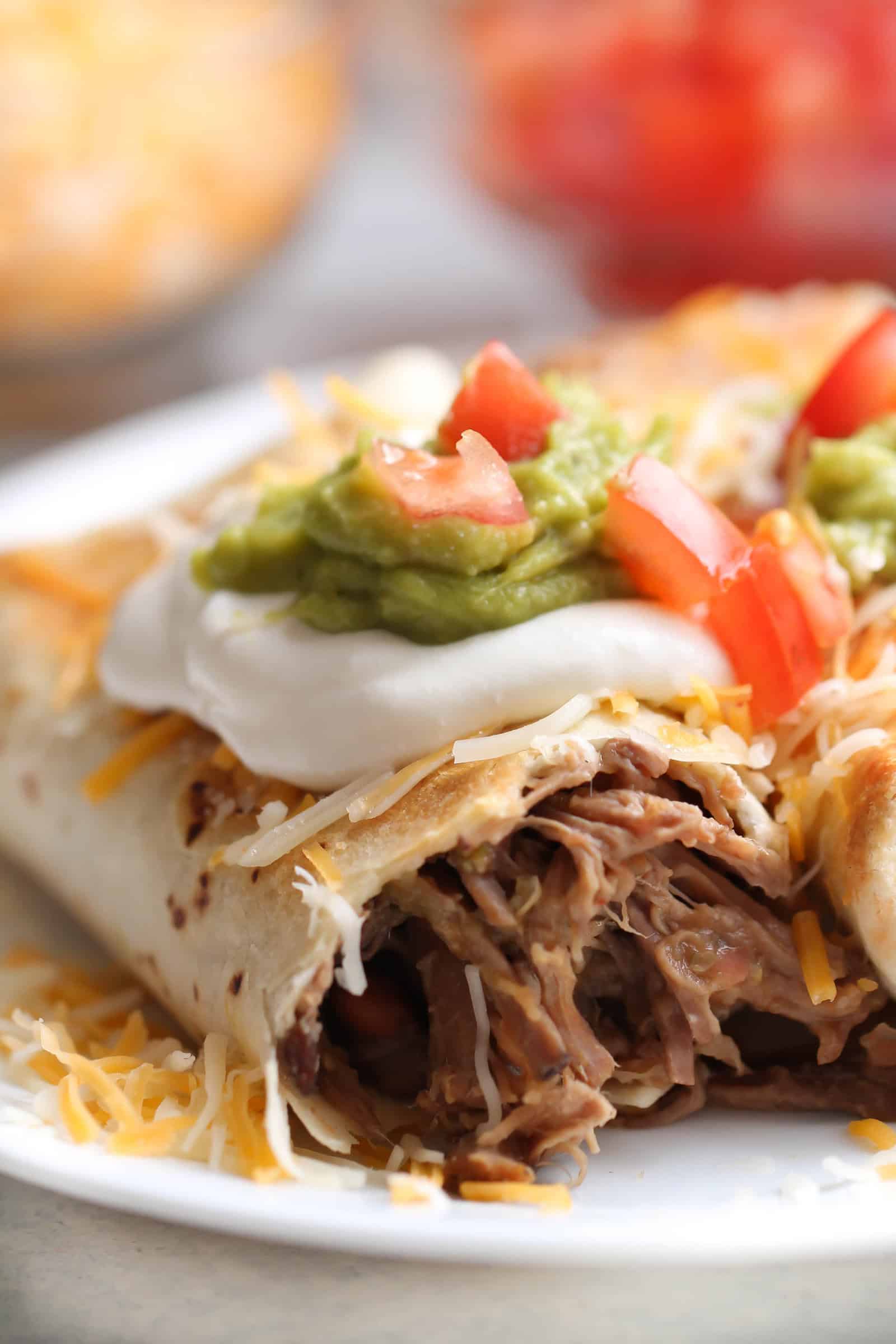 You will love how easy and delicious these Baked Shredded Beef Chimichangas are to make.
We used the leftover roast beef from our Sunday dinner and it was amazing.
They are full of flavor, texture, and you don't feel building eating them, because they are baked and not deep fried.
If you have never tried a chimichanga, they are usually pretty heavy and can leave you feeling a little sick after, but these are healthy, filling, and taste just as good, if not better, than an authentic chimichanga.
How to make Baked Shredded Beef Chimichangas:
Step 1: In a medium sized mixing bowl add the cooked beef, salsa verde, and refried beans. Stir together. If you are looking for a good beef recipe to use for these, check out our Slow Cooker Roast Beef recipe.
Step 2: Spread 1/2 cup of the beef filling down the center of the tortilla.
Step 3: Fold each tortilla into a rectangular packet around the filling and place folded side down in a 9 x 13 inch dish.
I sprayed my pan with non-stick cooking spray, just in case any sauce or cheese fell onto the pan, it would be easy to clean off. Spraying it is totally optional.
Step 4: Spray each tortilla generously with nonstick cooking spray and bake for 15 minutes at 350 degrees.
This will make the chimichanga crunchy and add a little more texture to the tortilla. It creates the perfect amount of crunch.
Step 5: Then turn over and cook for another 15 minutes.
Step 6: Top with cheese, tomatoes, sour cream, guacamole, and salsa.
Could this recipe get any more EASY than that?
Four ingredients, then all your favorite toppings and you've got dinner.
Related Recipe: Try our Baked Sweet Pork Chimichangas!