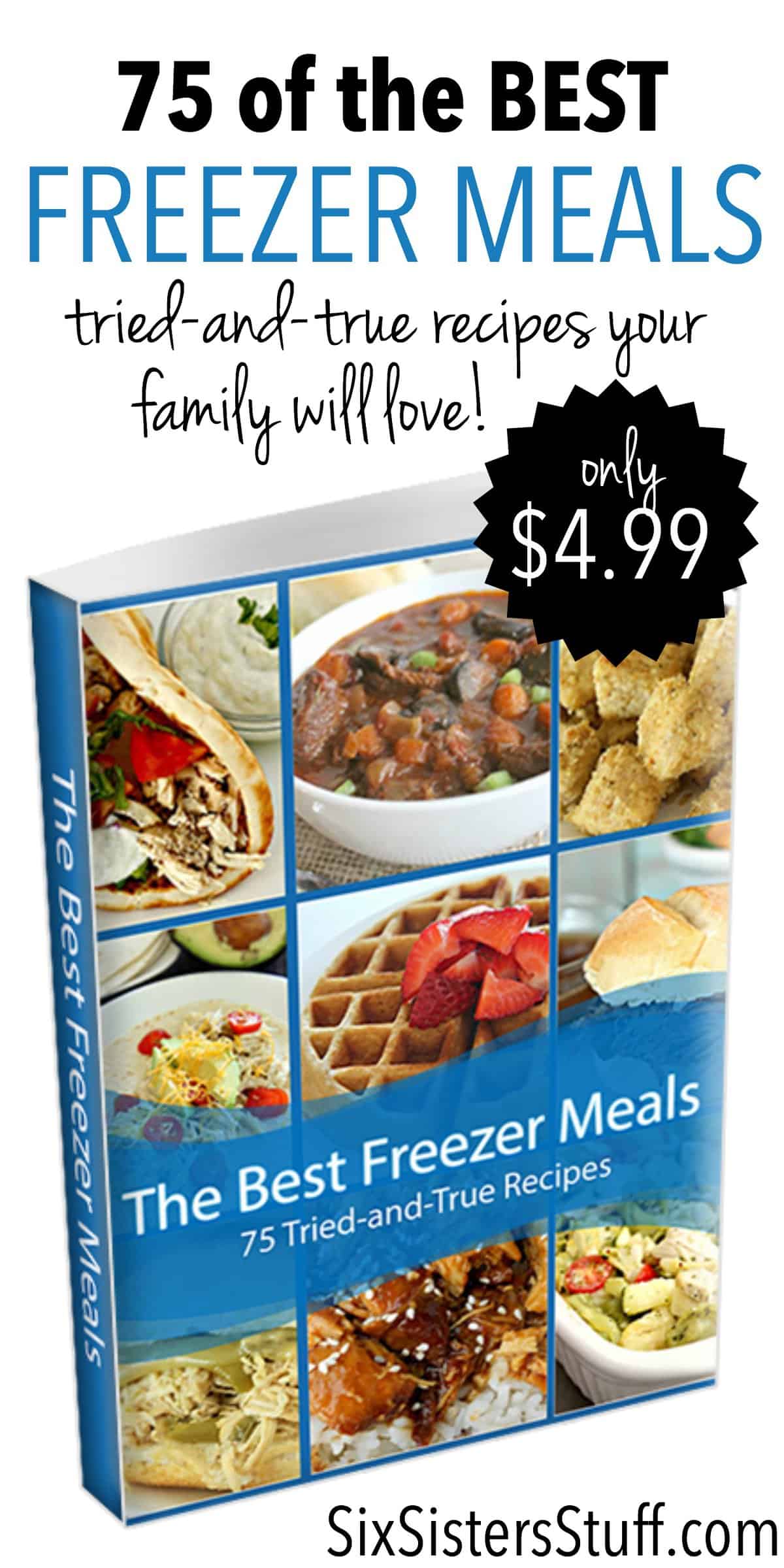 After years of being asked if we would put together a freezer meal cookbook, we finally did it!
The Best Freezer Meals eCookbook from Six Sisters' Stuff: 75 Tried and True Recipes

Only $4.99!
In this eCookbook*, you will find:
-Getting started with freezer meals
-Tips and Tricks to help you out
-Equipment and supplies needed
-Frequently Asked Questions about Freezer Meals
You will also find the following recipes:
?Dump and Go? dinners (it doesn?t get any easier than this!), kid favorite recipes that even your picky eaters will love.
Breakfast recipes include:
Scrambled egg muffins
Whole wheat waffles
Green smoothies
Chocolate banana bread
And many more!
Soups, Stews, and Chilis include:
Skinny Broccoli and Cheese Soup
Tuscan Soup
Stuffed Pepper Soup
Sweet Potato Soup
And many more!
Meatless Meals include:
Zucchini Lasagna Roll-Ups
3 Bean Enchiladas
Homemade Bean Burritos
Eggplant Parmesan
And many more!
Casseroles include:
Stuffed Mexican Shells
Pesto Tortellini Casserole
Southwest Chicken Bake
Beef and Noodle Casserole
And many more!
The book also includes our famous "Dump and Go" Freezer Meals that can literally be assembled in seconds! You will find 10 Chicken "Dump and Go" recipes, 10 Beef "Dump and Go" recipes, and 10 Pork "Dump and Go" recipes.
The last section of the book is kid-approved meals, including the best homemade chicken nuggets that are so much healthier and so much cheaper than buying them at the store or a fast food place.
Buy this ebook today for only $4.99!

*At this time, this book is only available in ebook form. An ebook is a cookbook in an electronic format. Rather than having to go to the store to purchase a cookbook, you can download it to your own computer, smart phone or tablet!
You can print your eCookbook if you want a hard version or you can easily access your eCookbook from your computer or other devices whenever you are ready to cook.
After you purchase your eCookbook, you will receive an email with a PDF file that you can download and save for personal use.
If the book sells well, there is a chance that we will be able to actually print this book in physical form for you to purchase.