If I could pick a favorite dessert I would have to pick cheesecake. There is just something about the creamy texture of cheesecake that I just can't get enough of! This White Chocolate Raspberry Cheesecake was super easy and delicious!
Delicious White Chocolate Raspberry Cheesecake
Ingredients
Pre-made or store bought Graham Cracker Pie Crust
1 (10 ounce) package frozen raspberries
2 tablespoons white sugar
2 teaspoons cornstarch
1/2 cup water
2 cups white chocolate chips
1/2 cup half-and-half cream
3 (8 ounce) packages cream cheese, softened
1/2 cup white sugar
3 eggs
1 teaspoon vanilla extract
Directions
In a saucepan, combine raspberries, 2 tablespoons sugar, cornstarch, and water. Bring to boil, and continue boiling 5 minutes, or until sauce is thick. Strain sauce through a mesh strainer to remove seeds.
Preheat oven to 325 degrees F.  In a pan on the stove, melt white chocolate chips with half-and-half on low-medium meat. Stir occasionally until smooth then set aside.
In a large bowl, mix together cream cheese and 1/2 cup sugar until smooth. Beat in eggs one at a time. Blend in vanilla and melted white chocolate. Pour half of batter over crust. Spoon 3 tablespoons raspberry sauce over batter. Pour remaining cheesecake batter into pan, and again spoon 3 tablespoons raspberry sauce over the top. Swirl batter with the tip of a knife to create a marbled effect.
Bake for 55 to 60 minutes, or until filling is set. Cool, cover with plastic wrap, and refrigerate for 8 hours before removing from pan. Serve with remaining raspberry sauce. (I added some of the seeds back into the raspberry sauce because I LOVE raspberry seeds!)
Adapted from Allrecipes
This post is sponsored by:
LinSocks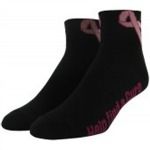 The official sock of "Little Red Riding Hood" – the largest women's only Cycling Event in the United States with over 3500 women riders. This 2012 year the race will be located in beautiful Northern Utah. Both Linsocks, Lin Mfg & Design, and "Little Red" are committed to raising cancer awareness and funds for cancer research to Help Find A Cure. These "Breast Cancer Awareness" Socks are high end performance socks for running & cycling. You will never need another pair after you have them. Help support "Breast Cancer Awareness" all year around! They will donate $1.00 to Help Find A Cure for every pair sold!!