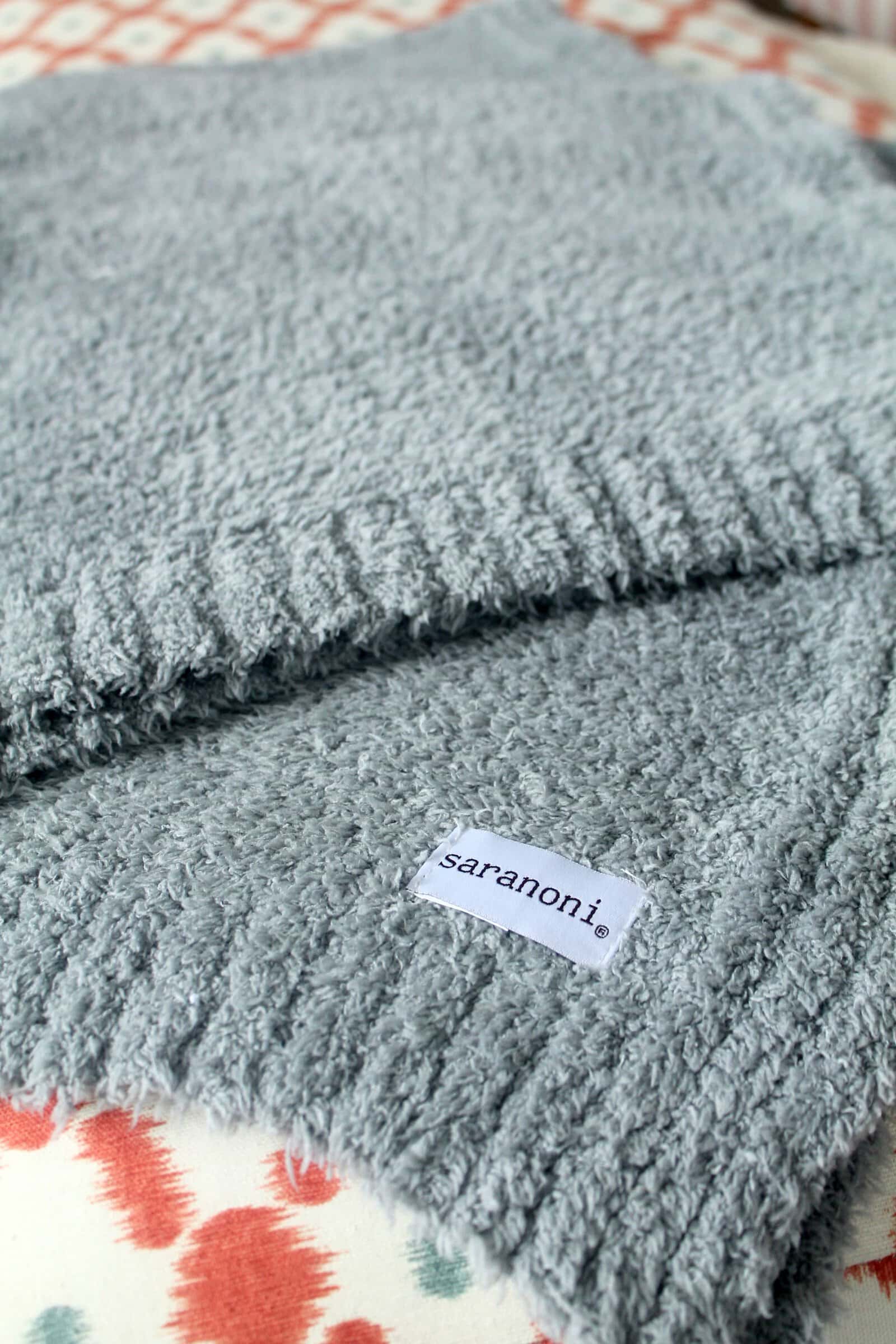 We are always on the lookout for good blankets. With so many little ones in our family, a new baby on the way, and a love of watching movies and cuddling with our loved ones, they definitely get a lot of use. A while ago, we introduced you to one of our favorite luxury blanket companies, Saranoni. We had an amazing response from all of you – so when they reached out to us again, we were pretty excited to bring them back for a second time – especially because their product line has almost quadrupled!!! Saranoni now offers mini blankets (perfect when you don't have a lot of travel room), receiving blankets (our personal favorite!), home throws, toddler and teen throws, and extra large throws so you can snuggle with your whole family. 🙂 You can tell a difference in luxury with Saranoni blankets because they are  made from thread and woven and then sewn into the final product. That means they aren't made from the leftover bulk fabrics that a lot of other blankets are made from!
Elyse is getting ready for her first little girl (she is due in just three weeks!). She has two boys who are rambunctious and so much fun, but she's thrilled to have a little more pink in her house! Saranoni sent Elyse the cutest baby package, and it seriously could not have been more perfect.
Saranoni's new muslin line has a variety of options that are all perfect for swaddling. Elyse received their three-pack single layer muslin blanket set which will be perfect for the warmer months ahead.
Their Bamboni blankets are so soft and fluffy, but durable and lightweight. They make a perfect summertime blanket, too.
Their adorable Lush blankets are unbelievably soft. I think the first thing I do when I get a new one is put it up to my face, so I can really feel how soft it is. Their silky smooth texture is so comforting – especially to a newborn.

Riley is going to love them!
They also sent this home throw, which fits in perfectly with Riley's nursery. I think she's going to like it. I know Elyse did!

Saranoni blankets make the perfect, unique baby shower gifts, wedding gifts, Christmas gifts, or birthday gifts for all of your loved ones. With sizes from mini to adult, they have something for everyone.