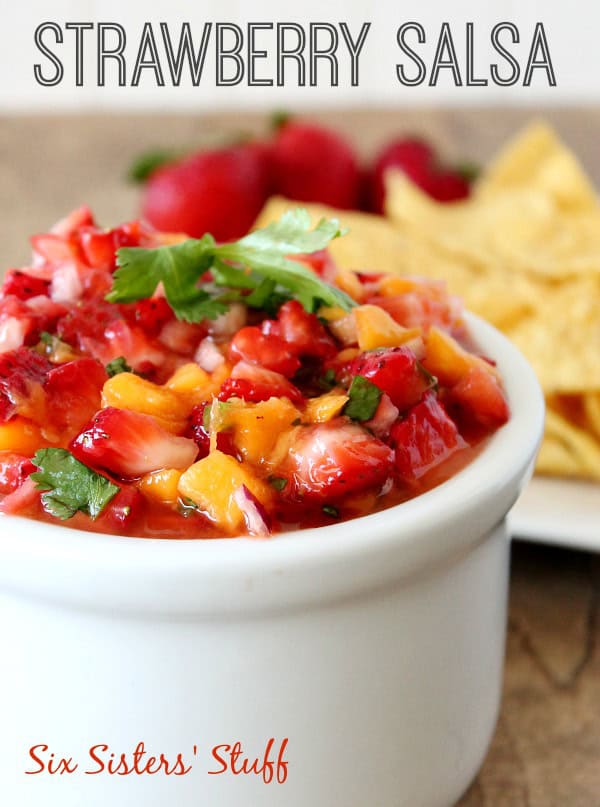 My favorite thing about summer is all the delicious fruit! It's still pretty chilly here in Utah but I was craving some summertime food. I decided to give this Strawberry Salsa a try and boy was it delicious! I have found my new favorite summer snack! This is perfect healthy snack to make if you're looking to satisfy your sweet tooth. Pair it with some tortilla chips and you are set! Can't wait to bring this to our girls day next week with all the sisters, they are going to love it!
Ingredients
16 ounces Strawberries diced
1 mango peeled and diced
1/2 red onion chopped
1 jalapeno chopped (we didn't use the seeds, if you like it spicy, keep the seeds!)
1/2 tablespoon cilantro chopped
1 tablespoon of honey
the juice of 1 lime (2 tablespoons)
Directions
Add all ingredients in a bowl and stir until flavors are blended. serve with tortilla chips or on baguettes, best served fresh. Enjoy!
Looking for more delicious salsa recipes? Here are a few of my favorite!
Chili's Copycat Salsa
Pineapple Mango Salsa
Jamaican Jerk Chicken with Mango Salsa
Fresh Tomato Salsa
20 Fresh Homemade Salsa Recipes
Be sure to check out our new Six Sisters' Store where you can find all our favorite kitchen and baking supplies, plus our cookbooks!