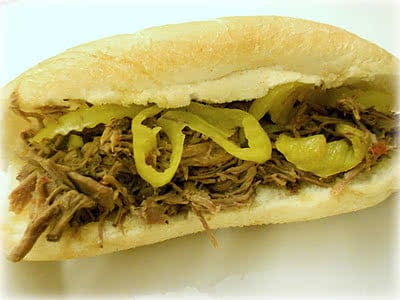 This is seriously one of the easiest slow cooker meals that I have ever made- and the flavor is amazing! I love how easy it is to throw together (because it only has 4 ingredients) and after cooking all day, the meat is seriously falling apart. It is delicious and is definitely one of our new family favorites.
The two ingredients that make this dish:
Mild pepper rings and Italian dressing mix!
Make this sometime soon- I promise you won't regret it!
Ingredients
3 lb bottom round beef roast
2 packages dry Italian salad dressing mix
1 cup water
1 16-oz jar pepperoncini peppers (can substitute milder, sweeter peppers if desired)
Directions
1. Place beef roast into the slow cooker.
2. Add 1 cup water and the 2 packages of Italian salad dressing mix.
3. Cook on low setting 10-12 hours.
4. A couple of hours before serving, take two forks and gently pull  apart the beef roast. It should be tender enough so that this is easy.  Add the jar of peppers (including liquid) into the slow cooker. Mix the  peppers into the shredded beef and continue cooking on low until you?re  ready to serve dinner.
5. Serve with sandwich buns of your choice (I used hoagie rolls). Toast your buns under the broiler for a minute or two (optional, but it sure is yummy) before topping with Italian beef.
We served this with Baked Potato Wedges (they are so easy to make!) and it was a quick and easy meal!
Recipe from A Nut in a Nutshell
Looking for more sandwich recipes:
Spinach and Artichoke Sandwich Melts
Ham and Swiss Poppy Seed Sandwich Sliders
Grilled Chicken Sandwiches
Slow Cooker Bavarian Meatball Sandwich
BBQ Apricot Pulled Pork Sandwich