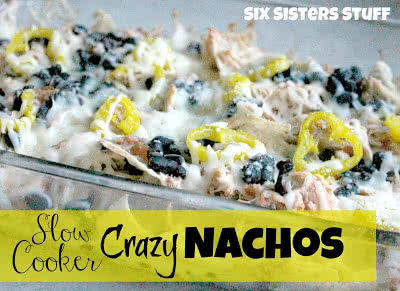 Last week I was in the mood for nachos. I had not had any for such a long time and I wanted to make a more adult-version of nachos. I found a recipe from Martha Stewart and made it my own (and much easier). My kids and husband loved it! Best nachos I have had in a long time!
Ingredients
4 chicken breasts
1 cup of salsa
Crispy Tortilla Chips
2 1/2 cups shredded low fat mozzarella cheese
2/3 cup thinly sliced banana peppers
1 can of black beans
2 Tablespoons finely chopped fresh cilantro (optional)
2 Tablespoons of green onions, chopped
Your favorite Salsa for serving
Directions
Place chicken breasts on the bottom of your slow cooker and pour 1 cup of salsa on top. Cook on low 6 to 8 hours or on high 4 to 5 hours.
When your chicken is done in the crock pot – Preheat your oven to 400 degrees.
Layer half of the chips, chicken, cheese, beans and banana peppers in a 9X13 baking dish; repeat with a second layer of each. Transfer to oven and bake until cheese is melted – about 8 to 10 minutes.
Remove from oven and garnish with green onions and cilantro; serve immediately with salsa.
Looking for other slow cooker recipes? These ones are the easiest I could find!
 (Not to mention some of my favorite!)