These Slow Cooker Chipotle Chicken Tacos have a just a few ingredients, but a great kick. They're perfect for busy days!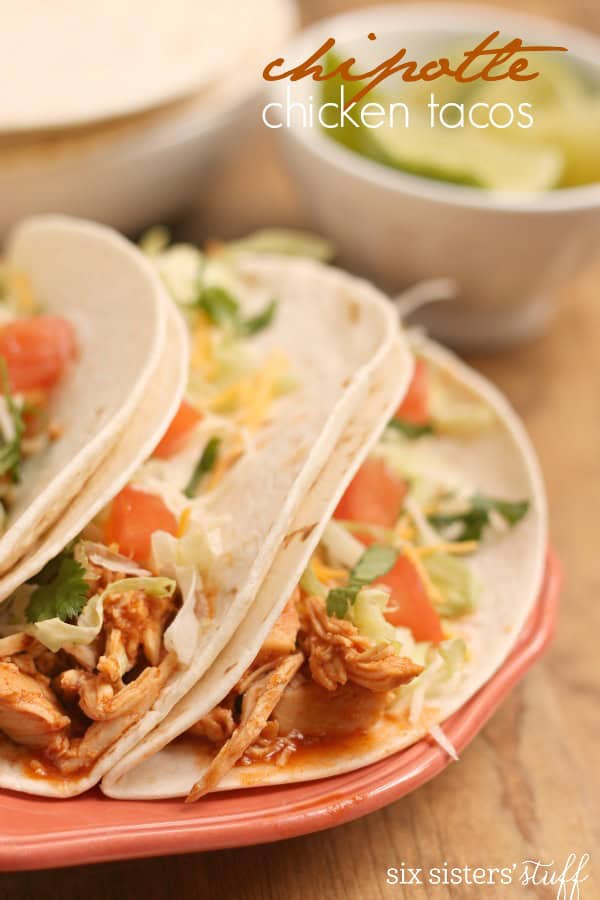 Currently loving these Slow Cooker Chipotle Chicken Tacos! I am kind of obsessed with anything "chipotle" flavor. That southwest chipotle sauce at Subway? I put it on every single sandwich. Our pulled pork chipotle sandwiches?
They're a regular on our meal rotation. I had some chicken and tortillas on hand, as well as a jar of chipotle sauce (this one from Herdez to be exact) – so I put it to work for me.
They turned out "pretty darn tasty" in the words of my husband, so I would say this easy dinner was definitely a win.
If you're looking for more Chipotle recipes, don't miss this Copycat Chipotle Chicken Recipe in the Instant Pot!
Ingredients you need for this Slow Cooker Chipotle Chicken Tacos recipe:
1 pound boneless skinless chicken breasts
12 ounces chipotle sauce
4 flour tortillas
1 tomato diced
¾ cup shredded cheese
¾ cup shredded lettuce
¼ cup sour cream
1 avocado diced
How to make these Chicken Tacos:
In a slow cooker that has been sprayed with non-stick cooking spray (or lined with a crock pot liner), place chicken and cover with the entire 12-oz jar of chipotle sauce.
Cook on high for 3-4 hours, or low for 6-7 hours, until chicken is completely cooked all the way through.
Remove chicken from slow cooker, shred, and return to slow cooker and mix with chipotle sauce until all the chicken is covered.
Serve chicken on tortillas with your favorite taco toppings.