This Cheeseburger Casserole has all the goodness of a cheeseburger, but in a casserole. Whole wheat pasta, tossed in a seasoned tomato sauce with meat and cheese, then topped with shredded lettuce and tomatoes.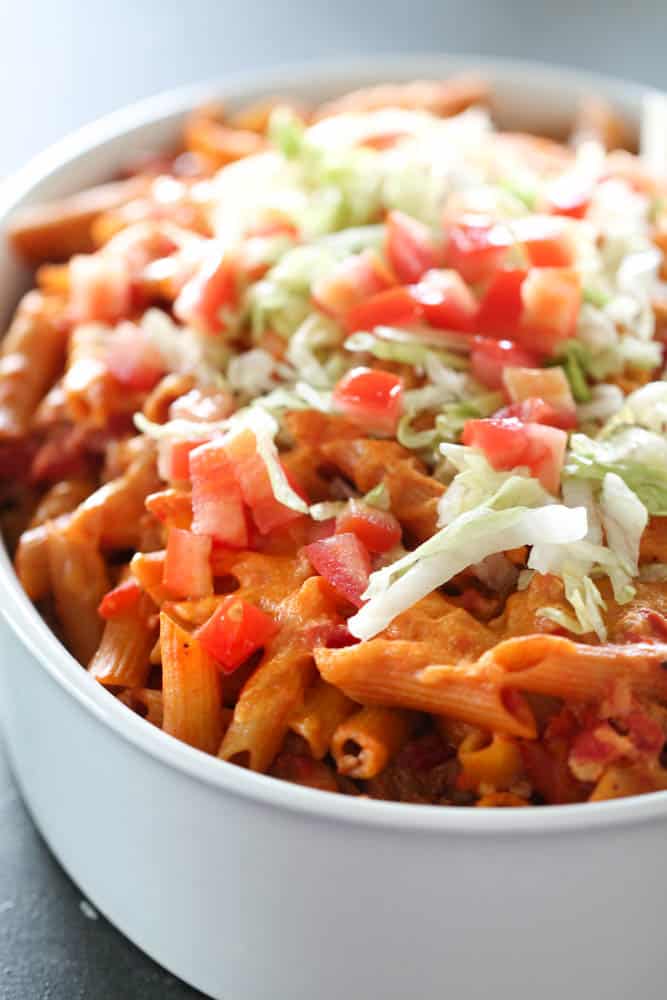 We love our Cheeseburger Casserole! All of the flavor of a cheeseburger in an easy-to-make casserole.
Can this Cheeseburger Casserole be made ahead of time?
Yes, this Skinny Cheeseburger Casserole can be made ahead of time. I recommend only making your casserole 1-2 days ahead of time if you are storing it in the fridge.
Can you freeze this casserole?
If you are going to need to have your casserole made more than 1-2 days ahead of time then you can freeze it. Follow the recipe directions until it comes time to cook the casserole.
Rather than cooking the casserole, cover your pan tightly with aluminum foil then wrap tightly with plastic wrap. Place in the freezer in a level spot.
How to reheat this casserole:
If you have frozen your casserole and need to reheat it, simply place the frozen casserole in the fridge 24 hours before intended use. After your casserole has thawed completely, cook following recipe directions.
Looking for more delicous casseroles?! Try our John Wayne Casserole for a hearty dinner your family will love!