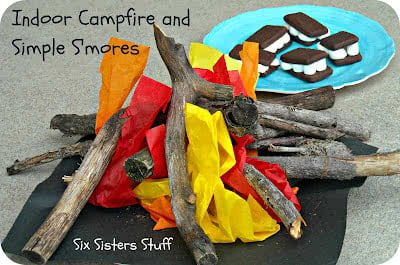 We all love the outdoors, but when the weather doesn?t cooperate and your kids have played with every rainy day toy, here is an idea and a quick treat that will make their day.  This indoor campout is a simple way to keep them entertained and stretch their imagination.  You can have lots of fun telling stories, ?roasting? marshmallows and eating your S?mores with no ashes or that smoky bonfire smell on your clothes.
First build a campfire together.  You will need the following items (or add your own ideas for more fun):
1.       Dinner Plate
2.       Black piece of paper
3.       Sticks
4.       Yellow, Red and Orange tissue paper
Cut the tissue paper in 2 inch wide strips, about 12 inches long.  Place the black paper over the plate and lay the tissue paper in alternating colors across each other (so it looks like an asterisk).   Lay the sticks on the tissue and build a ?teepee? type fire pile, alternating pulling the strips of tissue paper up through the wood.  As you build the wood pile, keep the wood within the edges of the plate ? it?s a lot easier to move it around.
Then prepare the S?mores.  Use chocolate covered graham crackers and miniature marshmallows.  Place 3 or 4 graham crackers upside down on a plate and position 6 miniature marshmallows on the cracker.  Place them in the microwave for 8-9 seconds (just so it barely melts).  Remove the crackers and place a second cracker on the top ? the easiest S?mores you have ever made!!
Now add some fun with a few marshmallows on a kabob skewer.  Pretend to ?toast? the marshmallows on your fire.  Sing a few songs, tell a few stories, then pull out the sleeping bags and sleep indoors next to the fire!