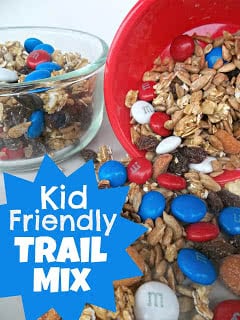 We are officially living in UTAH! We survived the 20 hour drive from Missouri to Utah and we are so happy to be in the Beehive State! When I was little and I traveled I would eat so much junk food I would always get so sick. Since marrying my husband, we try to eat a little bit healthier for our long car rides so we don't feel sick. My only problem is getting my kids to eat healthier while we drive, so I have been on the look out for something they would like. I found this recipe and knew it was worth a try. I placed the trail mix in two "special containers" for our trip and my girls LOVED it!
Ingredients
2 cups low fat Granola
2 cups Raisins
3/4 cup Sunflower Seeds
1/2 cup M and M's
 
Here are some other ingredients that would be a delicious addition:
Pretzels
Cheerios
Dried fruit
(bananas, strawberries, pineapple and mangos are some of our favorites)
Pumpkin seeds
Peanuts
Almonds
Yogurt-Covered Raisins
Craisins
Goldfish crackers
Marshmallows
Teddy Grahams
Corn Flakes
 
Instructions
Basically, the sky is the limit! Add what you want to make your trail mix perfect for your family.
Pack it in snack bags and it is ready to go wherever you do- the grocery store, running errands, soccer games, the amusement park,  etc, etc. Keep a couple of bags in the car or your bag for when hunger hits because it is a great snack for grown-ups too!
 
7.8.1.2
1710
https://www.sixsistersstuff.com/recipe/kid-friendly-trail-mix/