Give me all the fresh salad recipes. I used to have this thing, where I could only eat a salad if someone else made it for me. Am I the only one? Salad just tastes better when someone else makes it. Then I tried this salad, and there was no turning back. It is my new go to, and I eat it all week long. So yummy and fresh.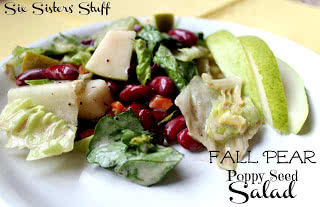 I'm always looking for healthy salads to have for a side dish. I took a couple of recipes and mixed them all together. It really is so easy and super delicious. Now my husband always asks for the pear salad.
It comes together in a matter of minutes and has so much amazing flavor to it.
Unlike a lot of other salads, this one is so light (including the salad dressing), and all the ingredients taste fresh.
I didn't even know I was a pear fan, until I had this, now I dream about them, they are so delicious.
If you are looking for a tasty and healthy salad recipe, this is definitely one you need to try. And the salad dressing on this recipe is out of this world, delicious.
what else could I add to this salad?
I love all the things on my salads. Salad buffets? Yeah, totally my jam. They are so fun and I love putting all the goods on.
Here are a few more salad addition, recommendations for this salad:
-Mandarin Oranges
-Craisins
-Grapes
-Walnuts or Pecans
-Feta or Bleu Cheese
-Pomegranate
-Pretzel Bits
-Bacon Bits
Fall Pear Poppy Seed Salad Recipe
This Pear Poppy Seed salad is my new go to, and I eat it all week long. So yummy and fresh.
Ingredients
1

bag

romaine lettuce salad

1

can

red kidney beans

(rinsed and drained)

2

pears

(sliced)

sliced almonds

(optional)
Dressing:
6

Tablespoons

Fat Free Balsamic Vinaigrette Dressing

6

Tablespoons

Fat Free Poppyseed Dressing
Instructions
1/3 of your dressing will be Balsamic Vinaigrette and the other 2/3rds will be the poppyseed dressing. Add the desired amount of dressing you like on your salad. Mix everything together and enjoy.
Notes
Here are a few more salad addition, recommendations for this salad:
-Mandarin Oranges
-Craisins
-Grapes
-Walnuts or Pecans
-Feta or Bleu Cheese
-Pomegranate
-Pretzel Bits
-Bacon Bits
Nutrition
Calories:
148
kcal
·
Carbohydrates:
17
g
·
Protein:
1
g
·
Fat:
9
g
·
Saturated Fat:
1
g
·
Cholesterol:
4
mg
·
Sodium:
413
mg
·
Potassium:
111
mg
·
Fiber:
2
g
·
Sugar:
13
g
·
Vitamin A:
233
IU
·
Vitamin C:
7
mg
·
Calcium:
15
mg
·
Iron:
1
mg
Recipe Details
Adapted from the Hill's Family Cookbook