These Marinated grilled pork loin medallion are perfectly cooked . . . the flavors are amazing! This recipe impresses everyone who tries it.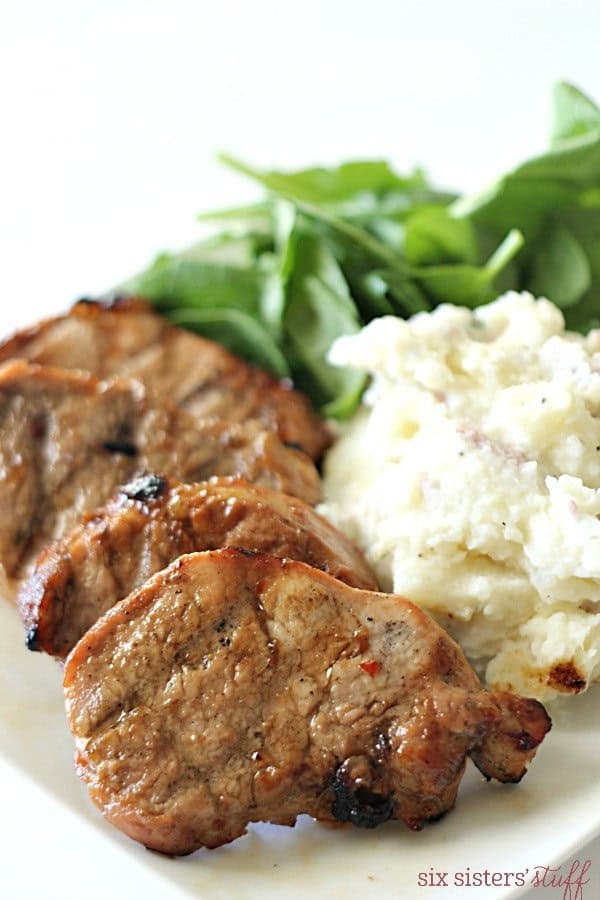 I am always looking for new things to try on the grill and this Grilled Pork Loin Medallions recipe didn't disappoint!
The marinade was so easy to throw together and the flavors melded together perfectly.
I have actually never grilled a pork loin this way and now that I've tried it, I don't think that I will go back!
Related Recipe: Try our easy Slow Cooker Brown Sugar and Balsamic Glazed Pork Loin and this Marinated Pork Loin!
Ingredients needed to make this Grilled Pork Loin Medallions Recipe:
½ cup packed brown sugar
½ cup italian salad dressing (I used Wishbone Robusto Italian)
¼ cup unsweetened pineapple juice
3 Tablespoons soy sauce
2 (1 pound) pork loin sliced
How to make Grilled Pork Loin Medallions:
In a large bowl, mix together the brown sugar, salad dressing, pineapple juice, and soy sauce. Pour half of the marinade into a gallon-sized resealable bag and cover the other half of the marinade and place in the fridge until you are ready to grill.
Slice the tenderloins 3/4 inch thick and then place tenderloins into the bag and placein the fridge to marinate. You will want to marinate them for at least 30 minutes, but I think that they taste best when they marinate for 4-6 hours.
Grill over medium heat for 4-5 minutes per side or until the internal temperature reads 160 degrees F, basting the entire time with the reserved marinade.
Looking for another delicious grilled pork recipe? Try our Mediterranean Grilled Pork Kabobs!