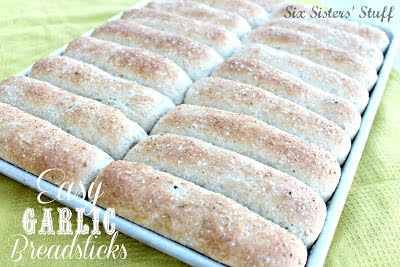 When I lived in Salt Lake, I loved going for a run early in the morning not only to get exercise but also to smell all the bakeries cooking their delicious bread for the day. I have to say that bread is one of my most favorite foods. I just can't get enough of it! When I first tried these bread sticks I fell in love instantly. They are so easy to make and taste amazing!

Easy Garlic Breadsticks

Ingredients
18 frozen Rhodes Rolls (I used cracked wheat rolls)
1/2 cup butter melted
Garlic Salt
Italian Seasoning
Parmesan Cheese (optional)
Directions:
Thaw the rolls until they are just a little cold. Then roll them into bread sticks (my girls call them snakes)
Line them up on a greased baking sheet so they are not touching (9 on each side of the pan)
Pour the melted butter evenly over the bread sticks. Cover them with greased saran wrap.
Let them rise until the rolls are touching each other. Next sprinkle garlic salt, Italian seasoning, and Parmesan cheese (optional) over each bread stick.
Bake them at 350 degrees for 20 minutes. Check on them at about 15 minutes. Bake until they are browned on top.
Recipe from the Hills' Family Cookbook.
Love rolls as much as I do? Here are some delicious recipes!
Here's an extra recipe for you!  😉 Take a beautiful picture, add a favorite scripture and you have "Doorpost Verses" prints!  Full color prints in your choice of 4×6 or 8×10, ready for framing and delivered right to your door!  No shopping hassles here this season! Choose the Six Sister's favorite, the "Christmas Package", when you order and get a dozen prints for just $50.00 to fill those stockings with unique gifts they will cherish!