This Cranberry Pecan Chicken Bake is a family favorite at our house. The sweet and tangy sauce, with a little texture and crunch of the pecans makes the perfect dinner. This is my go to dinner on busy nights because it is so quick to put together, and everyone in my family will eat it.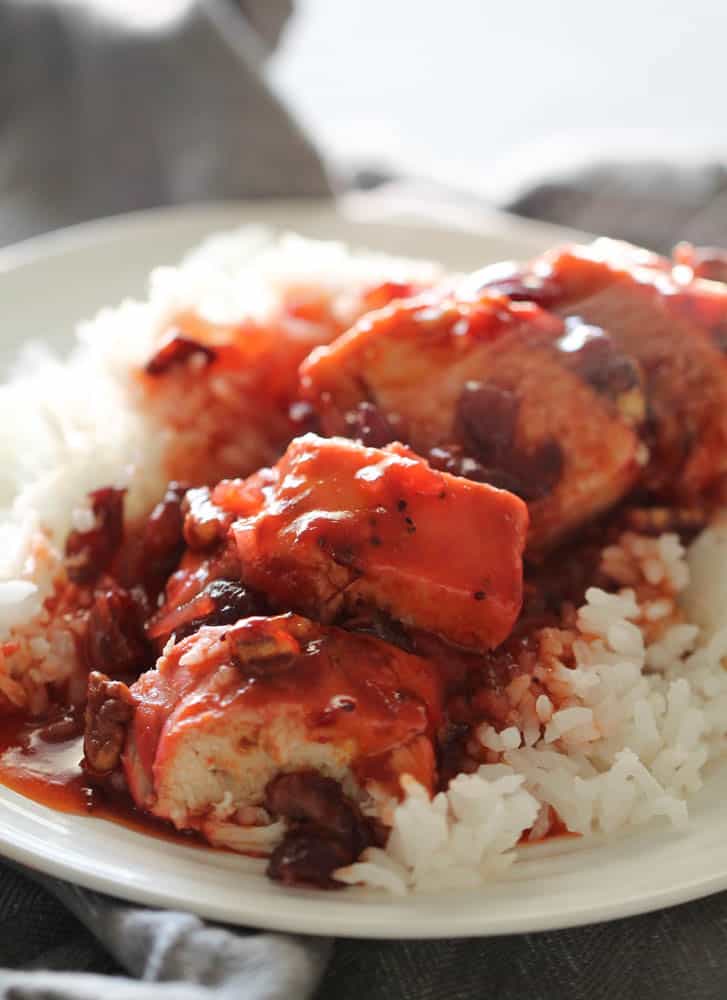 I love recipes that I can make in a hurry and my whole family will eat. My mother-in-law made this Cranberry Pecan Chicken Bake for our family a few years ago and it has been a favorite ever since.
I love the sweet and savory sauce in this recipe and it goes perfectly over rice.
It has a delicious sweet and tangy flavor to it, with just the right amount of crunch and texture from the pecans.
I love how easy it is to put together, pop in my oven, and dinner is ready. Your family is going to love this one.
How to make cranberry pecan chicken bake:
Step 1: Preheat oven to 350 degrees F.
Step 2: Spray a 9×13-inch baking dish with nonstick cooking spray. I prefer to use the olive oil spray, but you could also use butter.
Step 3: Place chicken breasts in prepared dish and sprinkle with salt and pepper, to taste. Make sure your chicken breasts are the same thickness so they cook evenly. You may have to pound them out, or even cut in some areas.
Step 4: In a mixing bowl, whisk together cranberry sauce, dressing and onion soup mix.
Step 5: Fold in craisins and chopped pecans and pour over chicken.
Step 6: Cover pan with foil and bake for 1 hour, or until chicken is cooked through.
Step 7: Serve over cooked rice. You could also eat it plain, but the tangy sauce tastes delicious with the rice.