Cheesecake and chocolate are always favorites at our house! This recipe puts the two of them together perfectly.
Chocolate Cheesecake BrowniesIngredients:
10 Tablespoons butter
3 ounces dark or semisweet chocolate, chopped
1 1/4 cup granulated sugar
2 large eggs
2 teaspoons vanilla extract
3/4 cup all-purpose flour
1/4 teaspoon salt
2 Tablespoons unsweetened cocoa powder
For the Cheesecake Layer:
8 ounces Cream Cheese, softened
1/3 cup granulated sugar
pinch salt
1 large egg
2 teaspoons vanilla extract
Directions:
Preheat oven to 350.
Line an 8×8 baking pan with foil long enough to hang over on two sides, making it easier to remove from pan once baked. Spray pan and foil.
In microwave, melt butter and chocolate until smooth (stir every 30 seconds).
In a separate bowl, beat eggs, and vanilla with the sugar. Slowly add in the chocolate mixture until well combined.
In small bowl, sift together cocoa, salt and flour. Add mixture to rest of batter. Do not over mix.
Pour batter into prepared baking pan.
For the Cheesecake Layer:
Beat ingredients together until smooth. Pour over brownie batter. Using a sharp knife, slowly swirl together the layers slightly.
Bake 1 hour to 1 hour 10 minutes, or until just set and toothpick inserted comes out clean. Cool before eating.
Looking for other brownie recipes?
Here are a few of our favorites: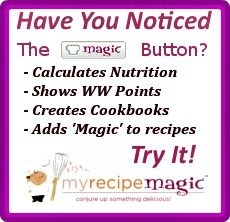 Not only does it add "magic" to your recipes, but it's the only recipe sharing site that actually PAYS you to share your recipes! So if you have a delicious recipe that everyone always asks for or a family favorite that everyone loves, share it today and make a little extra "dough"!