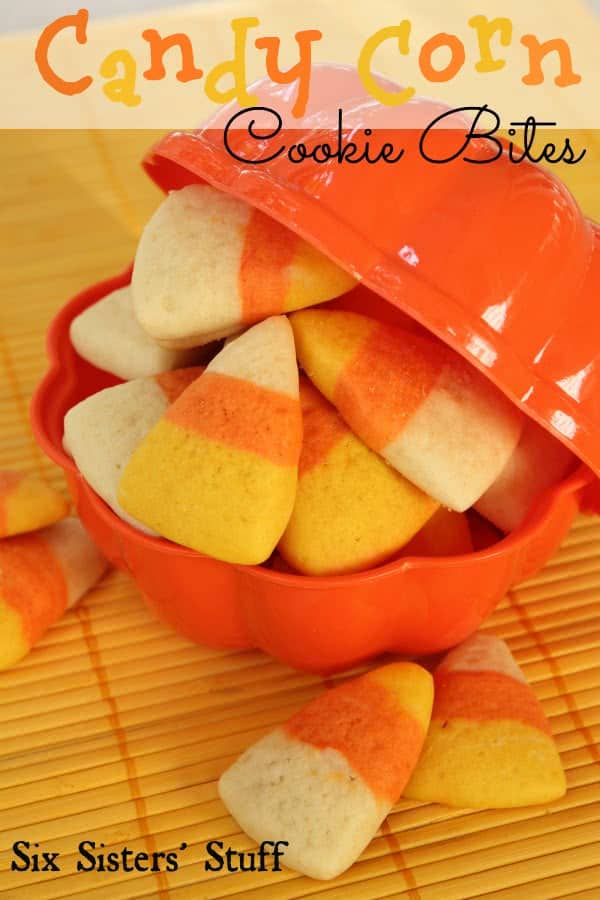 Fall is officially here and we love making fun cookies in October. These candy corn cookie bites would be perfect for your Halloween party!  We used our delicious sugar cookie recipe and the cookies turned out so soft and yummy.  We made some orange buttercream frosting for dipping.  Our kids absolutely loved these!
Serves: 100
Candy Corn Cookie Bites
2 hr, 30 Prep Time
10 minCook Time
2 hr, 40 Total Time
Ingredients
1 cup butter, softened
1 1/4 cups sugar
2 eggs
1 teaspoon baking powder
1 teaspoon vanilla extract
1 teaspoon baking soda
1/2 teaspoon salt
1/2 cup sour cream
4 cups flour
orange food coloring
yellow food coloring

Frosting

1/2 cup margarine or butter, softened
3 tablespoons shortening
3 cups powdered sugar
1 tablespoon milk
1 teaspoon vanilla
orange food coloring
Instructions
Mix margarine, eggs, and sugar until well blended.  Add baking powder, vanilla, baking soda, salt, and sour cream and stir well.  Add flour and gently combine.  If too sticky, add a little more flour until you can handle it without sticking to your hands.  Divide the dough into 3 equal parts.  Leave on part the original cookie dough.  Add yellow food coloring to one part of the dough.  Add orange food coloring to the remaining dough.
Line a loaf pan with waxed paper letting it hang over the sides. (I used an 9 x 5 inch pan) Press the non-colored dough evenly into the bottom of the loaf pan.  Put flour on your fingertips to stop the dough from sticking to your fingers.  Then spread the orange dough evenly over the bottom layer.  Pat down firmly and try to keep it smooth and even.  Then add the yellow layer on top and smooth out.
Fold the wax paper across the top of the dough in the loaf pan.  Freeze for about 2 hours.  Remove from loaf pan by pulling up on the wax paper.  Cut crosswise in 1/4 inch strip slices.  Then cut little triangles back and forth.  Should get 5 to 6 cookies from each slice.  If dough starts to get too soft, stick back in the freezer for about 10 to 15 minutes to make it easier to handle.
Heat oven to 350 degrees.  Place on an ungreased cookie sheet and bake for about 9 minutes.  Can dip in frosting if desired or eat plain.
For the frosting, combine all ingredients and mix until smooth.
7.8.1.2
1433
https://www.sixsistersstuff.com/recipe/candy-corn-cookie-bites/
Adapted from Betty Crocker