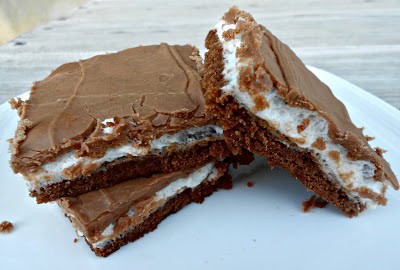 The Magic of a Marshmallow Brownie
When we were growing up, we must have seen our mom bake her famous Marshmallow Brownies at least a thousand times. The smell of chocolate baking in the oven would waft through the house and you knew exactly what she was making . . . and you knew that they were not going to be for you.
You see, our mom's brownies were magical (or so we thought) and whenever she made them, it was to share their magic with someone else. When someone was having a rough day, these brownies could make it better. When someone in your family passed away, these brownies would arrive on your doorstep to help with the grieving. When your husband lost his job, this brownies somehow helped you see the light at the end of the tunnel. And when it was your birthday, these brownies made it the best day ever.
My mom was known throughout the neighborhood for these famous brownies. When people would talk about her brownies, they would get this nostalgic look in their eyes and talk about how they were the best brownies they had ever had.
As we grew up, we realized that while the brownies are absolutely delicious, the magic was not in that family recipe. The magic was was coming from my mom- people knew that they were loved and that she cared for them through the simple act of making a pan of brownies and sharing it with them. When someone was having a bad day, my mom would pick up on it and pop in to say hello, brownies in hand. When someone had passed away, my mom would run by the brownies and sit with people as they cried and grieved. When someone lost their job, my mom would casually stop by and be a listening ear as someone shared how they were feeling, over a delicious plate of brownies. And of course, if it was your birthday, my mom would always remember and stop by with her brownies to let you know that she was thinking about you.
My mom never once has told us that we need to serve people or listen to those promptings to let you know who needs you; instead she shows us everyday through the life that she lives, even if it is as basic as making brownies.
 (I bet that you can't even tell which one is our mom! She could seriously pass as one of the sisters!)
You can find the recipe for these Marshmallow Brownies
here
.
Camille blogs over at SixSistersStuff.com with her five sisters. They share easy family recipes (and lots of their mom's famous recipes!) along with fun crafts and other ideas for making your house a home. Camille currently lives in Utah and is married to her husband Jared. They have two darling children, Brynlee and Mason (with another one on the way!). She loves her family, escaping to the gym for a quick workout, and marshmallow brownies.