These 5 Ingredient Meatball Subs are full of cheesy goodness and so easy to make! They taste better than any sub shop!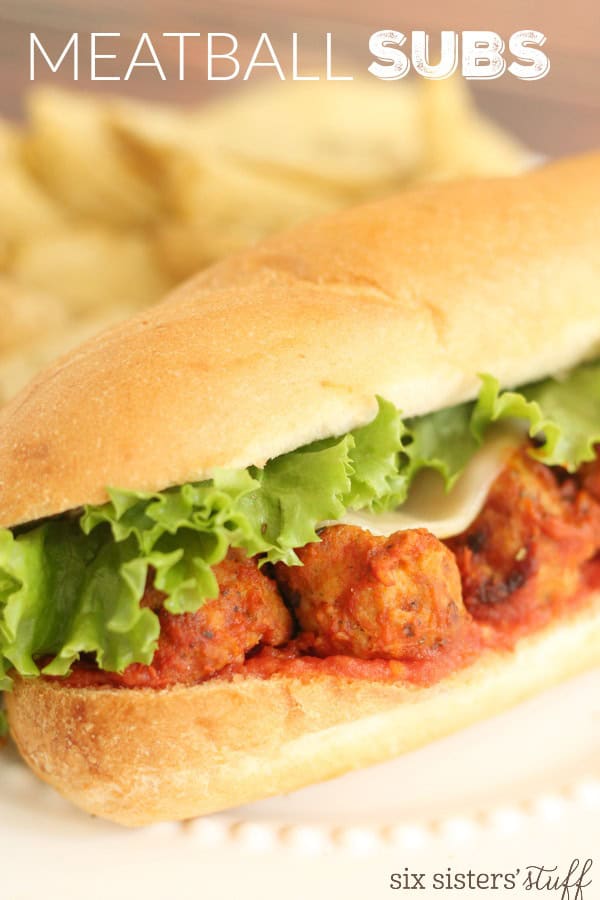 When these 5 Ingredient Meatball Subs are broiled in the oven a few minutes before serving it adds that special finished look and taste, like you spent all day slaving away, making them for your family. Only we will know the truth! 😉
Ingredients needed to make our 5 Ingredient Meatball Subs:
24 frozen meatballs
24 ounces pasta sauce
4 slices Provolone cheese cut in half
4 submarine rolls
fresh basil or lettuce for garnish (optional)
How to make these quick and easy 5 Ingredient Meatball Subs:
Heat meatballs according to package directions.
In a large sauce pan, heat spaghetti sauce over medium-heat until warm.
Add in cooked meatballs and let it simmer until heated through.
Place 6 meatballs, with sauce, on an open roll, top with cheese slices, then place on a baking sheet. Repeat 3 times.
Broil sandwiches for 2-3 minutes, until the cheese is melted and the bread starts to turn golden.
Top with lettuce (optional). Serve warm
Related Recipe: Try our Homemade Turkey Meatball Subs!