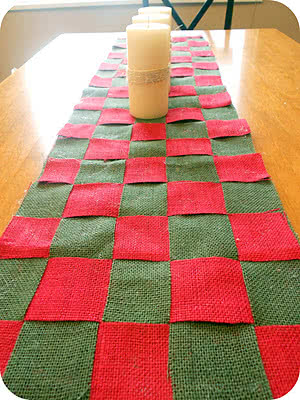 My house is all decorated for Christmas, but I decided that my kitchen table needed a little something to "spruce it up". I saw a tutorial for a
Jute Table Runner
a couple of months ago, but thought that I could totally make it with Christmas-colored burlap.
 Here is what you'll need to make your own:
-a piece of red burlap
(mine was 12.5″x 50″- the length of your table will determine how long yours is!)
-a piece of green burlap
(also 12.5″x 50″)
-scissors
(an employee at the fabric store told me that burlap will dull your nice scissors, so use an old/cheap pair)
-glue gun
  I wanted each of my strips to be 2.5″ wide, so I used a big ol' yard stick to help me measure.
 I cut my green burlap into 5 long strips, each 2.5″ wide.
 I then cut my red burlap into 20 short strips, each also 2.5 inches wide.
 Now you just have to "weave" them together. I laid my five green strips out and worked my red strips into them. Lay your first red strip down and starting with the red on top of the green (add a dot of hot glue to stick them together), then weave it under the green burlap (glue), then over the green burlap (glue), then under (glue), then over (glue). I am sure you get the point. 🙂
 I repeated for the second red strip, except just did the opposite so that it would look like a checkerboard. I also only added glue on every other square from here on out. Make sure you only use a very small amount of glue, otherwise it will show through your burlap (I learned that the hard way!).
 Repeat until you are finished!
 I wrapped some thrifted candles in twine and put them in the middle for a simple centerpiece . . .
All-in-all, I finished this project in about 90 minutes and it cost me a total of $6 ($3/yd for the burlap and I had LOTS leftover . . . hmmm, what else to make with it?).