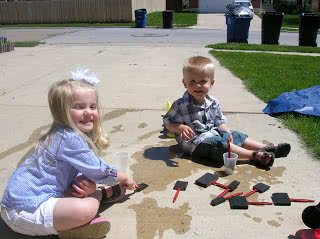 As soon as the weather starts to turn warm, my kids want to spend every waking moment outside. However, we can only handle so much sidewalk chalk . . . I heard this about this idea a couple of years ago and it is perfect for kids of all ages- so far I have used it on kids from about 18 months old to 6 years old and all of them love it and have so much fun with it. So, all you need are paint brushes (I picked up this 10 pack of brushes at the dollar store . . . I have also used little tiny paint brushes and that works too) and water. I usually give each kid a cup or small bucket of water. Then, just let the kids go to town painting the sidewalk! It's cheap, easy, and fun. And it will entertain them for a long time!!
Brynlee loves to practice her letters and make long trails . . .
Mason just loves to sit in the middle of all the water and splash his sister. 🙂
On really hot days, the water will evaporate almost instantly! It's pretty cool.
Usually Mason ends up with water on himself, but it dries pretty quickly . . . heh heh!