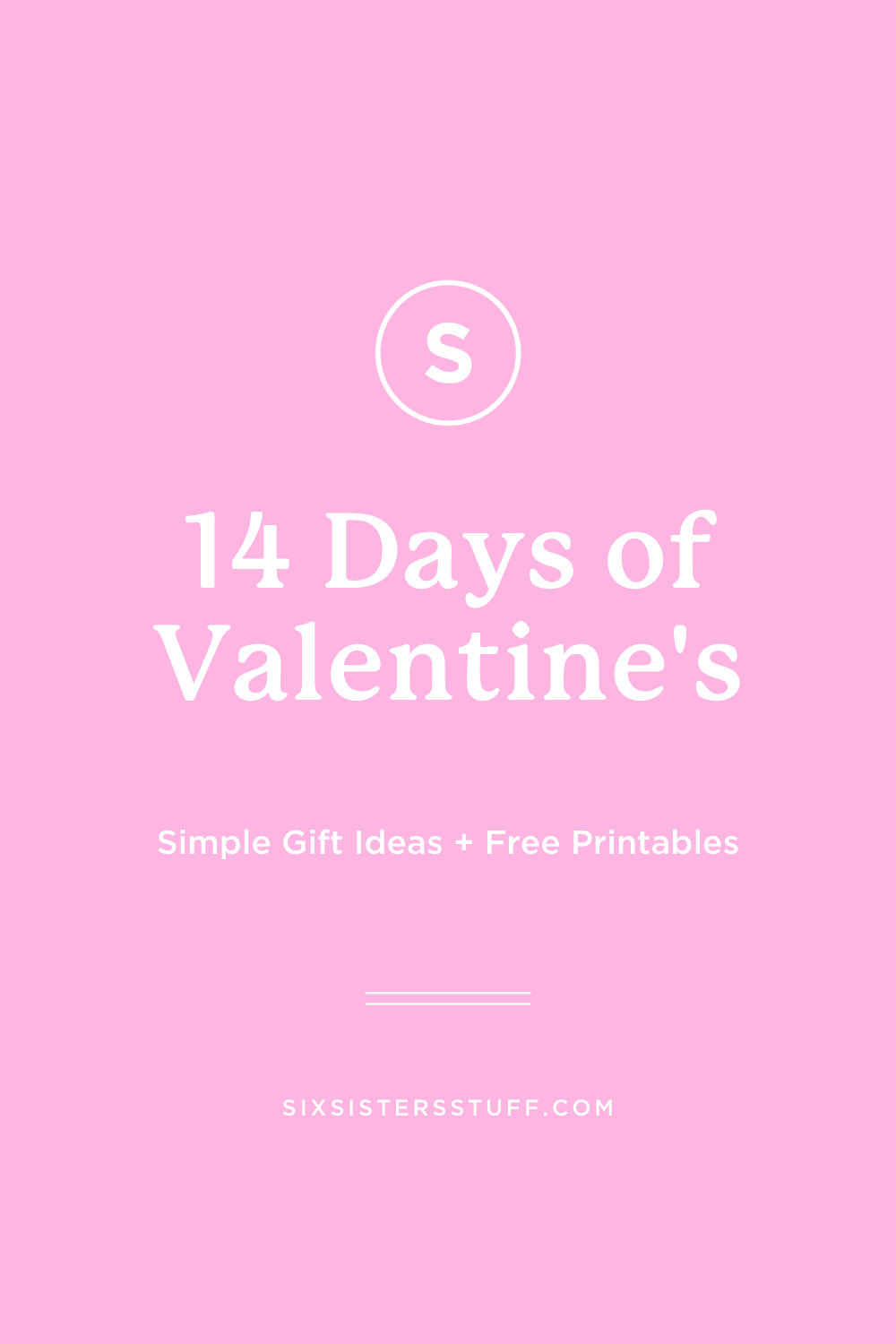 The 14 Days of Valentine's gift ideas are the perfect way to celebrate your significant other!
These are so simple, easy gifts you can pick up and your person is sure to feel just a little more special this Valentine's Day.
You could give these gifts in any order, and as a matter of fact, you can give one of them or all of them. Whatever works best for you.
Want cute printables to go with them? Enter your email below and we'll send them straight to your inbox.
14 Days of Valentine's Gift Ideas
"You are the apple of my eye!"
Gift some dried apples, apple flavored drinks, candy apple rings or actual apples.
"Honey, comb your hair, because we've got a date tonight!"
This is perfect for the day of your valentine's date (even if it's before or after the actual day!). You can gift Honeycomb cereal, or a nice hair comb or beard comb!
"You are one hot tamale!"
Use actual Hot Tamales, Red Hots or any other cinnamon candy. Likewise, you could go the spicy foods route and get hot cheetos or takis.
"I'm nuts about you!"
Use your significant other's favorite type of nuts, a Nutrageous candy bar, or Nutter Butter cookies.
"I wouldn't chews anyone but you!"
This one is perfect for gum, but you could also use Starburst fruit chews, Hi-chews, or Chewy granola bars.
"I think you are sodamazing!"
Grab their favorite soda. Similarly, you could also try a fun specialty soda or use a soda flavored candy.
"We were mint to be together!"
A small package of mints makes the perfect little Valentine's gift idea. Not a fan of mints? You could also use York Peppermint Patties, Butter Mints, or a mint flavored dessert.
"We make a great combo!"
If you can find the "Combos" snack mix, these are the perfect little gift. They are usually found right by the checkout.
Because those can be hard to find, you could also use a combination flavored pizza or PB&J combo jars.
"Thanks for sticking by my side!"
This one can work for a lot of different small gifts. For example, chapstick, beef jerky sticks, a fire stick, pretzel sticks, or fun s'mores sticks would all work.
"I'm bananas for you!"
So, banana chips, banana candy, or (my husband's personal favorite) banana bread would be great.
"I would be so mixed up without you!"
Any type of mix will work for this one, for instance, you could even create a mix of your favorite songs on spotify. But, you could also use any flavor of Chex Mix, trail mix or other snack mix.
"You have 'o-fish-ally' stolen my heart"
Goldfish crackers or Swedish fish would work perfectly for this one. You could get really creative and make a delicious fish dinner if that's what they would love more, for instance.
"Life would be unbearable without you!"
Gummy bears are the great for this saying. We love the Albanese brand. However, you could also use a honey bear, Bear Naked granola, Bear Protein, or Kodiak Cakes Bear Bites.
"You make my heart bubble over!"
Any type of carbonated beverage will do. But Bubble Tape or Bubble Yum would work, too.
More Valentine's Day Ideas
Need more ideas? Check out our Husband's Gift Guide or our 32 Stay-at-Home Date Night Ideas. In reality, gifts don't need to be expensive or extravagant. A small something will let them know you're thinking of them to be sure.