Ever since we posted our round-up 100 copycat restaurant recipes, we've had HUNDREDS of requests for a cookbook form. Since a cookbook can take years before it goes to production, we put together our 50 favorite restaurant recipes as an eCookbook!
Heaven knows we love food – and we love to eat out! Going out can be a real hassle. Between putting on shoes, changing a few diapers, finding the car keys and actually buckling the kids in, we're usually 45 minutes later than we plan, but maybe that's just us. Not to mention that things adds up quickly – with drinks, appetizers, main dishes, desserts and a tip – you're looking at a hefty bill! Luckily, this eCookbook has you covered!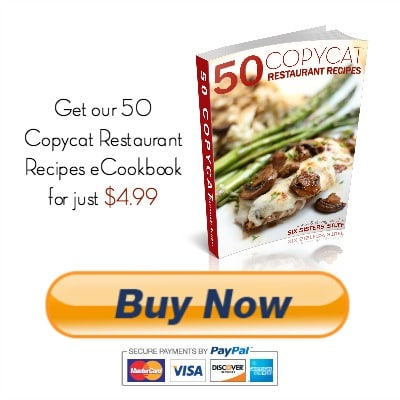 In this eCookbook, you will find:
9 appetizer recipes
5 bread recipes
5 salad recipes
5 drink recipes
18 main dish recipes
8 dessert recipes
These are copycats from restaurants like The Cheesecake Factory, Olive Garden, Cafe Rio, Mimi's Cafe, Outback Steakhouse, and MANY more. It also has 8 NEW RECIPES that you won't find anywhere on our site!
Here are some of our favorites:

*At this time, this book is only available in ebook form.*
An ebook is a cookbook in an electronic format. Rather than having to go to the store to purchase a cookbook, you can download it to your own computer, smart phone or tablet!  You can print your eCookbook if you want a hard version or you can easily access your eCookbook from your computer or other devices whenever you are ready to cook.
After you purchase your eCookbook, you will receive an email with a PDF file that you can download and save for personal use.  If the book sells well, there is a chance that we will be able to actually print this book in physical form for you to purchase.