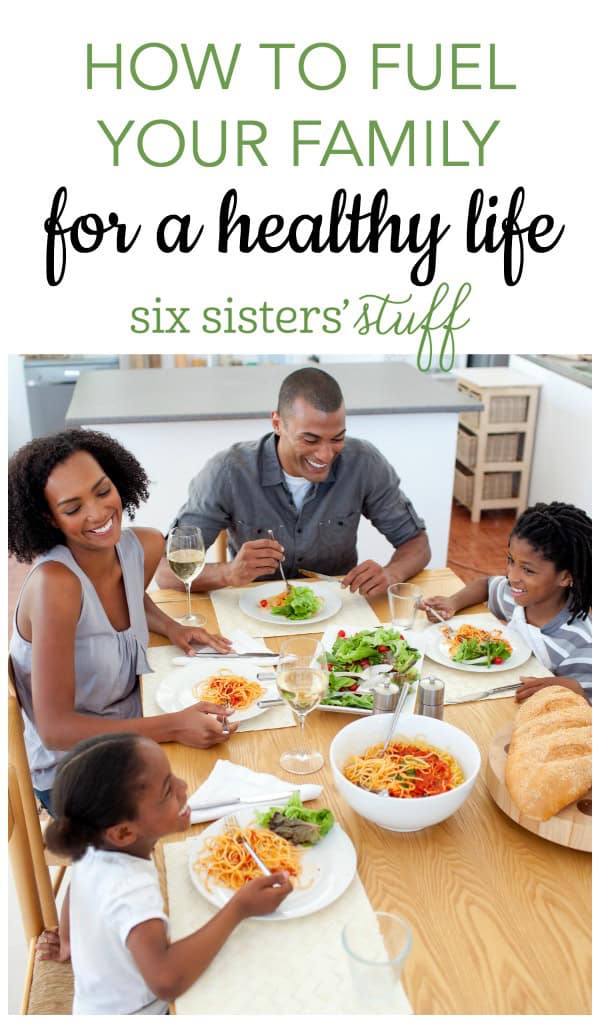 We have teamed up with The National Milk Life Campaign?s Back-to-School program to bring you this series on keeping your family healthy. You can check out our other posts in this series here and here.
For those of you who have been reading our blog for a while, you know how important our families are to us. Feeding our family a healthy dinner is one thing, but making sure that they have a healthy and balanced life is a whole other ballgame! I want my kids to feel healthy physically, mentally, socially, and emotionally. It's hard to achieve balance in all these areas and as busy parents, it's even harder to find the time to make it happen. My husband and I try to work things into our daily lives that allow us to enjoy time with our children, but also help meet their needs. Here are some of the ways that work for our family:
1. The family that plays together, stays together!
Physical activity is such an important part of our everyday lives. My husband is a physical therapist and also a health/fitness blogger, so spending active time together as a family is something that is important to us. We love to jump on the trampoline, take walks after dinner, and do workouts together. Often it's hard for parents to find time to workout once they have kids, so we try to incorporate kids into our workout routines as much as possible. Your kids look to you as examples, so the more active life you live, the chances are that they will too. Need an idea for a workout to do with kids? Try this one that you can do at home! After your workout, re-fuel with a healthy snack!
2. Family dinner.
Growing up, my mom made family dinner a huge priority. We knew every night at 6 pm, dinner would be ready to eat and that we needed to be there. Family dinner was a time when we turned the ringer off on the phone (we didn't have cell phones until we were all older) and we spent time just talking. Studies have shown that kids who eat dinner with their family at least 4 times a week do better in school, are less likely to do drugs, are more social with their peers, are less likely to have depression, and are all around healthier. It doesn't require that it's a gourmet dinner – it can even be something as simple as mac and cheese from a box served with a glass of milk! The important thing is that you are there and that you reconnect by talking and spending that time together. Need some conversation starters to get the talking going? Check out these ones!
And if dinner isn't your thing (or maybe you have teenagers with busy schedules), have a family breakfast! Whip up a bunch of pancakes and sit down together for 15 minutes to talk over a hot breakfast.
3. Bedtime stories.
My husband is the best at this one – every night after the kids have bathed and brushed their teeth, they all cuddle up and dad reads them a story. It's dad's special time to connect with the kids and enjoy some fun time together. Whether it's a silly picture book or an adventurous chapter book, this bedtime tradition is something that your kids will remember forever and it will help their reading and language arts in their own education.
4. Friday Night Pizza and a Movie
By the time Friday rolls around, we are ready for a break! We love to make homemade personal-sized pizza and let the kids each choose their own toppings (get our easy homemade pizza crust recipe here). We cut up a ton of different vegetables and other toppings and use it as a way to introduce new foods to them. You will be surprised that when you present them with options and let them choose for themselves that they will often try new nutrient-rich foods without your prodding. Then we throw a big quilt on the floor in the family room and eat it "picnic-style" while watching a fun family movie. This is something we look forward to each week as a way to celebrate the start of a weekend and a way to relax after a busy week.
As I mentioned above, it doesn't have to be an elaborate thing to make that time to spend together – just find ways to incorporate it into your daily life. Time spent together with each other will help your family establish life-long healthy habits, not only in nutrition but also in their lifestyle. You will be amazed at how much it effects your family's overall well-being!
You can find more ways to conquer the day with the help of MILK on their website.  Also, check out their Facebook, Twitter, Pinterest, and Instagram pages for more great tips and ideas!
Now, two of you have the chance to win a month's supply of milk (valued at $18)!  To enter, answer the following question by leaving a comment below:
How do you provide a healthy lifestyle for your family?
Entries will close next Tuesday (November 3, 2015). Good luck!