A few months ago I was able to attend a conference at Beaches Resort in Turks and Caicos. It was the most beautiful beach I have ever been to! Going to a Beaches Resort set the standards high for my upcoming vacations. To be honest it is going to be REALLY hard to surpass my experience at a Beaches Resort.
If you have never been to a Beaches Resort, my list of 9 Reasons Why You NEED to go to a Beaches Resort hopefully will help you. It changed the way I look at vacationing forever.
1. All Inclusive:
When we got to Beaches Resort in Turks and Caicos, I told my husband this is Disneyland for adults! It was beautiful!  As soon as we pulled up in the free shuttle, they took our bags, offered us an orange delicious drink and got us all settled in. The great think about all inclusive is that there is NO TIPPING. You never have to carry around cash or even your credit cards. All the meals are free, the snacks are free, and the drinks are free. As you sit on chairs at the beach the employees will come around and ask if you would like a drink. They will bring it to you and you do nothing but sit there. No paying for the drink, and no tipping. It truly is like a dream. Beaches just has it figured out!
2. The Beaches:

The sand and the beaches at Turks and Caicos are the most beautiful I have ever seen. The water is so clear and blue. The Beaches team also cleans off the beach everyday so it is clean, beautiful and perfect everyday.
3. The Food. All. Day. Long.


Oh the food. Oh man, could we just go back right now? With over 17 amazing restaurants to pick from, it was so hard to decided which place to go! There is no limit on how many meals, drinks, or snacks you eat. There are SO many options! My favorite place was Kimonos Restaurant – All of the Entrees are prepared and served by your own Personal Teppanyaki Chef. It was a blast!
4. Kid Friendly and Free Babysitting

We went without children this time, but there were SO many things that our kids would have LOVED!  Beaches has so many activities geared towards kids. They give them extra attention with tailor-made fun just for them, offering age-appropriate activities for kids of all ages, from tots to teens. They are supervised at all times by an amazing staff!
Whether you decided to leave them with the Beaches Team or bring them with you on your adventures, the kids will have the time of their lives!
5. All the Activities

At beaches they have so many activities that there weren't enough hours in the day! There are a few things that you have to pay for such as the Red Lane Spa- but everything else is included!
Some of the things we did while at Turks and Caicos:
Wind Surfing
Water Slides
Surf Simulator
Snorkeling
Tennis
Boating
Water Aerobics
Large Chess
We played soccer and volleyball with a group Beaches Resort organized
Night activities such as the big party, shows, and live entertainment (the live singing by the fire was my favorite as I drank my drink and listened to the waves hit the shore).
Swam in the many BEAUTIFUL pools and hot tubs
Other things included that we didn't get to:
Paddle boarding
Wake boarding
Billiards and Pool Tables
Night Clubs
And many other sports and water activities!
6. Bags and Transportation
The Beaches Resort is just a 20 minute free shuttle from the airport, as opposed to over an hour at their other locations, making getting to the resort as fast and stress-free for everyone! They take care of your bags as soon as you get to the shuttle and they bring them to your room for you. Remember – no tips ever!
7. THE BEST Service you can imagine!
I think the thing that stood out to me the most was the Beaches Resort Staff. I was in awe. They have the best service, and are all so kind. They are hard working and you really just can't help fall in love with all of them. I knew Beaches was known for its service and staff, I just had no idea how amazing it really was.
8. The Drinks
I know I already talked about the food, but I think the drinks need a section of there own. The best part is, ALL drinks are included! I actually don't drink alcohol but that doesn't mean I didn't have any drinks! I think I had about 8 Virgin Pina Coladas everyday (with my meals, on the beach, in the swim up bars). Ha Ha! As soon as I told them I don't drink alcohol they were so good to tell me what virgin drinks they could make and what my options were.
9. Sandals Foundation
I was lucky enough to listen to Adam Stewart, the CEO of Sandals Resorts while I was there. He is an amazing individual who has helped so many people. One thing I love about the Sandals Company is the Sandals Foundation. The Beaches Resorts and Sandals Resorts are located in the Caribbean where there are many needs for the people on those islands. The Sandals Foundation helps make things possible for these people by making roads, funding schools, and much more!
You find out more about the Sandals Foundation HERE.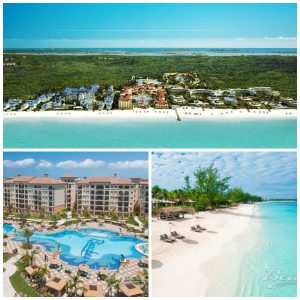 If you are on the fence about going to a Beaches Resort, maybe this will help- just DO IT! It was by far my most favorite vacation I have ever been on! Ha Ha. Hope that helps!
Wondering where to even get started on booking a Beaches Resort Trip? 
We like to book most of our trips through GET AWAY TODAY. I have found the best prices on many trips including all the locations of Beaches Resorts! 
Curios of the cost? Type in the dates and locations HERE to see how much it would cost!