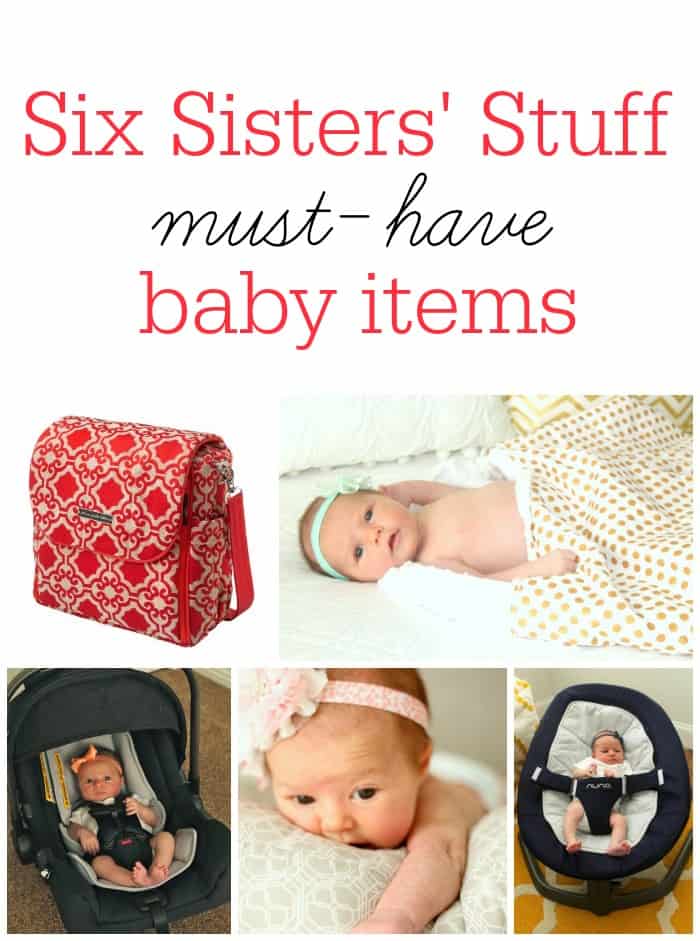 She's finally here!
Our sweet, little Riley joined our family on June 2, 2014 and we can't get enough of her!  She is such a wonderful baby and her two older brothers love her to pieces.
I have to admit, I was pretty nervous and anxious about welcoming a third child into our home.  My 4-year-old and 2-year-old boys keep me pretty busy as is and thinking about bringing a newborn into the mix stressed me out!  Now that it has been a few weeks and we are starting to get the hang of things, I wanted to share with you a few of my must-have baby items!  These items have helped simplify and make motherhood so much easier for me.  I wish I would have had these items with my first two children!
Petunia Pickle Bottom Boxy Backpack and Beginnings Book
Last year, we reviewed some amazing Petunia Pickle Bottom bags on our blog.  We absolutely LOVE them!  They are hands-down the most durable and fashionable diaper bags that I have ever used!  I was so excited to finally be having a daughter, that I knew I wanted a bag that was cute and feminine.  As soon as I saw the Boxy Backpack in Persimmon, I knew it was perfect!
This bag is filled with organizational pockets, a built-in changing station and multiple carrying options!  I always joke with my husband that I need an extra hand now that I have three kids to care for, and with the backpack straps carrying option with this bag, I can be totally hands free!  I don't know a mom who couldn't use that!
Petunia Pickle Bottom has a HUGE variety of different bags to fit the needs and style of any mom!  Seriously…go look at them.  You will die over how cute they are!
Not only does Petunia Pickle Bottom have darling bags, but they also have other essentials for moms!  I love the Petunia Pickle Bottom Beginnings Book.  I am so scattered brained during the last few months of pregnancy and first few months after the baby comes.  I love that the Beginnings Book helps me keep track of everything baby related.  My favorite is the Beginnings Book in Notting Hill.  The Beginnings Book is easy-t0-carry and has pockets to hold pictures and other important cards or records.  I love the printed cards that come in the pockets to help you keep track of birth stats, measurements, allergy history and emergency contacts.  I use mine to help me keep track of doctor's appointments, immunizations and so much more that I can't remember without my Beginnings Book!
Petunia Pickle Bottom is offering our readers 30% off Beginnings Books and Free shipping in the contiguous United States with the code: sixsisters from now until July 7, 2014!
One of the first things I think about when I find out I am pregnant is getting a car seat.  After all, how else will that cute baby come home from the hospital?!  We have used different car seats with my other two children, but this Nuna PIPA Car Seat has been our absolute favorite!
After we had Riley, the car seat technician and nurse went to check our car seat in our car before we could leave and they both said it was the most secure and sturdy car seat they had ever seen!  I feel so relieved knowing that our baby is safe and secure in her car seat.
The Nuna PIPA Car Seat is sleek and stylish, but one of my favorite features is the dream drape with hidden magnets to provide protection and privacy.  It is so nice to not have to deal with a separate car seat cover.  It also can easily be tucked away into its secret compartment when you don't need it!
The Nuna PIPA Car Seat has a 5 point safety harness and side impact protection to keep baby safe.  It is also very lightweight and has sleek and savvy fabric to keep little ones cool in hot temperatures and warm in cold weather!
I knew with three kids, the last thing I wanted was a big, bulky stroller to push around our new baby in.  I found the Combi Cabria Stroller and knew it was exactly what I was looking for!
The Combi Cabria Stroller is lightweight and compact.  It has a "quick fold" system that makes folding, packing and carrying your stroller a cinch!
It has a padded seat that can recline so your infant can lay completely flat, which is so nice when you are out and about during naptime!  It also has a convertible harness to grow with your child.  It also has shoulder pads and a head pillow for extra comfort.  I love knowing that my baby is comfortable when we are out on a walk or running errands!
My favorite feature of the Combi Cabria Stroller is the oversized canopy with peek-a-boo windows to protect from the sun, rain and wind!  We went to a parade last weekend and it was so hot and sunny.  We pushed Riley in our Combi Cabria Stroller where she slept the entire time because she was so comfortable in her stroller and cool because of the canopy!  I also couldn't survive without the extra-large basket and stroller organizer to hold everything I need for a day out!
After my first baby, I had all the time in the world to sit and cuddle him all day.  Two kids later, I don't have the time or ability to spend hours on end holding my baby (as much as I wish I did)!  The Nuna LEAF has literally been a lifesaver for me since bringing Riley home.  I keep it in our living room so if I need to set her down, I have a safe place to do so.  It is also so sleek and stylish that I don't mind it being out unlike some of the baby swings and seats I have used in the past.
The Nuna LEAF doesn't require batteries or cords and is completely silent (I always hated the sounds our old baby swing made)!  It is made with plush Oeko-Tex breathable fabric and has a soft, organic cotton insert for comfort.  It is also so easy to wash…trust me, I would know. Haha!
My boys love to "rock" their sister in her baby seat and I don't feel worried when she is in her Nuna LEAF.  With a gentle push, the Nuna LEAF gently rocks my baby for over 2 minutes!  It can also easily lock stationary if you don't want it to sway.
The Nuna LEAF is at the perfect angle for napping.  Riley LOVES sitting in the LEAF and usually falls asleep just a few minutes of swaying.  I love that it has a safety harness so I can easily strap her in and let her rest knowing that she won't fall out.
The Nuna LEAF can hold children up to 130 pounds so it can grow with your child!  My boys love sitting in it when Riley isn't around. 🙂  It is the most popular seat in our house!
Aden + Anais Swaddles and Skin Care
My kids love to be swaddled when they sleep.  I am obsessed with these Aden + Anais Swaddles!  This For The Birds Classic Swaddles Set comes with four 47″ x 47″ 100% cotton muslin swaddles.  I love how light and breathable these blankets are!  I don't want to bring my baby out without a blanket, but don't want her sweating to death with a heavy blanket.  These are perfect for that!  We bring them everywhere.
I have been swaddling Riley in Aden + Anais Swaddles since she was born and it has helped her sleep so well (we're talking 7 hours straight at just a few weeks old! Haha).  They are the comfiest blankets and get softer with every wash.  I even use mine as a nursing cover during the summer so we stay cool while we're out and about!
You may not know, but Aden + Anais also has a skin care line!  My kids have really sensitive skin so regular baby lotions cause them to break out and get really itchy.  We LOVE using Aden + Anais products and they come from gentle, natural ingredients that do wonders for my family's skin!
1.  Stretch Mark Reducing Cream.  I used this throughout my pregnancy and have yet to see a stretch mark!  It also is proven to help prevent and reduce the appearance of stretch marks.
2.  Hair + Body Wash.  This soap is mild, tear-free and moisturizing.  Perfect for babies (and kids!).
3.  Ultra Gentle Lotion.  With all natural ingredients, this lotion is non-greasy and moisturizing.
4.  Soothing Ointment.  This stuff is as valuable as gold!  This works wonders as a diaper ointment or healing cracked lips, minor cuts, insect bites, wind burn or dry cracked skin.  It is so moisturizing!  I can't sing its praises enough!
My kids love anything soft and fuzzy from the time they are babies.  I adore this darling Metallic Gold Dot Blanket from ModFox. One side of the blanket is 100% cotton and the other is minky.  It is so soft!  It is perfect for using as a crib blanket, laying on the floor for your little one to play on or just cuddling your cute baby!
ModFox has some of the most darling baby bedding and apparel I have ever seen!  I used a lot of gold decor in Riley's nursery, and this blanket was the perfect fit!  You are going to love all of their cute products in their Etsy store!
I forgot how much time I spend nursing until I am actually doing it!  I love these nursing pillows!  They help make my baby and me so much more comfortable while I am breastfeeding.
Nursing Pillows has a huge variety of pillows to choose from and they are all absolutely darling!  I picked the Pink Minky Pillow and Hush Nursing Pillow.  Not only are they cute, but they are functional!  Even my boys love them because they help them hold their little sister.
These pillows have a 100% cotton exterior and 100% polyester filling.  I love that they are machine washable so I can just throw it in my washing machine as needed!
CK Stiches makes the cutest burp cloths I have ever seen!  If you're going to be spit up on, why not at least have a cute burp cloth draped over your shoulder?! Haha!  Their darling sets of boutique burp clothes make a great gift for baby showers.  They come in a variety of designs and colors, and you are bound to find some you will love!
I couldn't believe how cute this set of burp cloths was!  I love how the cloths all have coordinating fabrics.  One side of the burp cloths is absorbent chenille and the other side has decorative cotton fabric.   They are topstitched around the edge for durability, as well as into thirds so they fold up and lay nicely.   Each cloth is 16 x 9 inches which makes them perfect to throw over your shoulder or even use as a changing pad while on the go!