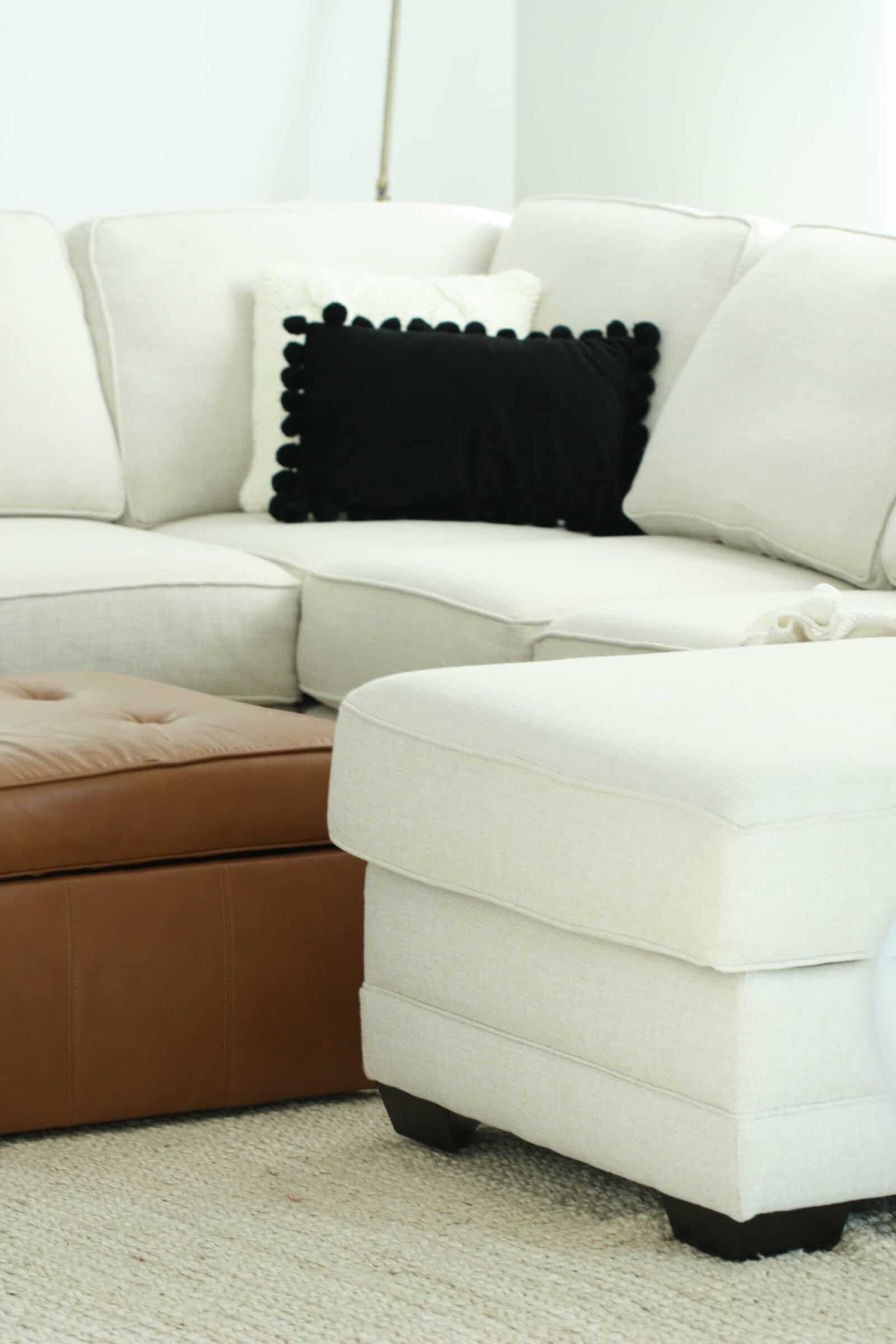 Fisher Home Furnishings is the best furniture company I have ever come in contact with. They have quality furniture that fits all the needs of your family.
My husband and I just moved into our first home and had our first baby. I wanted furniture that would be durable, last for years to come, and work with messy and crazy kids.
When I told Fisher Home Furnishings, they knew exactly what to show me and help me find the perfect pieces for my home.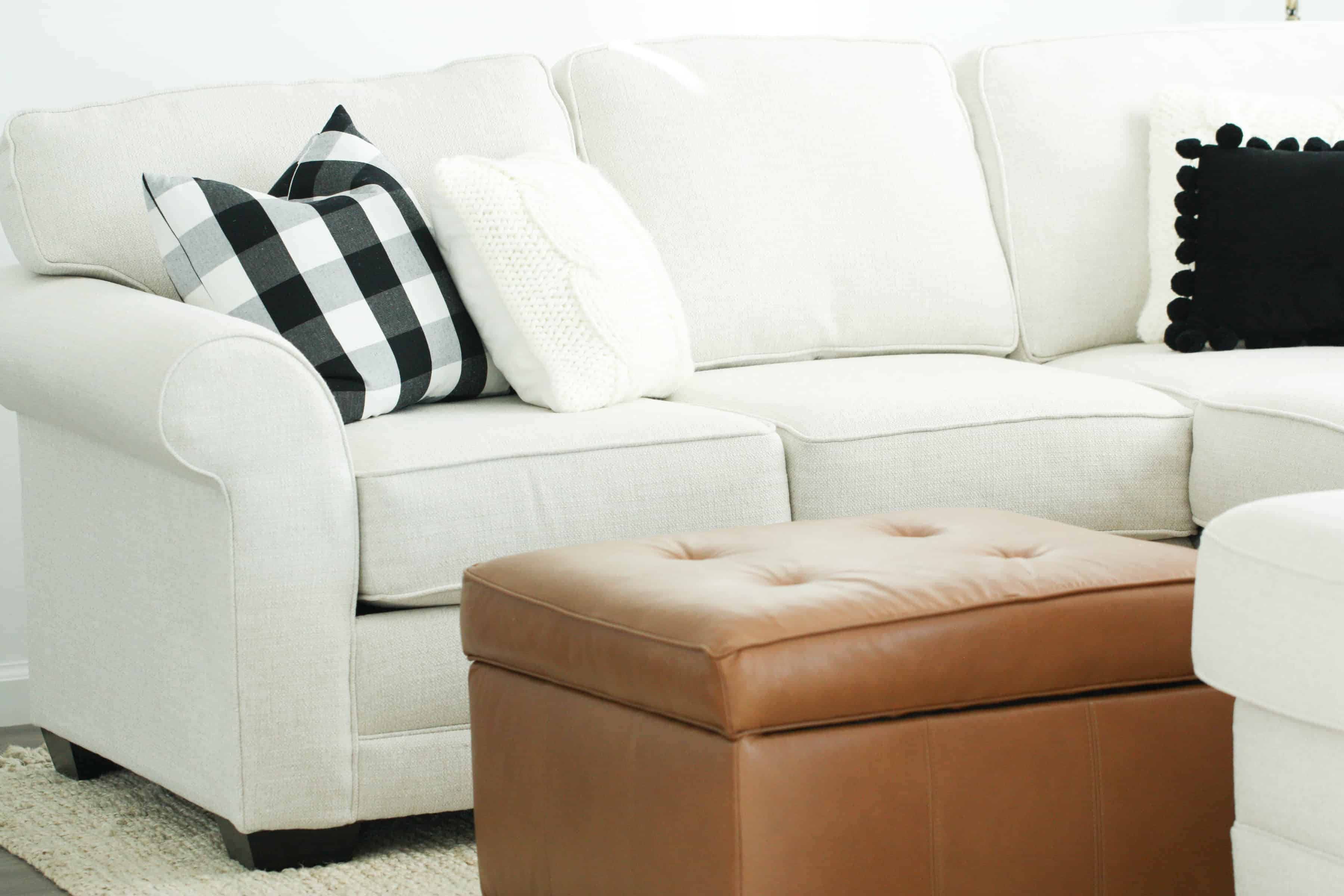 Furniture requirements:
My main goals for finding furniture for our living room was:
Comfortable: This would be our main area for hosting, and we wanted to make sure that everyone felt comfortable, cozy, and at home with our furniture.
Durable: Would last for years to come, not lose its shape, and keep it's comfort.
Modern: We wanted furniture that would fit our new home that we just built, so keeping it modern with the rest of the house was important to us.
Stain Resistant: With a new baby and kids on the way, I wanted something that wouldn't show stains, spills, and little messes from little people.
Affordable: This was one of our biggest concerns. We had shopped around forever and found nothing that was in our price range that fit our above requirements. That is, until we went to Fisher Home Furnishings. We found the perfect pieces of furniture that fit into our budget and the style of our home.
The sectional we went with fit into every one of our requirements. It is the perfect piece of furniture and the leather sectional we chose to go with it is just the cherry on top.
Our EXPERIENCE with fisher home furnishing:
I have to admit, shopping for furniture is like shopping for tires, but more expensive, and way more intimidating.
However, my experience with Fisher Home Furnishing could not have been more delightful. The employees were extremely helpful the second I walking into the door, and listened to my needs and concerns to help me find perfect pieces of furniture for our home.
Furniture set up was a literal breeze. The couch practically put itself together, which was a life saver because when moving into a new home, all you want to do is get the main pieces of furniture together so you have a place to rest.
The furniture literally just hooked together and we put the cushions on, and that's all there was to it. It could not have been more simple. It took us less than 10 minutes to put together.
Stainproof Sectional:
I know what you are thinking, a white sectional with a new baby and many more kids to come? The answer is, YES!
The fabric on this sectional is stain proof. It is so amazing. I have spilled multiple times on the sectional but it simply wipes off without any cleaning supplies.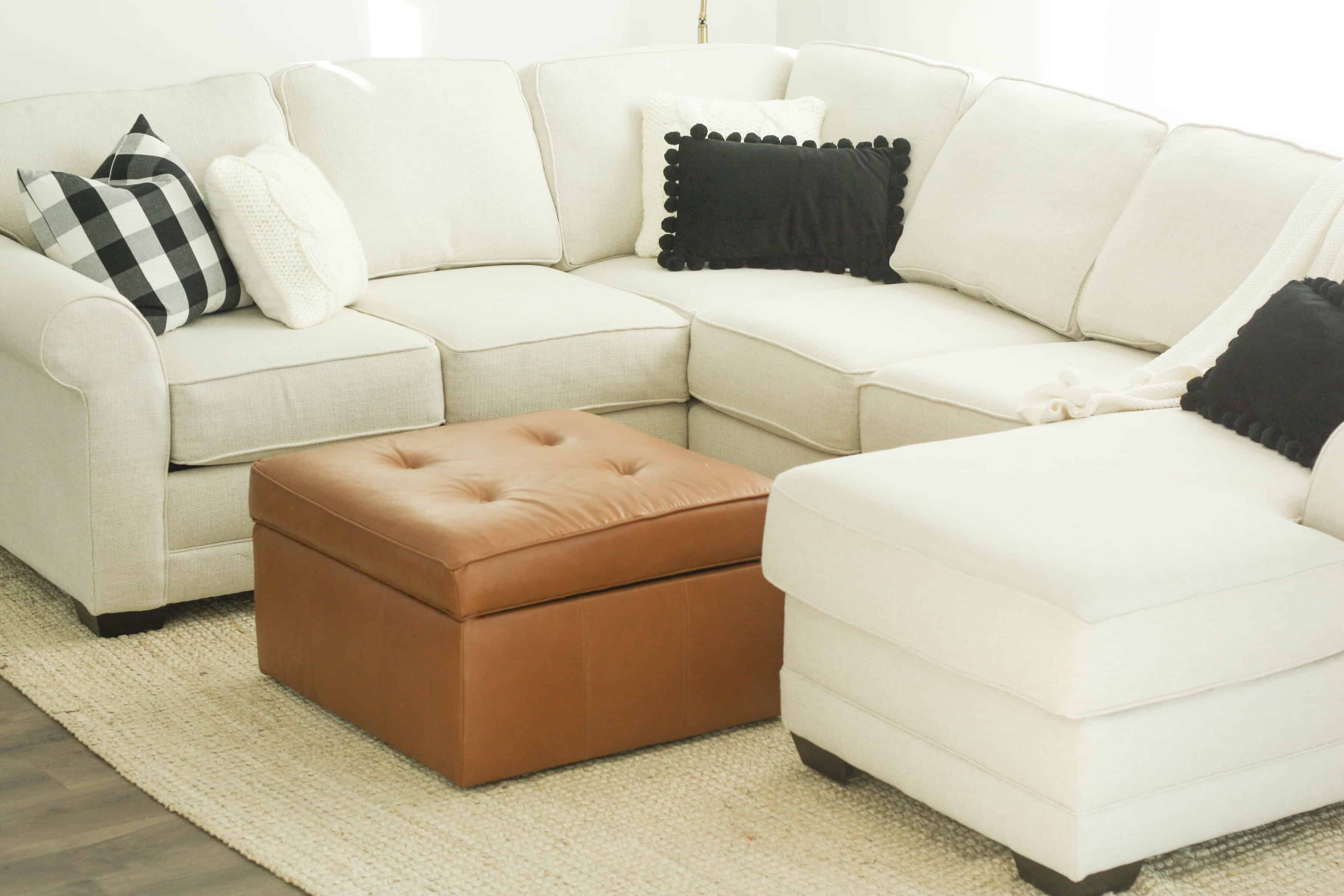 All we do is wet a washcloth or rag, and it lifts right out with a little scrub. We have spilled hot chocolate, pizza, salsa, and orange juice and have had zero stains.
You can use a scotch guard on the sectional as well, but we didn't, and there hasn't been a single issue. So yes, we did go with white for our sectional, and we haven't had a single problem. Bring on all the messy little hands and game nights, because the sectional can handle it.
The fabric is still extremely soft and comfortable. As you scroll down, you will better see the quality of fabric that Fisher Home Furnishing sells. It is durable, yet extremely comfortable and homey.
Leather Ottoman:
I love the look of the light brown leather with the white and creams. I am all about the natural hues and colors these days and this leather ottoman had me drooling.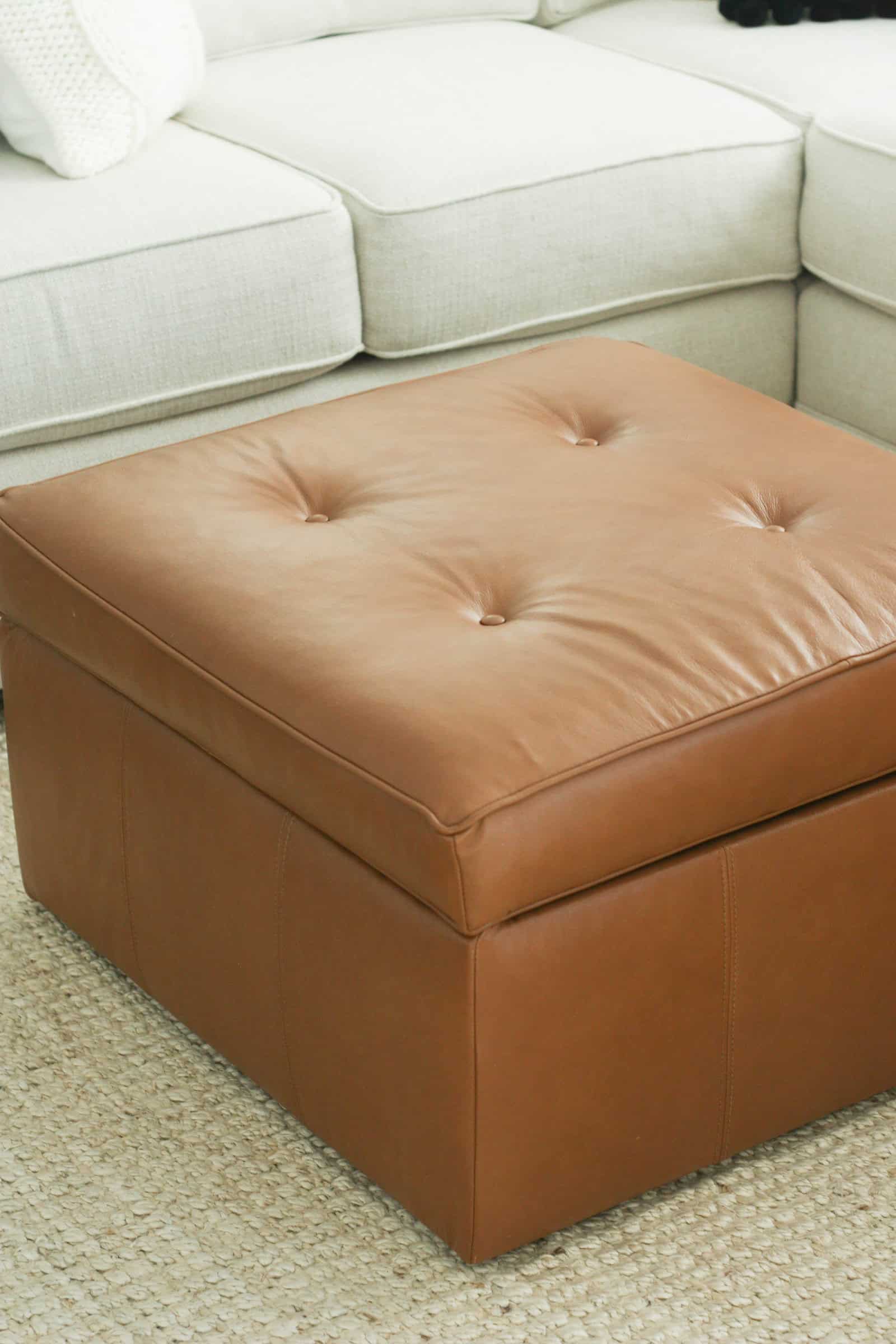 Not only that, but I am always needing extra storage and space. This ottoman opens up. We keep an extra throw in there for movies and games for when our friends come over.
I am sure it will eventually hide children's toys, but for now, it is perfect to rest your feet on and keep our games in a common area where they will be played frequently.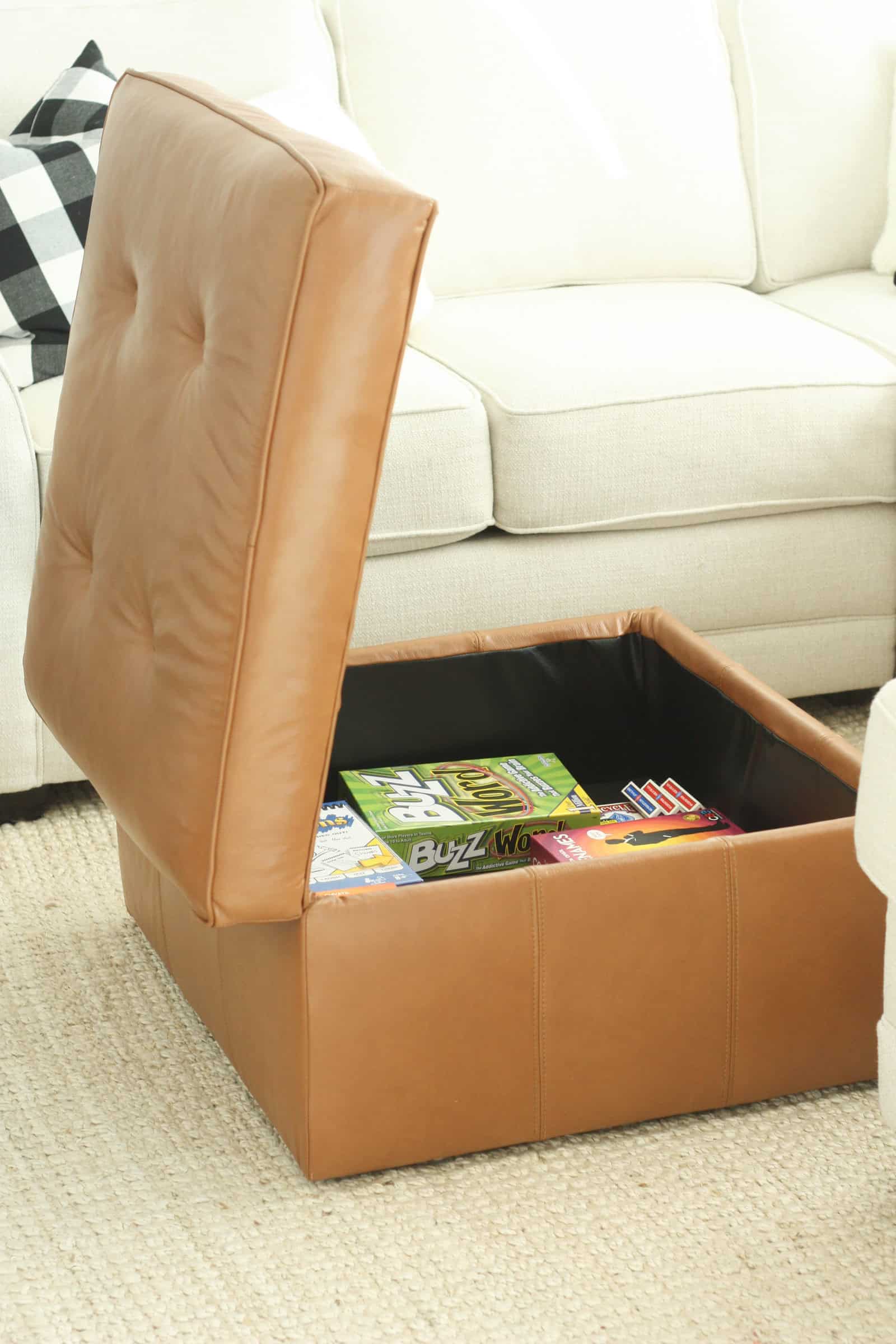 Modern Family Room:
We tried to go with a modern family room with modern and clean colors and hues. I found that this couch is perfect for pairing new pillows for switching up the colors, or for holidays.
We have already switched out the pillows a few times, and it still matches our home and the modern look we are going for.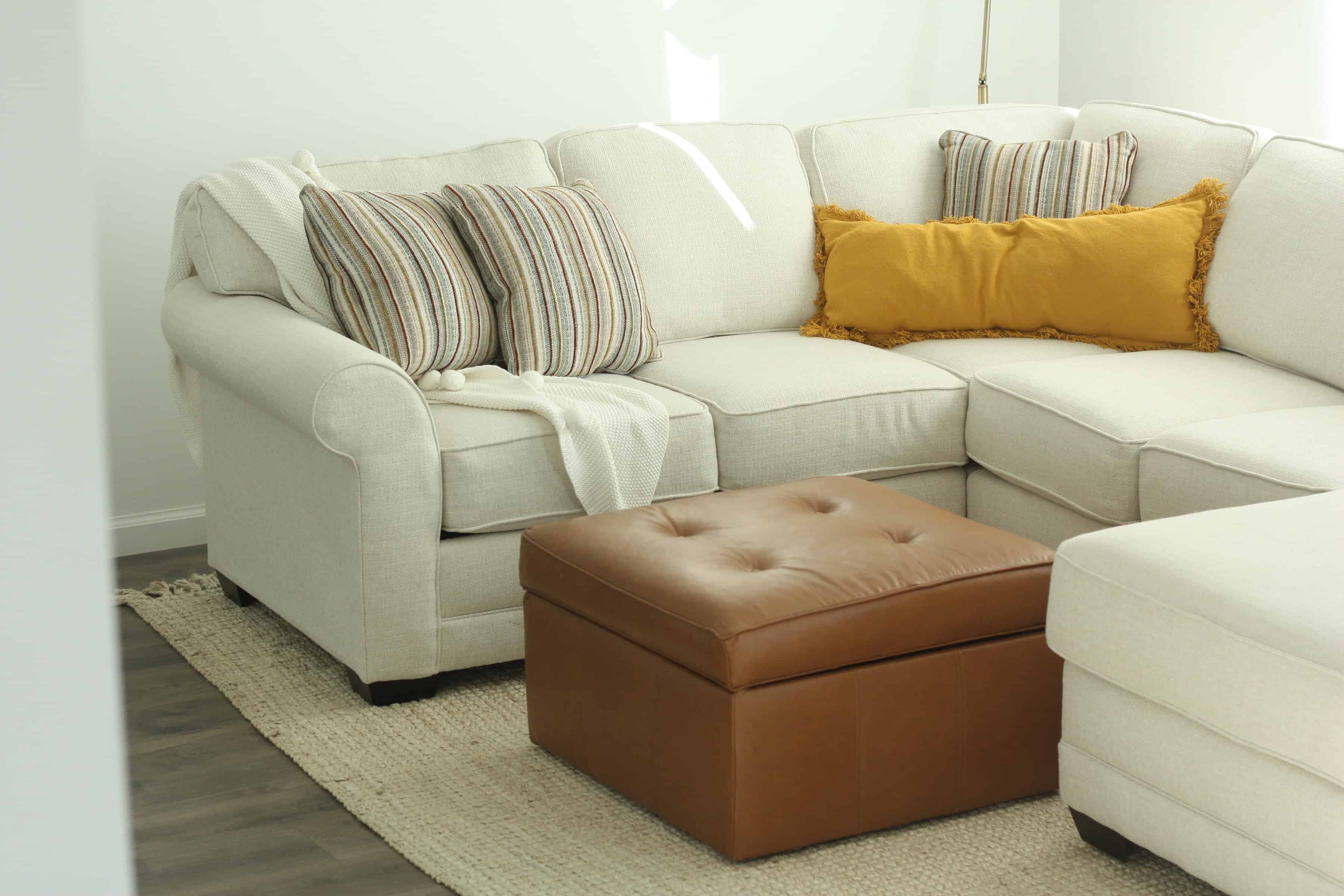 If you are looking for some modern home decor and pillows, Fisher Home Furnishings has you covered. They have the most amazing selection of pillows, doormats, vases, and accent pieces.
This sectional even came with four pillows, that you can choose the pattern of. It was so fun seeing it all come together, and our custom couch was ready to go within just two weeks.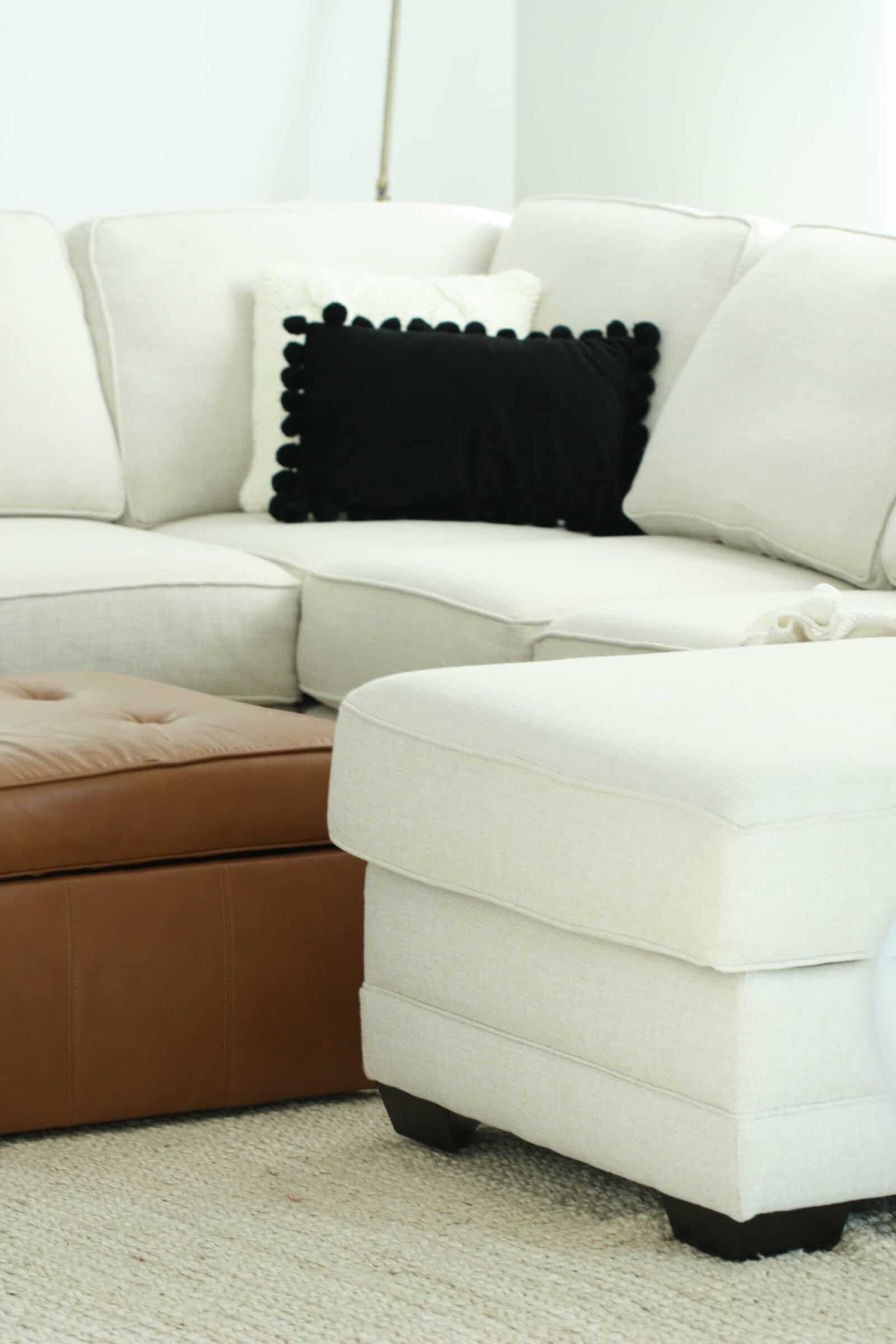 you're invited:
Because we love Fisher Home Furnishing so much, we wanted to create something special for our followers.
Fisher Home Furnishings is having a huge event that is by invitation only. Lucky for you, we want you to be our plus one. This is Fisher Home Furnishings biggest sale of the year and you are not going to want to miss it.
If you live in Utah or a surrounding area, you will want to check this in store, sale, out.
More about fisher home furnishings:
Fisher Home Furnishings is located in Northern Utah at 2175 Main St, North Logan, UT 84341. It is ran by a family that lives in the valley. In fact, they treat you like family when you are there. I am used to pushy salesmen that just want you to buy the most expensive piece, but all the employees were helpful and relatable, making my experience amazing.
They have their main furniture store, as well as their outlet store, which is located and connected to the main store.
Fisher Home Furnishing has your house covered from the bedroom to the dining room and living room, plus everything in between.
You will be drooling over all their amazing furniture and home decor the second you walk in the door.
So whether you are redecorating, or need that one accent piece you have been looking for, you are sure to find it at Fisher Home Furnishings. 
It's clean, well organized, roomy, and the most pleasant environment. You will be sure to find pieces for your home, that will create many memories in years to come.
If you have more questions, be sure to head over to their store or their site: Fisher Home Furnishings, to learn more.
They are kind, extremely helpful, and know their stuff. They have been in this business for years, and it shows.