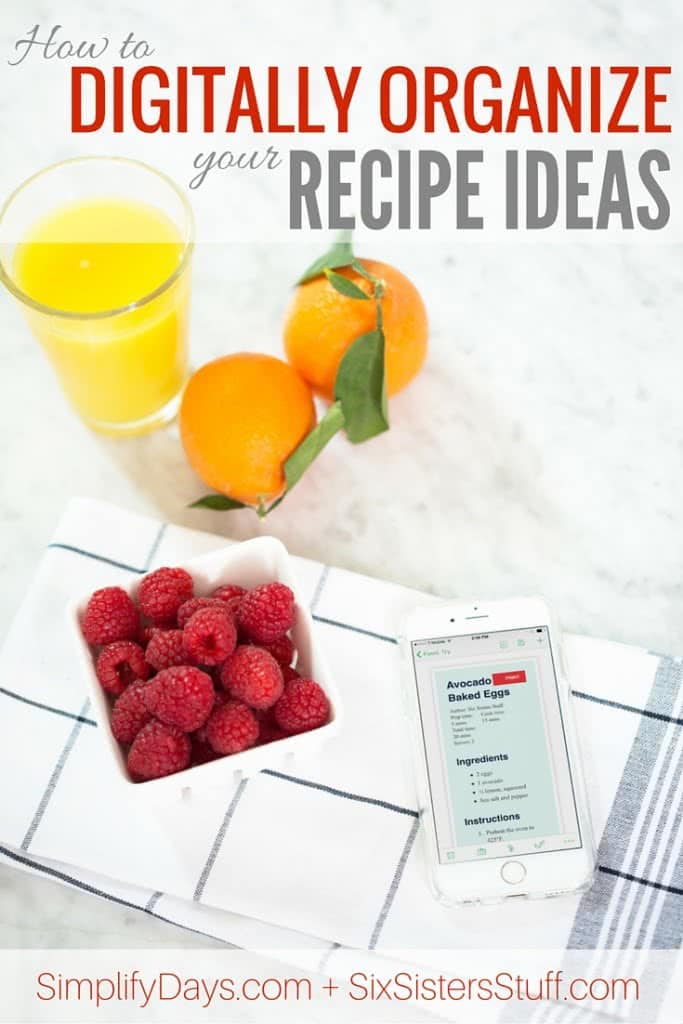 As you can imagine, each of us has quite the extensive recipe collection!  Now that the weather is warming up we are in spring cleaning mode and are working on getting more organized!  When we think of organizing, we immediately think about our friend Barbara with Simplify Days: Life Digitally Organized.  Barbara is the sweetest girl, and is a GENIUS when it comes to simplifying your life through digital organizing (she has been a professional organizer for 10 years!).  Just think, no more stacks of recipes or papers piling up in your kitchen!  Haha!
We asked Barbara if she could help walk us all through the process of digitally organizing recipes and it is so simple!
Have you ever wanted to cook a new dish that you know you saved the recipe for but couldn?t remember where you saved the recipe? Was it in a magazine, a cookbook, Pinterest, your family recipe binder, in an email or on a recipe card? It can be frustrating searching through all of these potential sources when you?re ready to cook dinner and can?t seem to find the recipe that you know you have.
A Simple Solution
Keep the recipes you?d like to try organized in a unified digital system. It?s much easier than you think! This post will walk you through how to set it up, all on your phone.
The Benefits
A quick and easy way to organize the recipes you?d like to try is to digitize them. Having digitally organized recipes will:
Create a cleaner space in your home by eliminating paper clutter
Save time by eliminating the need to look for recipes you know you saved: easily find recipes with the ability to search by title, ingredients and/or source location
Save money by getting exactly what you need at the grocery store for the recipes you plan to prepare
Simplify meal time by always having your recipes available when you need them
The System
A wonderful and free solution for saving the recipes you?d like to try is by using an application called Evernote. To get started, download the free application on your phone. Evernote is available on all major platforms, just search for it in the app store. When you launch the app, it will ask you if you?d like to create a new account or sign into an existing one. If you?re new to Evernote, set up a new account with your desired email and password.
Three Ways to Save
We?ll cover three different capturing methods for saving recipes that you?d like to try into Evernote:
Capturing by Inputting Text
Capturing by Taking a Picture
Capturing by Saving an Online Source
Getting Started with Evernote
First we?ll start with the basics of Evernote. Once you're signed in, you will be brought to the main screen which looks like this.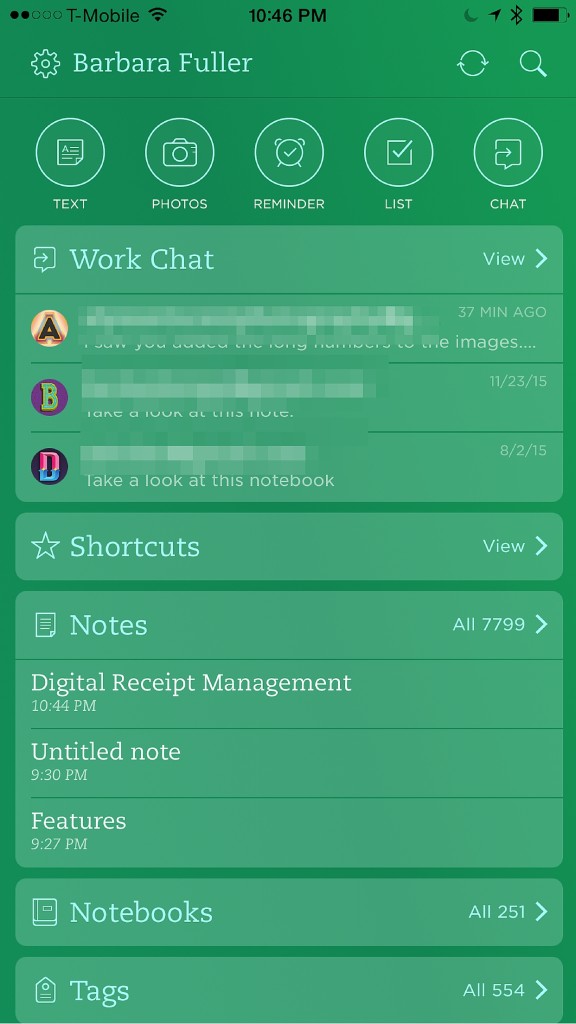 We'll briefly discuss the two main organization features of Evernote: Notebooks + Notes.
Evernote Notebooks + Notes
Notebooks & Notes are a new way to think about storing digital information. Although it works a bit differently, the best thing to compare notebooks to is just a regular folder on your computer. The best thing to compare notes to is just a regular file on your computer, like a pages or word processing document. In Evernote, notes are kept in specific notebooks, just like documents are kept in folders on your desktop. For Evernote, you simply create a new notebook, specify the title and then start adding notes in that notebook.
Create Your First Notebook
To get started with digitally organizing the recipes you?d like to try, lets create a notebook to house the information. Select Notebooks in the main menu.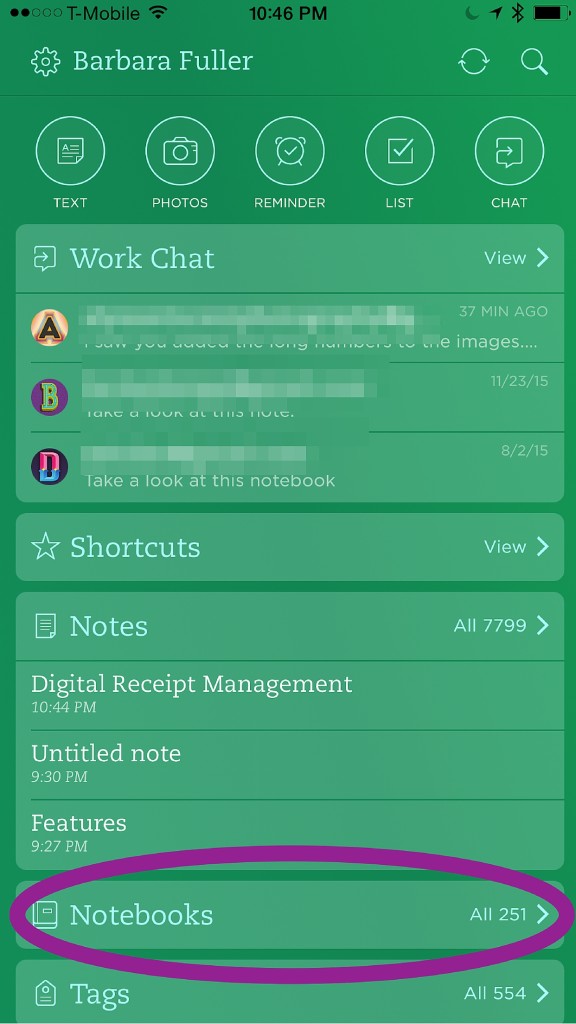 Then on the top of your screen, select +New Notebook. This will be the notebook you?ll use to store the recipes you?d like to try. Choose a title that makes sense to you, I use the title Food: Try. When your title is entered, hit Done.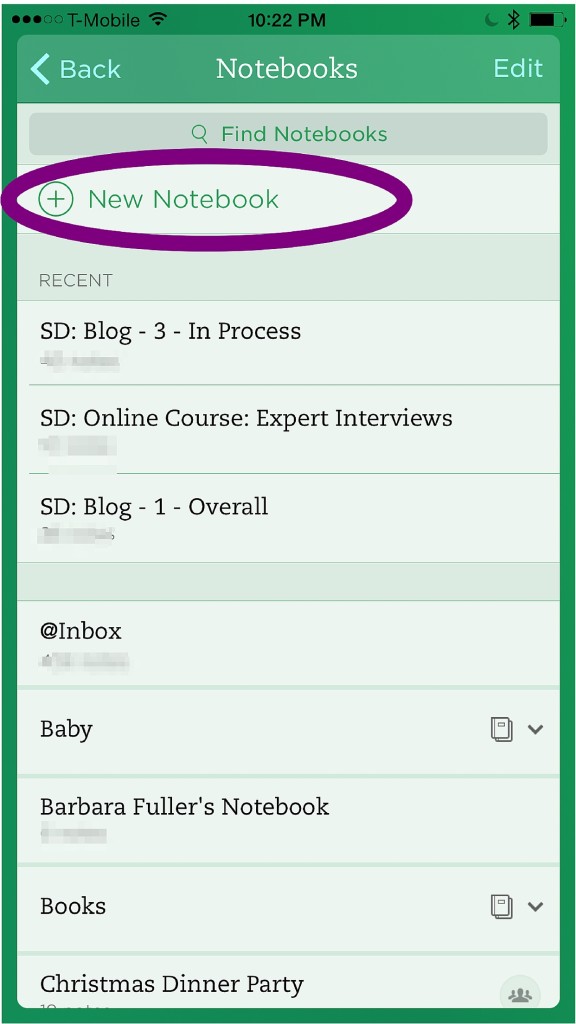 Create Your First Note
Now we?ll create a single note within the notebook to store an individual recipe. Mine has recipes saved but yours will be empty since it?s brand new. Select the + icon at the bottom of your screen.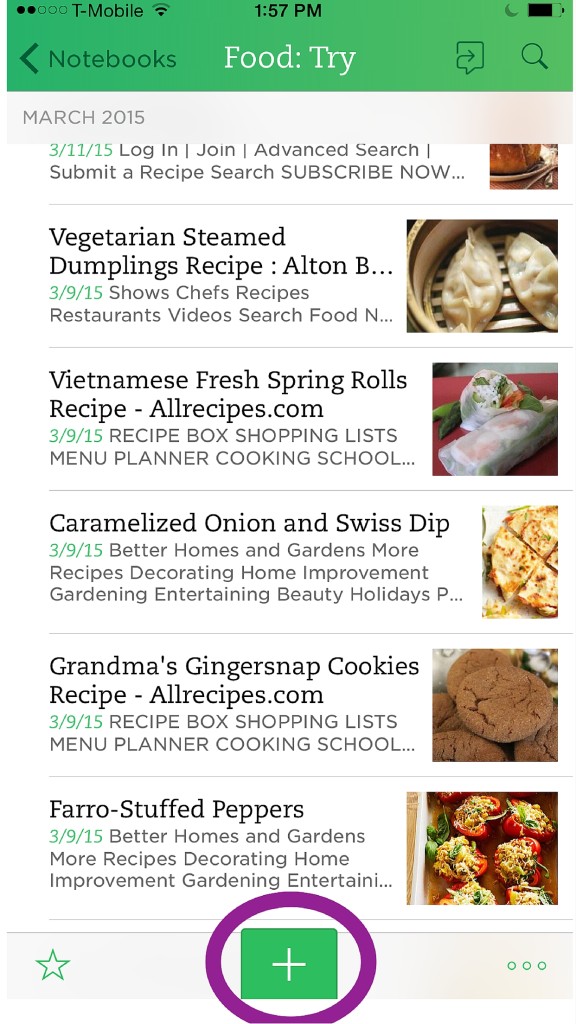 That will bring up three options. We?ll take a closer look at using the Text and Photo option to input recipes you?d like to try.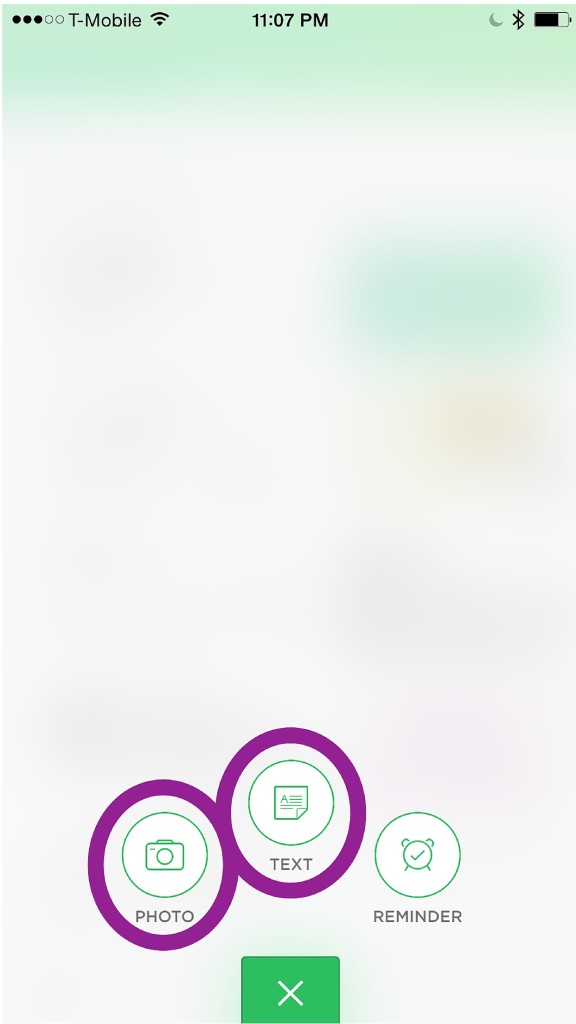 Capturing by Inputting Text
When you select Text, you will be brought to a blank window. From there you can simply write in a title for a recipe and the corresponding text. This is perfect for when you?re at a friends house and they tell you the instructions for one of their favorite dishes. Just type it in and hit save.
Capturing by Taking a Picture
The other option to easily capture recipes you?d like to try is using the photo feature. You?ll probably use this feature more often than the text feature. Have the recipe you?d like to save ready and on a flat surface. When photo is selected, it will launch a screen like this. Make sure auto-mode is turned on by touching on the icon in the top right corner.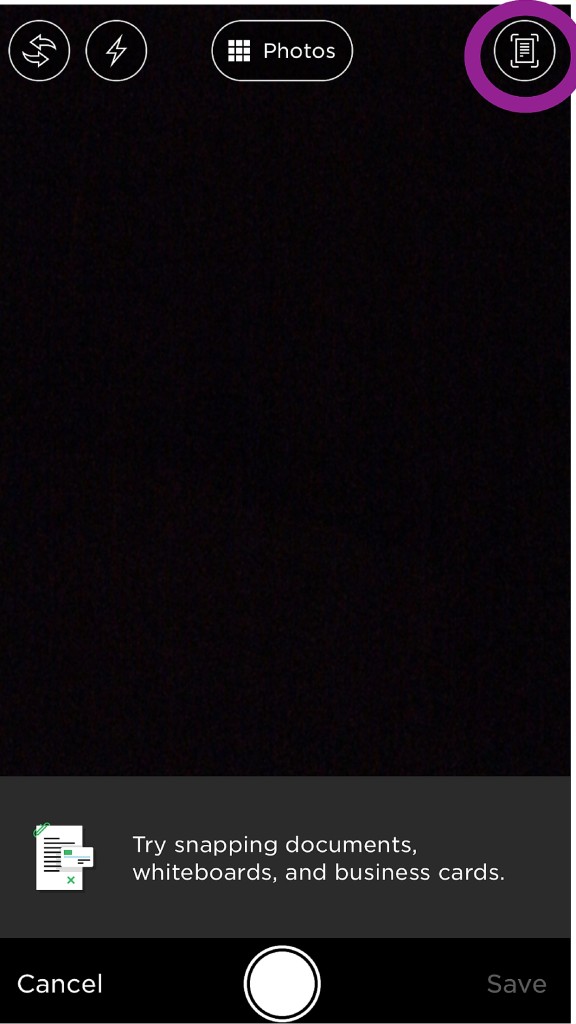 Then all you have to do is focus in on your recipe. Here is a recipe flyer I have for grilled asparagus. You will see Evernote automatically framing in the recipe. When things are focused and aligned take the picture. Once you have everything captured, hit Save. That will open a new note and the image(s) of your recipe will appear in the note's contents. This is perfect for when you get a recipe card from a store, want to clip something from a magazine, or want to save a family recipe at your parents house.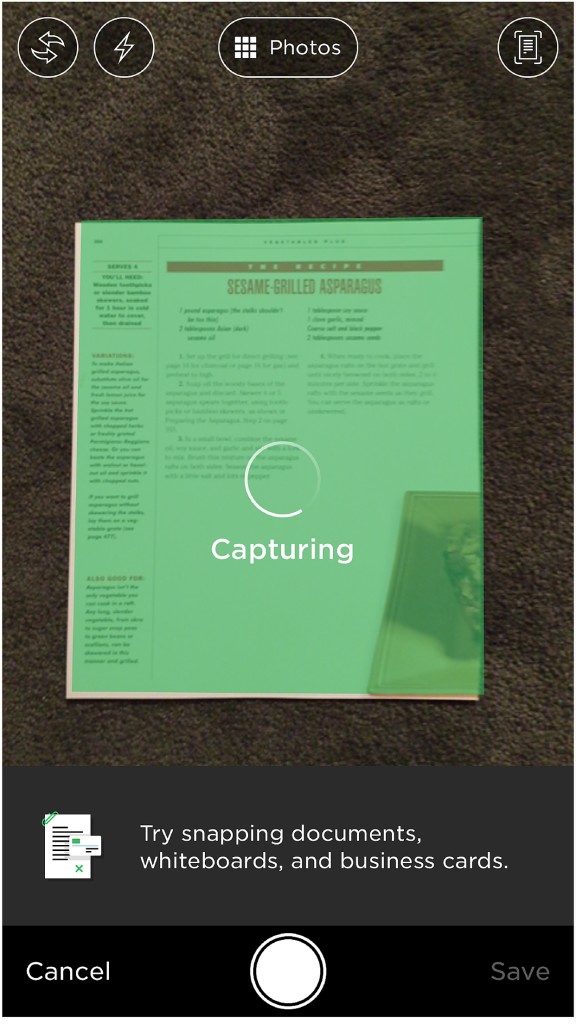 Capturing by Saving an Online Source
A third method, and one you?ll probably use the most often, is capturing recipes directly from online sources, like Six Sisters. 😉 This is with an iPhone but the steps should be similar with another platform. When you see a recipe online that you?d like to save, tap the share icon at the bottom of your screen.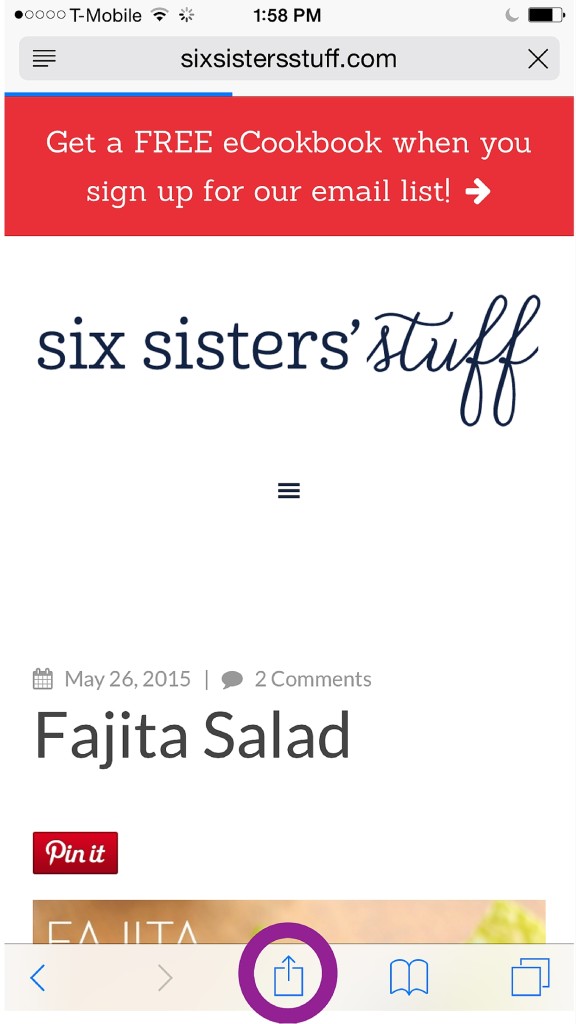 That will bring up this window. Select Evernote as your Save location.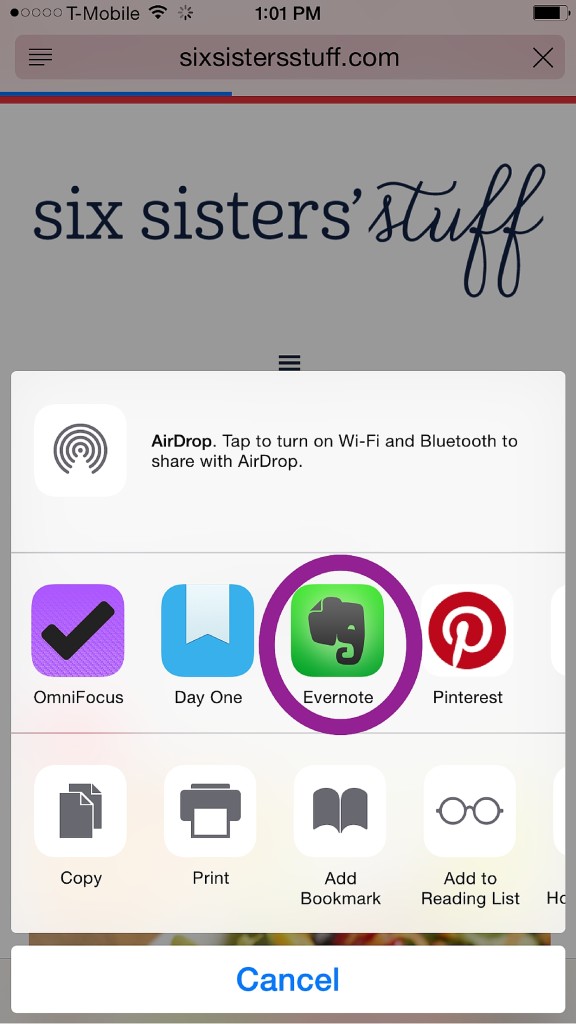 Then this window will appear. You can select the dropdown for a view of all of the notebooks that you have created in Evernote. Select the Food: Try notebook and then hit Save. That?s it! Now when you navigate back to Evernote you?ll see your recently clipped recipe saved with all of the other recipes you?d like to try.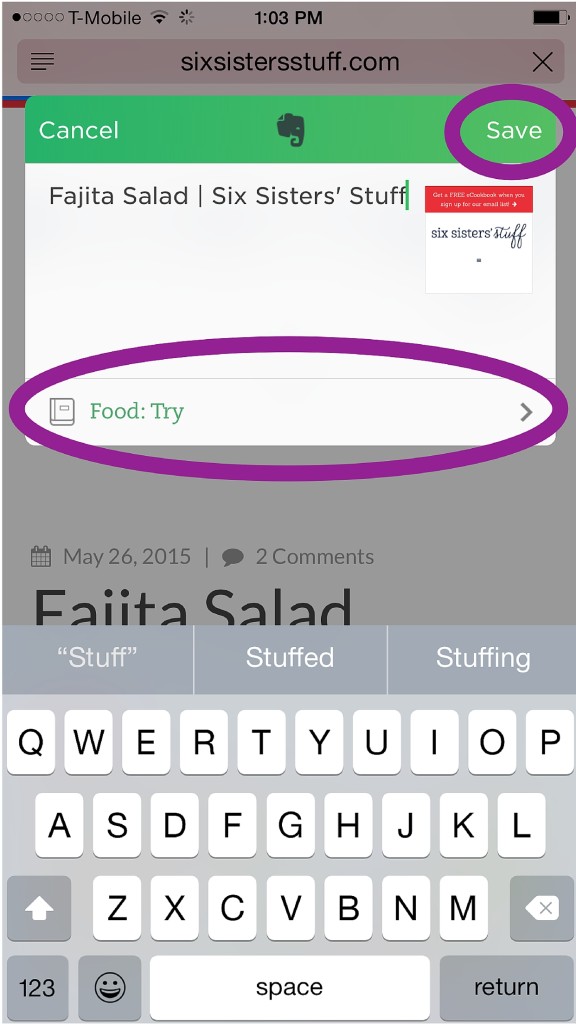 Searching Recipes
When you?re ready to plan your meals or are all set to cook, finding a certain recipe couldn?t be easier! Evernote has a powerful search function that will search all of the text in the title of your notes, the text in your notes and even the text in your pictures! So if you snapped a picture of a recipe and are searching for text in that image, Evernote will pull it up. That?s pretty amazing! To search your recipes, just select the magnifying glass in the top right corner.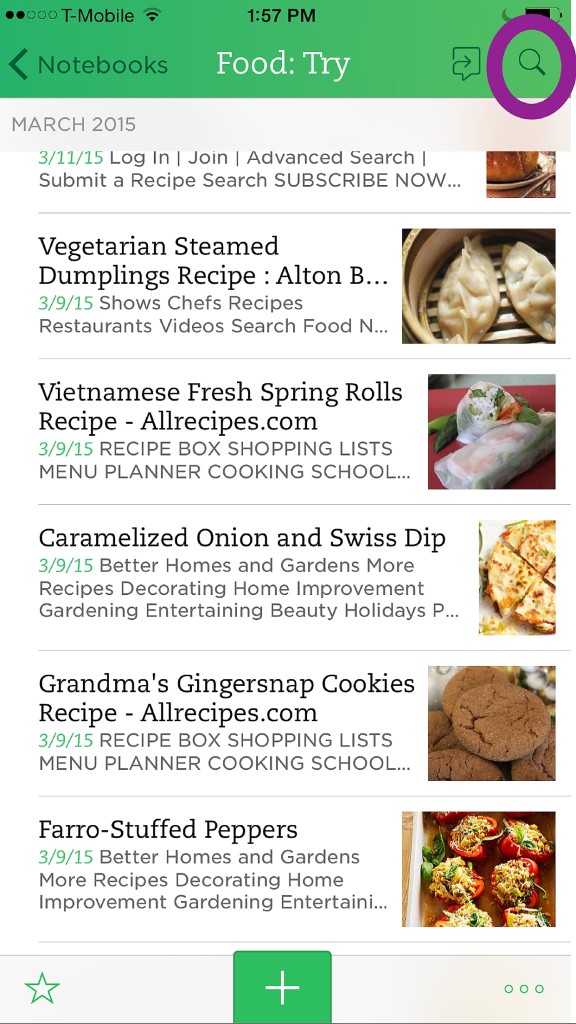 And Voila! You now have the recipes you?d like to try digitally organized. 😉 Using these three simple methods for capturing (text, pictures and online capture) and housing the recipes in Evernote will help keep your information in a wonderful, organized and unified system. Keep reading to see what I do with my recipes once I?ve tried them out.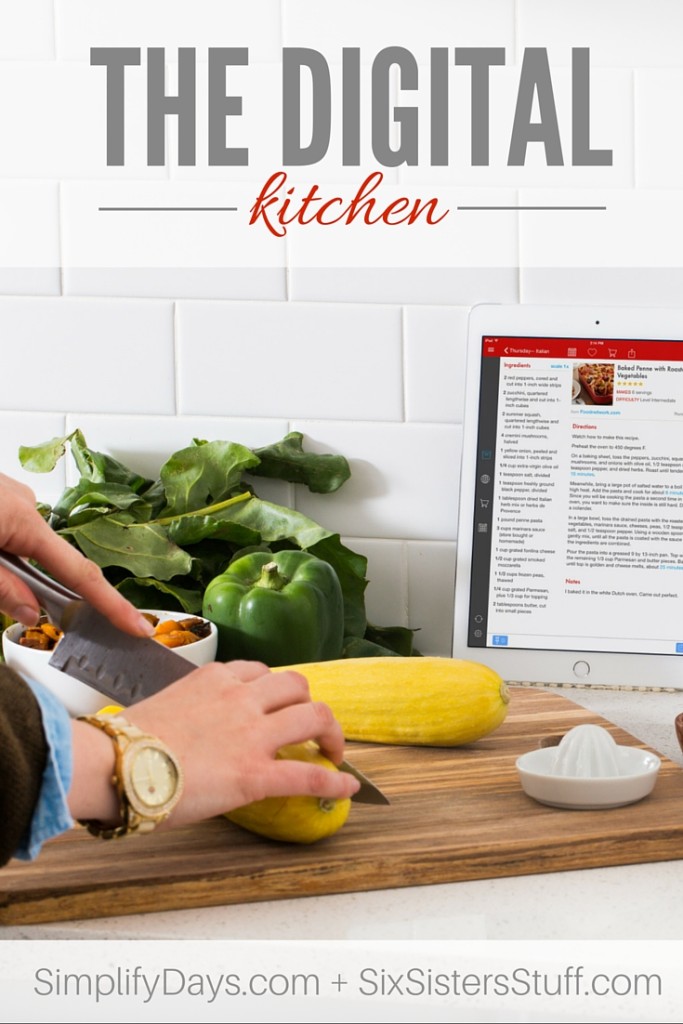 The Digital Kitchen
Once I cook one of the recipe in my Food: Try notebook I have two main options:
I didn?t like the recipe and don?t want to cook it again. OR
I love the recipe and want to store it in my own personal recipe collection.
For recipes I didn?t like, I have an additional notebook in Evernote, titled Food: Didn?t Like. I just move the note over there if the recipe wasn?t my favorite. (You can learn more about using Evernote here).
For recipes that I love and want to save, I move them over into my personal recipe collection, which is also digital and of course organized. 😉 You can check out the unified digital system that I use for my personal recipe collection, grocery lists and meal planning here.
Go Digital
2016 is a great time to think about getting digitally organized. We have more to keep track of than ever before and trying to manage all of the information coming at us can be a bit overwhelming. If you?re looking for ways to simplify and get organized this year then check out my brand new course, Go Digital. Go Paperless. LIVE Organized. It can take you from piles of paperwork, dispersed recipes, stacks of DVD's, scattered task lists and uncompleted projects to a simple system and routine that brings cleanliness, space and clarity. There are 31 detailed lesson in the course and I?ve dedicated a full lesson to creating a digitally organized kitchen. If you?re looking for ways to simplify and enjoy life more then be sure to check out this course. Grab your discount below!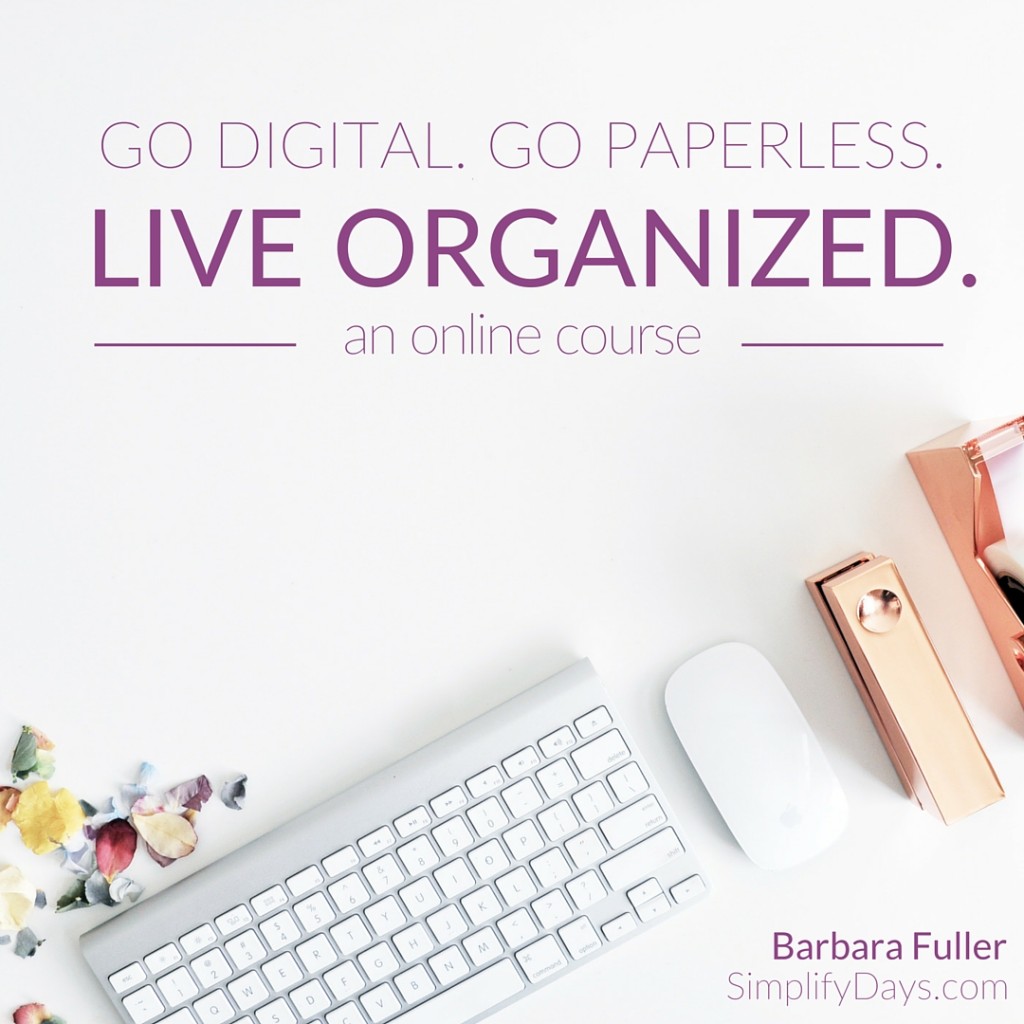 Six Sisters readers get 20% off of the course! Use the code liveorganizedsix at checkout. This coupon expires on February 26, 2016. In addition, be sure to check out the social shares discount once you get to the checkout page for an opportunity to save an ADDITIONAL 20% off! These deals won't stick around for long so jump in and get ready to LIVE organized!
Digital?
Not sure about the whole digital thing? I?m also offering a FREE 7-day email course to help get you started on your paperless journey. It?s a great way to see if the paperless lifestyle is right for you! 7 emails for 7 days full of detailed instructions, tips and tutorials for getting digitally organized. You can join right here: