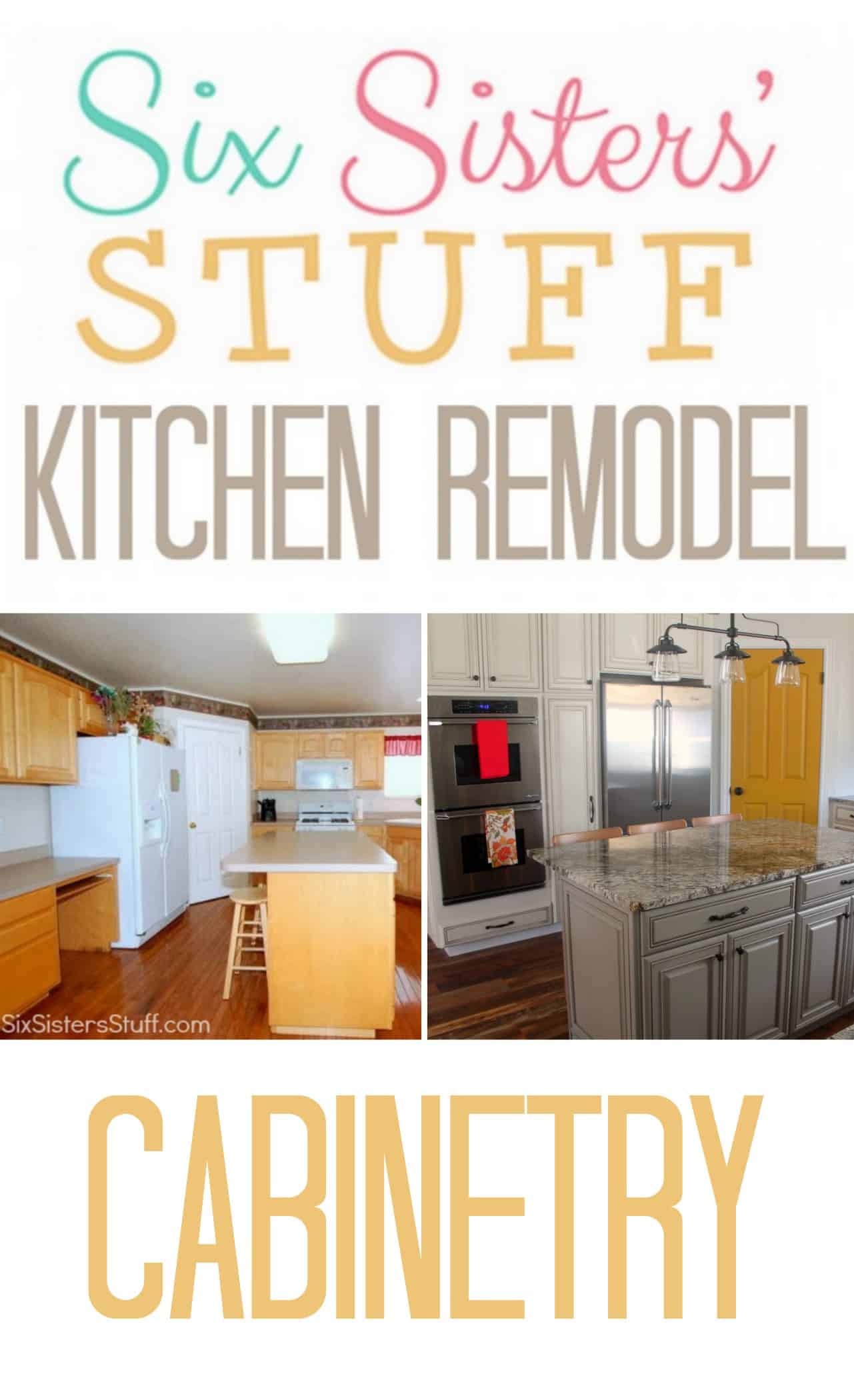 I am so excited to tell you about MasterBrand Cabinets!
The mission of MasterBrand Cabinets is to provide the best overall kitchen, bath and other-room solutions in North America!  After working with them, I can tell you how much they truly do follow that mission!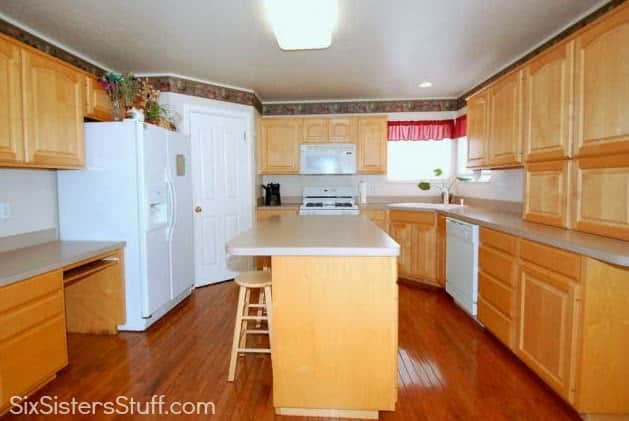 As you can see, our cabinets were pretty outdated.  All of the wood in our house was a light oak color and that was the first thing I wanted to change.  I also felt like we weren't utilizing all the space of the kitchen with the desk and the layout of some of the cabinets.  Being a food blogger, I have way too many kitchen gadgets and tools and need all the space I can get!
MasterBrand was absolutely wonderful to work with.  Replacing cabinetry seems like a pretty daunting task!  I didn't even know where to begin!  I am so thankful for all the help MasterBrand gave me through the design process.   They made remodeling our kitchen so much easier by walking us through every step of the way.  I feel like all I had to do was explain what I liked and the next thing I knew they were busy designing it!  They kept us updated every step of the way with detailed plans of what the kitchen was looking like.  It put me at ease knowing that we were in such good hands!
We loved seeing the designs of our remodel to give us an idea of what our kitchen could potentially look like!  I know absolutely nothing about design, so being able to work one on one with a design specialist from MasterBrand was a lifesaver!  She gave us so many tips and ideas that I never would have thought of.  She helped us decide to make the cabinets ceiling height to offer more storage, adding extra cabinets to the end and replacing the desk area with space for double ovens.  She was absolutely amazing!
I knew that I wanted to work with MasterBrand Cabinets for all of the awesome features that they offer.  They have some amazing organizational products to help store all the many tools and gadgets we all seem to collect over the years!

In one of the cabinets near my cooktop, there is a drop down spice rack.  It easily rolls back up into place when you aren't using it.  It is the perfect place to store spices as I am always cooking near there!

Don't you hate when your utensils and things slide around in your drawers?!  MasterBrand offers different types of drawer dividers to help keep you organized!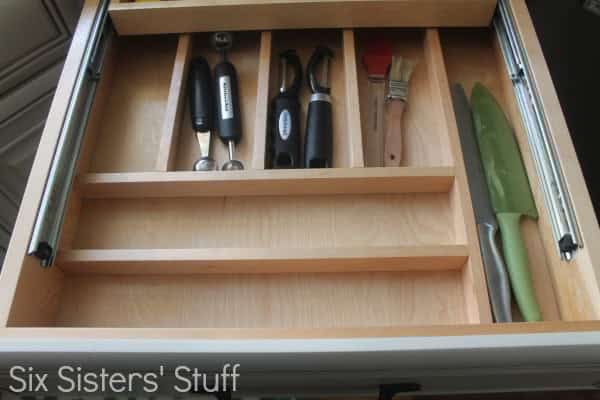 The silverware drawer actually has two layers to it so you can keep utensils you don't use as often underneath!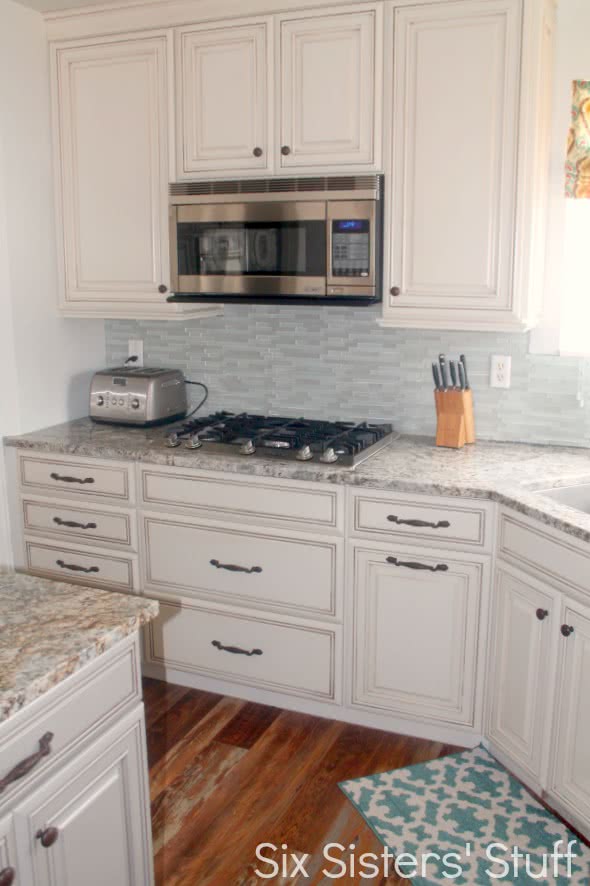 All of the drawers are so much more spacious than they were before!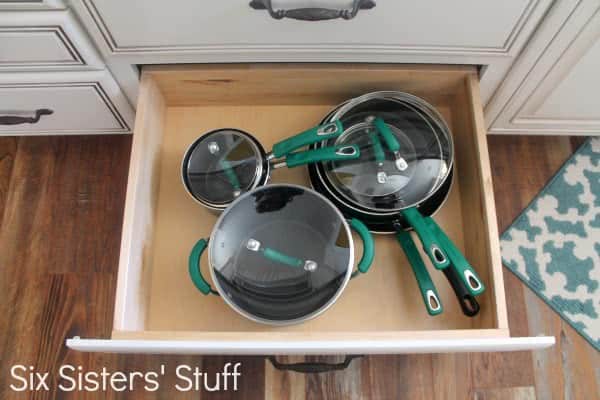 The drawers under the cooktop are perfect for storing pots and pans.

I love having my garbage cans hidden away!  The drawer directly next to the sink opens up to store two garbage cans.  It is absolutely wonderful!

I love having a plate rack to display cute plates and add more color to the kitchen.  We also removed the cupboards that went all the way to the countertop to free up some more counter space.  These cupboards store our dishes, glasses and so much more!

Next to our dishwasher is what looks like a regular cabinet door, but opens up to a storage spot for a stand mixer!  It actually pulls out so you don't have to keep your stand mixer on your counter, but still have easy access to it.  My husband thinks this is the coolest invention ever. 🙂

On the end of the cabinets is a hidden door that is the perfect storage space.  We hang our keys here, leave notes on the white board, and keep our mail and other papers hidden here so our kitchen is clutter free!

The island has four doors that open up to rolling shelves.  I keep appliances in there that I use frequently like our blender, slow cooker and griddle.

Above the fridge is a HUGE storage compartment.  I keep all our small appliances that we don't use as much up there.  It is so nice to have a space to keep them to free up space in our pantry!

Above the ovens is storage for all our cookie sheets, muffin tins, cutting boards, you name it!

MasterBrand has a huge variety of colors, finishes, and cabinet designs.  It was so hard to narrow it down, but we chose the Diamond Cabinets with the Selena door style.  We colors we chose were Coconut Amaretto Creme for the cabinets and Cloud Amaretto Creme for the island.

I love the detail on the island!  These corbels are gorgeous!

We also chose dark hardware for the cabinets.  We used pulls on all the drawers and knobs for all the doors.
If you are planning on replacing your cabinets, MasterBrand Cabinets is the way to go!  They were absolutely wonderful to work with and made our remodeling process so easy.  You will be amazed at their huge selection!  They have cabinetry to fit anyones style, life and budget!
You can follow MasterBrand Cabinets on Pinterest, YouTube, Houzz and Google+!
Also, be sure to check out their Inspiration Gallery for design ideas and help you get started!
Disclosure:  MasterBrand Cabinets donated cabinets for my new kitchen.  All opinions are my own.