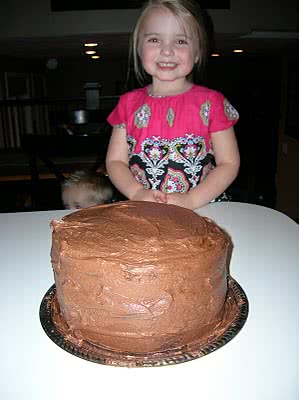 The finished product! My first 3-layer cake! Don't judge me . . . I know that it's a little crooked! Ha ha!
So I found this recipe and when I saw that it was called the "World's Best Chocolate Cake", I knew that I had to try it out and see . . . it was my first attempt at a cake from scratch and I was impressed with myself! I really did like the cake part- it was really rich and moist, but the frosting was SO thick and rich, it was practically like fudge. I really like frosting, but this was almost too much for me! I think that I would use mom's frosting recipe next time, but I will include the frosting recipe that came with the cake.
World's Best Chocolate Cake
Ingredients
Cake Ingredients:
1/2 cup (1 stick) unsalted butter
4 oz. unsweetened chocolate, broken up
2 1/2 cups all-purpose flour
2 1/4 cups sugar
1 cup unsweetened cocoa powder
2 tsp baking soda
1/2 tsp baking powder
1 1/2 tsp salt
1 1/2 cups sour cream
3 eggs
2 tsp vanilla extract
Frosting:
4 oz unsweetened chocolate, broken up
1/2 cup shortening
1/2 cup (1 stick) unsalted butter, softened
1/4 cup sour cream
1/3 cup milk
2 tsp vanilla extract
1/4 tsp salt
1 lb powdered sugar
1/2 cup unsweetened cocoa powder
Instructions
Heat oven to 350 degrees. Grease and flour three 9-inch round cake pans.
In a microwave-safe glass bowl, melt butter and chocolate together in microwave on HIGH until melted and smooth, about 1 to 1 1/2 minutes, stirring half-way through. Set aside. Mix flour, sugar, cocoa, baking soda, baking powder, and salt in a large bowl until blended.
Add sour cream, eggs, 1 cup water, chocolate mixture and vanilla; beat 30 seconds on low speed, until dry ingredients are moistened. Increase to medium; beat 2 minutes. Pour into prepared pans.
Bake at 350 degrees for 32-40 minutes or until cake layers spring back when pressed (I baked mine for 35 minutes and it was a little too much . . . but every oven is different!).
Cool layers in pans for 10 minutes. Remove cakes onto rack to cool completely.
In a microwave-safe glass bowl, melt chocolate in microwave on HIGH for 1 minute. Stir until smooth. Set aside. Beat shortening, butter, sour cream, milk, vanilla, salt, 1 cup of the sugar and the cocoa powder in a medium-size bowl until creamy. Gradually beat in remaining sugar and melted chocolate until thick and smooth.
Place a cake layer on a pedestal (I just used a large plate. . . I have yet to invest in a pedestal!) Spread with about 2/3 cup frosting. Top with second layer; spread with about 2/3 cup more frosting. Top withremaining layer. Frost top and sides. Garnish with chocolate curls and berries if desired.
7.8.1.2
1723
https://www.sixsistersstuff.com/recipe/worlds-best-chocloate-cake/
I had a lot of help making this cake . . .
She was more than willing to sample anything I handed her way (including unsweetened cocoa! I had never seen her shudder so bad!).