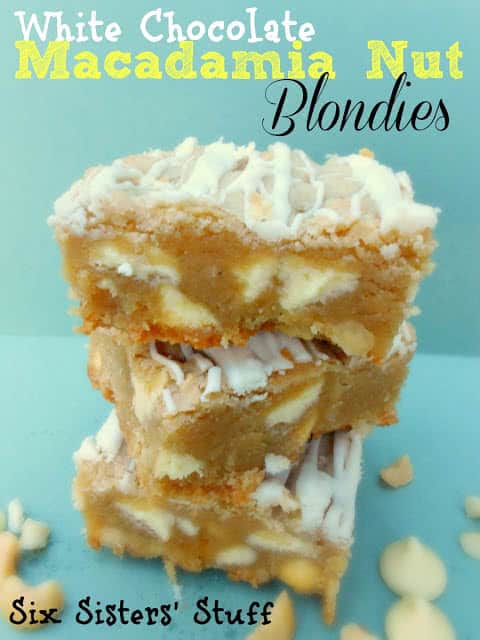 I love a good cookie, but there is something about eating it in bar form that makes it all the more delicious (that's my own humble opinion, anyway). White chocolate and macadamia nut cookies are one of my favorites and when I stumbled across the recipe to make them in bar form, I went out and purchased the ingredients that very same day. It was totally worth the trip to the grocery store with a grouchy 3-year-old who should have been taking a nap. 🙂
White Chocolate Macadamia Nut Blondies
Ingredients
2 sticks unsalted butter, at room temperature
1 1/2 cups light brown sugar
2 eggs
1 Tablespoon vanilla extract
3 cups all-purpose flour
1 teaspoon baking powder
2 cups white chocolate chips
1 cup macadamia nuts, chopped
Melted white chocolate to drizzle on top (optional- I just melted 1 cup of white chocolate chips in the microwave)
Instructions
Preheat the oven to 350 degrees F.
Place the butter and the brown sugar in a bowl and cream together on medium speed until a smooth batter is formed. While the machine is running, add the eggs and vanilla extract, until incorporated into the batter.
Sift together 3 cups flour and baking powder. Slowly add the flour mixture to the batter and mix on low speed until a dough is formed. Very gently fold the chips and nuts into the dough.
(You can still make this even without a mixer . . . it will just give your arm quite the workout!)
Once the dough is all blended, grease a 9 x 13 pan with non-stick cooking spray and dust with about 1 tablespoon of flour. Pour the batter into the pan and place in the preheated oven. Bake for 25 to 30 minutes, or until set yet still moist. Do not over bake.
Once cooled, drizzle with melted white chocolate, if you choose.
7.8.1.2

1508

https://www.sixsistersstuff.com/recipe/white-chocolate-macadamia-nut-blondies/


Recipe adapted from Lovin' From The Oven.