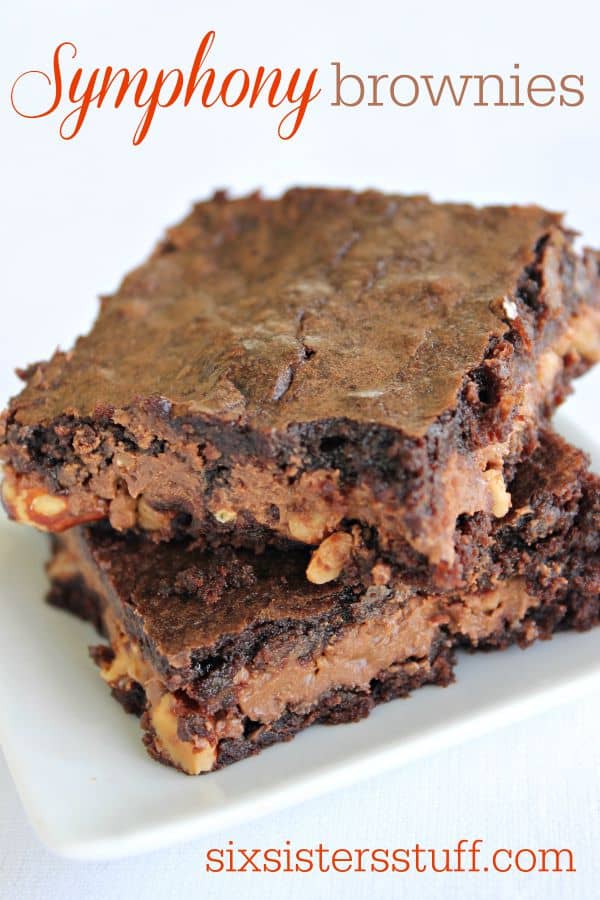 My husband is kind of funny . . .
I love to bake desserts and I am always looking for the next yummy recipe to try.
However, he just likes to stick to the basics.
Like really basic.
Like his favorite dessert that I make for him are plain brownies.
FROM A BOX.
I am not even kidding!
So every once in a while, when I don't feel like baking up a storm or I need him to do me a favor, I will whip up a batch of boxed brownies.
I stumbled across this recipe to jazz up plain ol' boxed brownies and I knew I had to try it.
It was so easy to make and my husband was thrilled that it used brownies from a box. 🙂
If you feel like being domestic, you could use your favorite homemade brownie recipe and they would probably taste even more amazing!
Symphony Candy Bar Brownies
Ingredients
1 box of brownie mix for 9x13" pan (or your own homemade brownie recipe)
Ingredients called for on brownie mix
3 large (4.25 oz each) Symphony candy bars with almonds and toffee chips
Instructions
Mix the brownies according to box directions. Spray a 9x13" pan with non-stick cooking spray.
Pour 1/2 the brownie mix into the pan (it won't seem like very much!).
Unwrap the 3 candy bars and place side by side on top of the batter in the pan. Don?t break or chop up the candy bars ? they will be whole.
Pour the remainder of the brownie mix over the top.
Bake according to directions on the brownie box. Let cool, cut, and serve.
7.8.1.2
1552
https://www.sixsistersstuff.com/recipe/symphony-candy-bar-brownies/