We have always loved the flavor combination of coconut and pineapple. Our Pina Colada Cake brings out those flavors in every delicious bite. We'll just say "you're welcome" right now, because your family will be thanking you for this cake!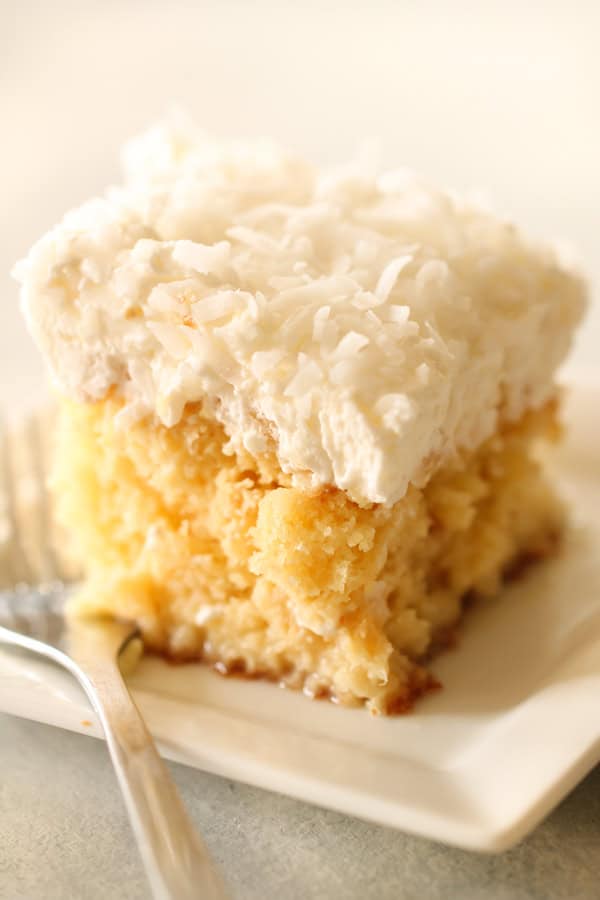 Every now and then you get a recipe that you love to make over and over again. Pina Colada cake is one of those amazing dessert recipes.
It's so easy to make, and every bite is moist and bursting with coconut and pineapple flavors. The mixture you pour into the holes is just the right amount of sweetness.
This cake is a family favorite and was given to us by our Grandma Char's cousin – Maxine. It shows up at a lot of family gatherings. Close your eyes and you'll be in a tropical paradise with every bite.
WHAT IS A POKE CAKE?
Poke cakes have been around for many years. They are so fun to make and serve to guests. Each slice looks so pretty on a plate.
A poke cake is true to it's name – a cake you poke holes in after baking.
Each of those holes are then filled with some type of filling or liquid. Many are sweet to add flavor to the cake. Filling ingredients are often sweetened condensed milk, chocolate, pudding, cream, jello. The options are endless.
Filling the holes with some type of filling adds so much flavor to every bite of cake.
HOW DO YOU STORE PINA COLADA CAKE?
We store Pina Colada Cake in the fridge to help the mixture set up that was poured into all of the holes.
Pina Colada Cake is also covered with real whipping cream, so that will need to be refrigerated.
The cake is fine to set out for an hour while serving and eating it. What isn't eaten within the hour should then be placed back in the fridge.