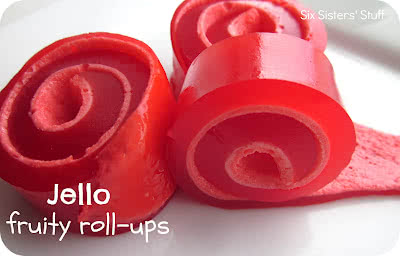 Growing up in Utah, we sisters have eaten our fair share of Jello. I loved all kinds of Jello as a kid, especially Jello Jigglers!
These roll-ups are easy to make and are a great snack for your little ones. I made these with my little boy and he thought it was so cool he could hold a roll of Jello in his hand.  I left a few in the fridge for later.  My husband came home from work and ate one and told me it was so good.  My little boy and I finished them off the next day and my husband came home from work and said "one of those Jello rolls sounds so good right now!" He was so sad when he realized we ate them without him.  Who doesn't like a little bit of jello now and then?!
Serves: 4-6
Jello Fruity Roll-Ups Recipe
1 hr, 10 Prep Time
1 hr, 10 Total Time
Ingredients
1/2 cup water
1 (3 ounce) box Strawberry jello (or raspberry)
1 1/2 cups miniature marshmallows (or 12 large marshmallows)
Instructions
Lightly spray an 8 or 9 inch pan square pan with non-stick cooking spray and make sure it is spread well.  Bring water to a boil in microwave- about 1 minute.   Add Jello and stir well.  Return to microwave for 1 minute and stir well.  (This step ensures that jello is completely dissolved.)
Add marshmallows and return to microwave for 45 seconds to 1 minute or until marshmallows are puffed and slightly melted.  Whisk until marshmallows are completely dissolved.  Creamy layer will float to the top.
Pour into prepared pan. Refrigerate for 45 minutes or until well set. They should be firm and easy to handle.
Loosen edges with a knife.  Starting at one end, roll up tightly.  With seam side down, cut into 10 to 12 (1/2) inch slices.  The easiest way to cut the jello is with a piece of thread or dental floss.  Just put the string around roll-up, cross and pull.
Serve immediately or refrigerate until ready to serve.
7.8.1.2
1900
https://www.sixsistersstuff.com/recipe/jello-fruity-roll-ups-recipe/