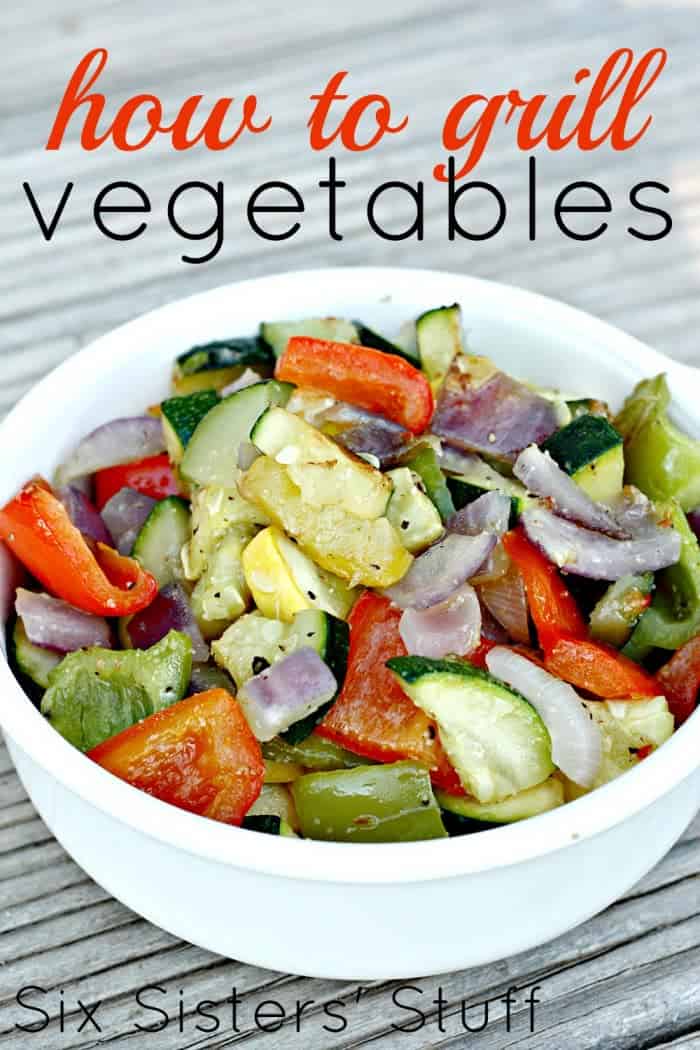 I had big dreams of having a massive garden this year with tons of fresh vegetables and I would be out there every day weeding and watering it and being little Miss Green Thumbs. 🙂 Reality: I planted my garden, weeded it ONCE the entire summer, and have a a beautiful garden full of  . . . WEEDS. Thankfully, a few vegetables were strong enough to withstand those vile weeds and I have a couple of zucchinis and tomatoes that we have been devouring! After making zucchini bread for the 5th time this season, my husband asked if he could grill up some of the vegetables for dinner. Oh my heck . . . where has this been all my life?! Grilling vegetables couldn't be easier . . . I asked my husband for the instructions and this is what he told me: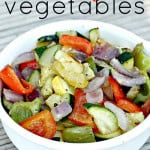 How to Grill Garden Vegetables (and my favorite recipe for them!)
Grilling vegetables couldn't be easier!
Ingredients
Fresh vegetables of your choice

(we love zucchini, onions, tomatoes, yellow squash, red peppers, and green peppers)

olive oil

1

ounce

dry Italian dressing mix
Instructions
Wash and dry all your vegetables. Cut into large bite-size pieces.

Take two pieces of heavy-duty aluminum foil that are each about 20" long. Lay one on top of the other perpendicularly, so that they make an "X".

Fold up all the edges so that you create a little "bowl" shape.

Place your chopped vegetables in the aluminum foil bowl and spread them out. Try to have just a single layer of vegetables if possible; sometimes we make 2 or 3 "bowls" so that all the vegetables are evenly cooked.

Drizzle the vegetables with olive oil (just a couple of tablespoons, depending on how many vegetables you use) and pour the powdered dressing mix on top of the vegetables. Mix all together until the vegetables are evenly covered with oil and dressing mix (it's easiest to just use your hands).

Place the foil bowl of vegetables on a grill on medium heat. Grill for 10-15 minutes (depending on how "crunchy" you like them to be), stirring occasionally to make sure they are all cooking evenly. Remove from grill when finished and enjoy!
Nutrition
Calories:
169
kcal
·
Carbohydrates:
27
g
·
Protein:
6
g
·
Fat:
6
g
·
Saturated Fat:
1
g
·
Sodium:
581
mg
·
Potassium:
386
mg
·
Fiber:
7
g
·
Vitamin A:
9242
IU
·
Vitamin C:
19
mg
·
Calcium:
46
mg
·
Iron:
2
mg
Recipe Details