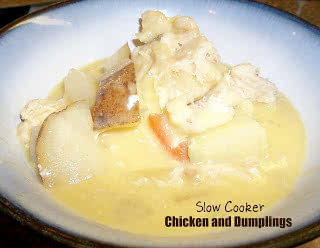 We hope you all had a Merry Christmas! But if you are like me, you have probably eaten WAY too much… but it sure was good going down. My husband found this meal and then we added our own ingredients to make it healthier. It is one of our favorites and it is super easy! Enjoy!
Ingredients:
4 Skinless Boneless Chicken breasts (halved)
2 cans (10.75 oz) of condensed Cream of Chicken Soup (reduced fat works great!)
1 onion, chopped
2 medium potatoes, peeled and cubed (sweet potatoes are yummy too!)
1 cup of baby carrots
1 red apple, cubed
1/2 cup of apple juice
2 (10 oz) packages refrigerated biscuit dough torn into pieces
Place the chicken, soup, onion, potatoes, carrots, and apple into the slow cooker. Mix around so everything is covered by the soup mix. Then pour in your 1/2 cup of apple juice and put the lid on.
Cook on High 5 to 6 hours or low 6 to 8 hours. About 45 minutes before serving, turn slow cooker to High (if is isn't already) place the torn biscuit dough in the slow cooker and put the lid back on. Cook until dough is no longer raw in the center.
Servings: 8
You Might Also Like: