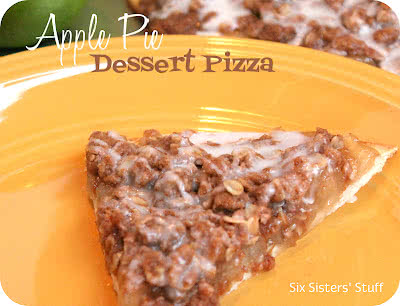 My husband and I recently went to an African-inspired pizza restaurant.  After stuffing my face with my meal, I decided to end on a sweet note with some of their dessert pizza.  I wish I would have ordered it first!  It was amazing!  I decided I would try to make our own dessert pizza at home.  It was so simple and tasted delish!
Apple Pie Dessert Pizza Recipe:
Ingredients:
1 pre-made, pre-cooked pizza crust (I used Mama Mary's Thin & Crispy Crust)
1 (21 ounce) can apple pie filling
1/2 cup old fashioned oatmeal
1/2 cup flour
1/2 cup brown sugar
1/4 cup butter, softened to room temperature
1 tablespoon ground cinnamon
Glaze Ingredients:
1/2 cup powdered sugar
2 tablespoons milk
1/2 teaspoon vanilla
Directions:
Preheat oven to 350 degrees.  Place pre-made pizza crust on an ungreased baking sheet.  Spread apple pie filling over crust.  In a separate mixing bowl, mix oatmeal, flour, brown sugar and cinnamon until combined.  Add softened butter and mix until crumbly.  Sprinkle on top of the pizza.  Bake uncovered for 20-25 minutes, or until golden brown.
In a small bowl, mix together powdered sugar, milk and vanilla.  Stir until smooth.  Drizzle over pizza with a spoon.  Slice pizza and serve.
Looking for more delicious desserts?
Here are a few of our favorites:
We are excited to announce that we are hosting our first
The conference will be in Salt Lake City, UT, on Saturday, February 16, 2013.
The whole conference will be jam-packed with classes and workshops that will help you learn the best ways to run and grow your blog.