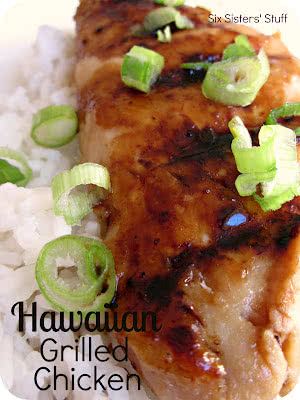 We hope you all had a great 4th of July!  We had a fabulous time celebrating with family and eating all kinds of delicious food.  We love just about anything on the grill, especially some marinated chicken.  Our family adores this Hawaiian Grilled Chicken and we know your family will, too!
Hawaiian Grilled Chicken Recipe:
Ingredients:
4-6 boneless, skinless chicken breasts
1 cup soy sauce (low sodium)
1 cup water
1 1/2 cups brown sugar
1 bunch of green onions, chopped (reserve some for garnish)
1/4 cup of white onion, chopped
1/2 teaspoon minced garlic
1 teaspoon of sesame oil
1 (13.5 ounce) can of coconut milk
Directions:
Mix soy sauce, water, brown sugar, onions, garlic, sesame oil, and coconut milk in a large bowl.   Place chicken breasts in marinade.  Let chicken for at least 4 hours or overnight.
Grill chicken on a low heat so that the marinade does not burn for 5-7 minutes per side or until done. If you do not have a grill you can use a indoor grill pan.
Serve over rice, garnish with green onions and top with a little extra soy sauce.
Looking for more delicious chicken recipes?
Here are some of our favorites: