Marinated in a dry rub, smothered in a pineapple mustard sauce and topped with ham, swiss cheese and a pineapple ring - this grilled Malibu chicken is AMAZING!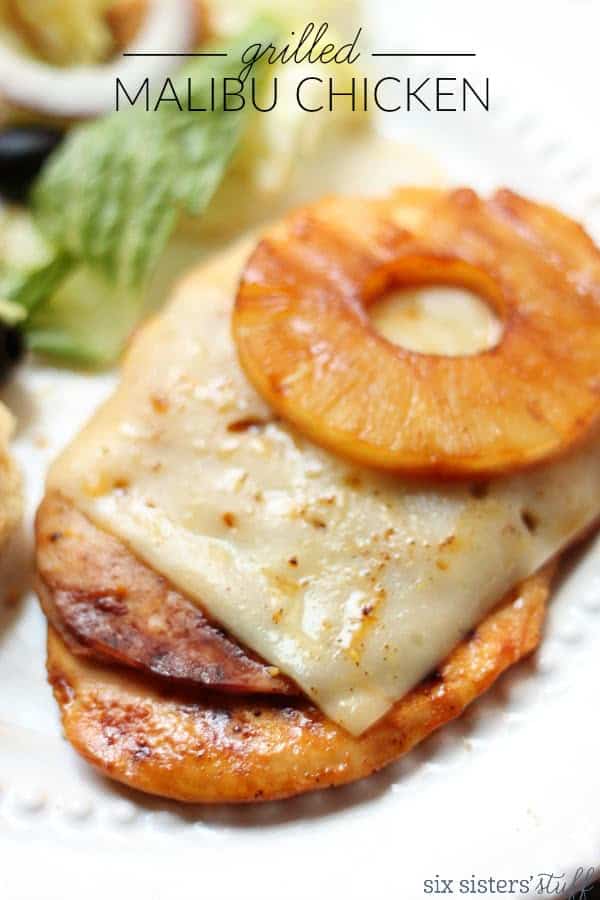 I have been to Sizzler twice in my life, both of which were either a disaster or hilarious!
I remember my grandparents taking my sisters and me to Sizzler when I was really young and ended up getting sick . . . so that wasn't the best experience.
The next time I went to Sizzler was my junior year in high school.  I was asked to a dance by someone other than who I wanted to go with.
He was so, so nice but it was a very awkward evening.
While sitting quietly and uncomfortably at my table, I look out the window to see my Mom and a few of my sisters spying on me!  Literally peeking in the window!
I don't know if I can muster up the courage for another trip to Sizzler anytime soon, so I thought we would try to make a version of their Malibu Chicken at home.
We love grilled chicken and this is one of our favorite recipes.  The chicken breasts are marinated in a dry rub, smothered in a pineapple mustard sauce and topped with ham, Swiss cheese and a pineapple ring.
You can serve on a plate or on a bun for a delicious sandwich!
Six Sisters Stuff
Serves: 6
Grilled Malibu Chicken Recipe
1 hr, 15 Prep Time
20 minCook Time
1 hr, 35 Total Time
Ingredients
6 boneless skinless chicken breasts
2 Tablespoons BBQ seasoning
4 Tablespoons unsalted butter (melted)
1 (20 ounce) can pineapple slices (reserve juice)
1 Tablespoon yellow mustard
1 Tablespoon honey
1 Tablespoon molasses
2 teaspoons Worcestershire sauce
1 teaspoon chili powder
12 thin slices deli ham
6 slices Swiss cheese
Instructions
Put one chicken breast in a gallon zip-top bag and pound it until the entire breast is uniform in thickness, then move to a platter or rimmed sheet pan. Repeat with the remaining chicken breasts.
Season both sides of each chicken breast with the BBQ seasoning, cover and refrigerate at least an hour.
Combine melted butter, pineapple juice from canned pineapple slices, mustard, honey, molasses, Worcestershire sauce, and chili powder in a medium mixing bowl and whisk until smooth, then set aside.
Grill one side of each chicken breast and each pineapple ring over direct heat until they are seared and have nice grill marks, about 2 minutes.
Flip each chicken breast and ring, brush with the sauce, and cook another two minutes.
Move the chicken to the indirect part of the grill and brush the top of each with the sauce.
Top each breast with two slices of ham and drizzle the ham with the sauce.
Put a slice of cheese then a pineapple ring on each breast and drizzle again with the sauce.
Continue cooking with the grill lid down until the internal temperature reaches 160 degrees F (about 10 minutes).
7.8.1.2
35
https://www.sixsistersstuff.com/recipe/grilled-malibu-chicken-recipe/