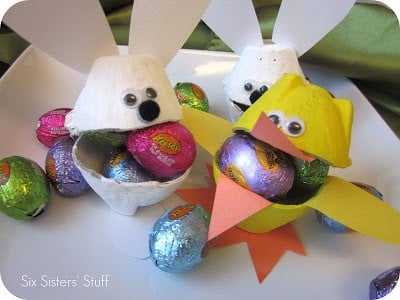 I loved holidays growing up, especially because of all the cute crafts we got to make.
This is an easy, inexpensive Easter craft to make with your kids at home!
Here is how:
Step 1:  Cut apart each individual section of your egg carton.  Try to get the edges as smooth and even as possible.
Step 2:  Paint the inside and outside of each section of egg carton.  Let dry (I only applied one coat of acrylic paint).
Step 3:  Apply a piece of tape to act as a hinge on the inside of each pair of egg cartons.  I tried to apply the tape first and paint over it but it wouldn't hold, so I would suggest putting the tape on after the paint.
Step 4:
  Cut out parts. 
For each bunny
, cut out
2 ears
and
2 feet
from your construction paper.  Use a
pom pom for the tail and nose
and a
pair of googly eyes
. Fold over the bottom edge of each ear to use as flaps for gluing. 
For each duck
, cut out
2 triangles for the beak
,
2 wings
,
2 feet
and use a
pair of googly eyes
.  Fold over the edges of the beak and wings to use as flaps for gluing.
Step 5:  Glue on all parts and let dry.  Fill with candy and enjoy!