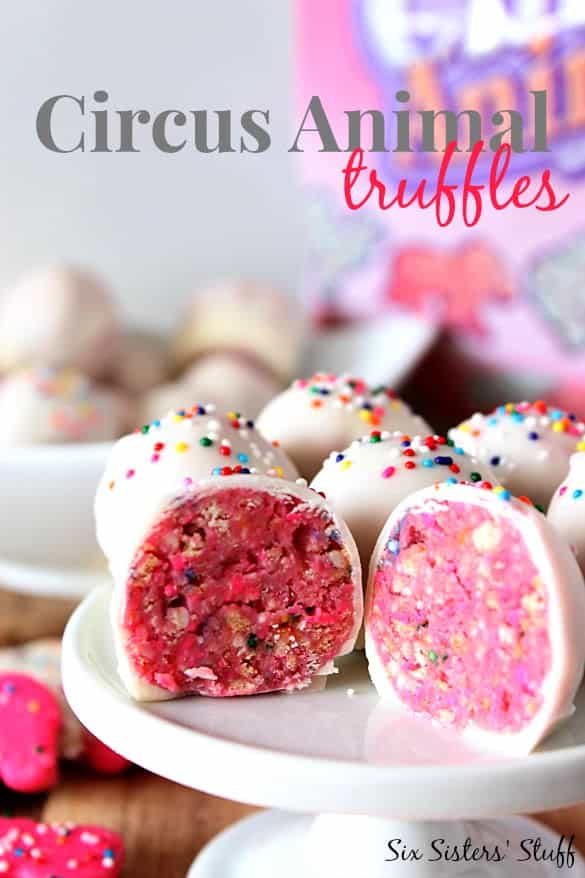 Growing up, our dad would always request circus animal cookies for his birthday and father's day. It was a gift we could afford as little girls, and it was always exciting seeing the look on his face (which was probably a little exaggerated) when he opened them up. I was reminded of this sweet memory as I was at my in-laws last weekend. My cute mother-in-law made me a Valentine, and there were circus animal cookies inside. I got thinking about it, and decided they could easily be made into a yummy truffle! I used the recipe for our no-bake thin mint cookies, and substituted the thin mints for circus animals!
Serves: 20
Circus Animal Truffles
40 minPrep Time
3 minCook Time
43 minTotal Time
Ingredients
12-oz package frosted animal cracker cookies
4 oz cream cheese
8 oz vanilla bark
Instructions
In a food processor, pulse the circus animals a few times, and then blend them down until they are just crumbs. It might be easier to do this in two batches (even if you don't have a food processor, you can still make these. Throw the cookies in a big Ziploc bag and start pounding them with a hammer until you have a lot of fine crumbs).
Next, mix the cream cheese and cookie crumbs together in a bowl until well-mixed. Roll the mixture into 1 inch size balls, and place them on a wax paper covered baking sheet. Place the baking sheet in the fridge for about 30 minutes, so the balls are easier to dip in the white chocolate and do not fall apart.
Once the truffles have been in the fridge for a while, melt the vanilla bark in a microwave-safe bowl in the microwave. Heat for 30 seconds at a time, stirring in between each heat burst. Repeat until the bark is all melted.
Roll each ball in the melted bark until it is fully covered. I usually use two forks to push the truffle around until it is all covered. Then, using the two forks, carefully pick up the truffle and allow the excess chocolate to run off before placing back on the wax paper. Repeat with all the truffles. Top with sprinkles before the bark hardens.
7.8.1.2
1847
https://www.sixsistersstuff.com/recipe/circus-animal-truffles/