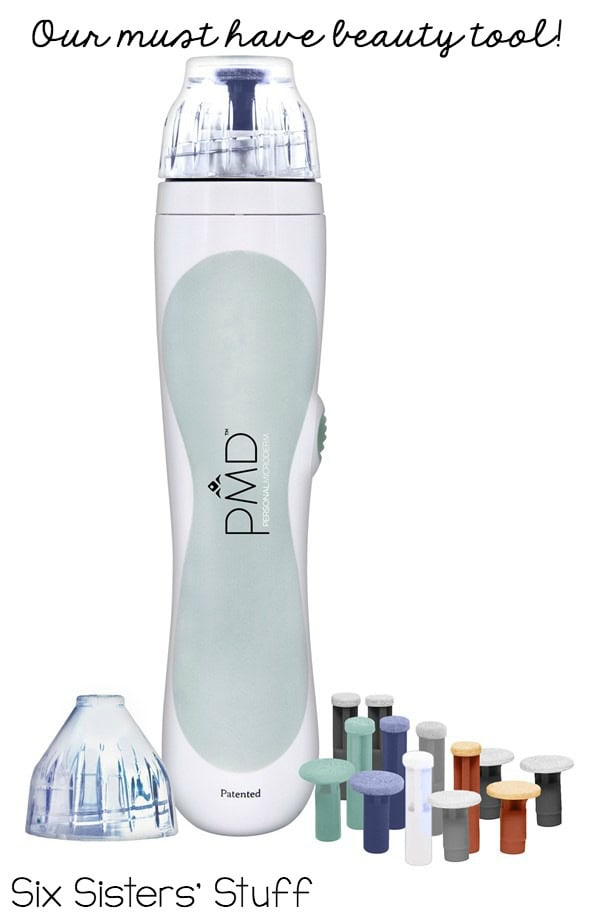 Between the six of us, you can imagine all of the beauty products we have tried through the years!  We all have very different skin types but have all had our fair share of acne and other skin issues.  One thing we all had in common was dry or dull skin that needed some major exfoliation!  Rather than going to a salon or spa for an expensive microdermabrasion treatment we found a way to get the same results at home, using the PMD personal microderm!
The Personal Microderm is a revolutionary at-home skincare tool that provides the same brilliant results as professional, in-office microdermabrasion treatments. We are all so busy with kids, husbands, school, work, etc. that we don?t have time to go to the salon for costly microdermabrasion treatments!  This awesome tool combines the power of exfoliation with a vacuum suction to remove dead skin cells, increase blood flow and the production of collagen and elastin.
The PMD was at the top of our Favorite Things 2014 list, and we are still obsessed with it!  We all use them once a week and have never had better skin.  Some of us struggle with acne and using the PMD has helped even our skin tones, cleared our complexions and smoothed out our skin.
Steph has been using her PMD religiously for the last few months and has seen such a big difference in the tone and texture of her skin!  It is seriously so smooth and glowing!
The Personal Microderm is so easy to use!  Start with clean, dry skin.  Attach the desired disc depending on the exfoliation you want and attach the plastic top.  Plug it in, turn it on and start exfoliating!  Use your free hand to pull your skin tight and move the PMD in an upward motion over your skin.  It is so simple and your skin will instantly feel softer and smoother!  You will want to tone and moisturize your skin afterward, and continue to do this every week to see your skin change!
You can order one HERE!
Stay connected with PMD on Facebook, Twitter, Pinterest, and YouTube..