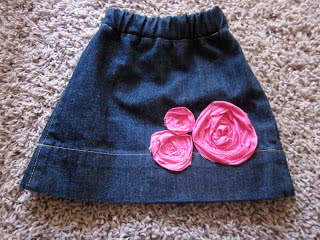 I had some wide leg jeans that I loved, but they were just always a little too long. I made them into some knee length shorts and had bottom halves of pant legs left over. I decided to hold onto it just in case I ever needed to use it! (I'm not a hoarder, I promise!) After looking at it, I realized I could make a cute little skirt out of it for one of my nieces! It has a cute, chunky hem and it would be such an easy project. So here are the steps I took:
Add caption
I found some shorts that were size 12-18 months, which is what I was wanting the skirt to be, then I measured 3 inches above the waist and cut it off.
I turned the pant leg inside out and folded the top over two times so there would be a space to slide the elastic in.  After folding it, I made sure that my elastic would easily fit in that space.  (My elastic was 16 inches long, but you could use however much you needed depending on the size you were hoping to end up with.)
I ironed down the fold and then sewed around the edge, but left a 1 1/2 inch opening to get my elastic in.
I used a safety pin to guide my elastic through the waist.
After the elastic was through, I sewed it together.  I sewed an "N" on the elastic to make sure that it would stay in place (I've heard that's a good way to do it?!).
Sewed up the opening once the elastic was all inside! Now the skirt part was done!  Just needed to add a little flair!
I cut a 1″x 24″ strip of fabric.
Folded one end to a point and placed it where I wanted the center of the flower to go.  I ran a few stitches over it to hold it in place.
After the tip is sewed down, I fold and wrap the strip of fabric around and sew it down!
It doesn't need to be perfect, and actually looks cute if it is a little messy.
The underside looks like this after the flower is sewed on.  It is okay if it looks a little crazy. 🙂
I added a few more flowers!  I made them different sizes by adjusting the length of the strip of fabric!
All done!  And so easy!