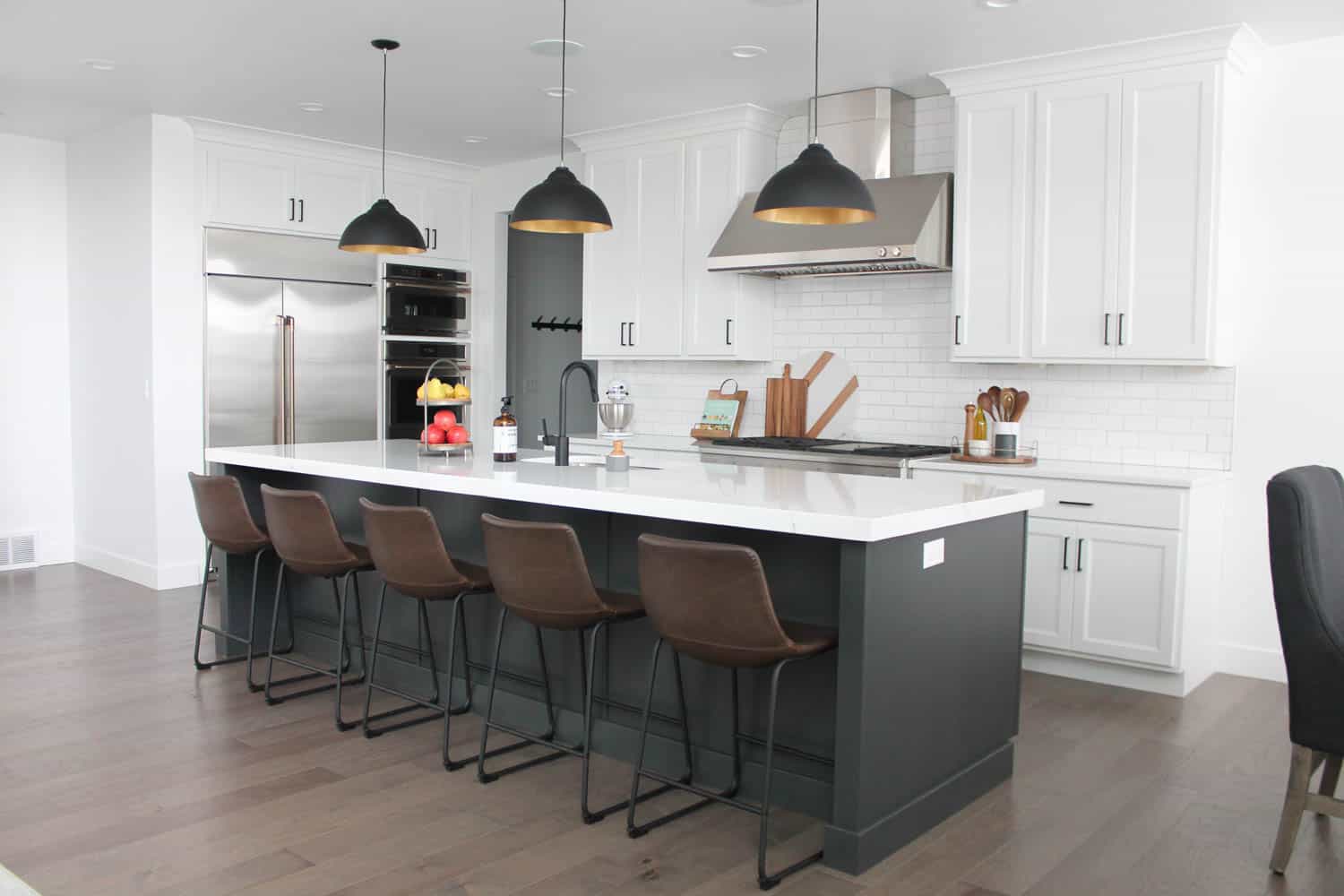 Hey guys! It's Elyse! My husband and I built a new home over the last year and just moved in a few weeks ago.  We spent months planning out our home and the main area I wanted to focus on was the kitchen.
As soon as we started drawing up plans for our kitchen, I knew I wanted to have Café Appliances.  I kept seeing their gorgeous, customizable appliances online and fell in love!
The kitchen is the heart of our home and where we spend so much of our time.  We gather in our kitchen and I wanted a space that felt warm and welcoming.  I love to entertain and feed my family and friends, so I knew I needed appliances that were up to the task.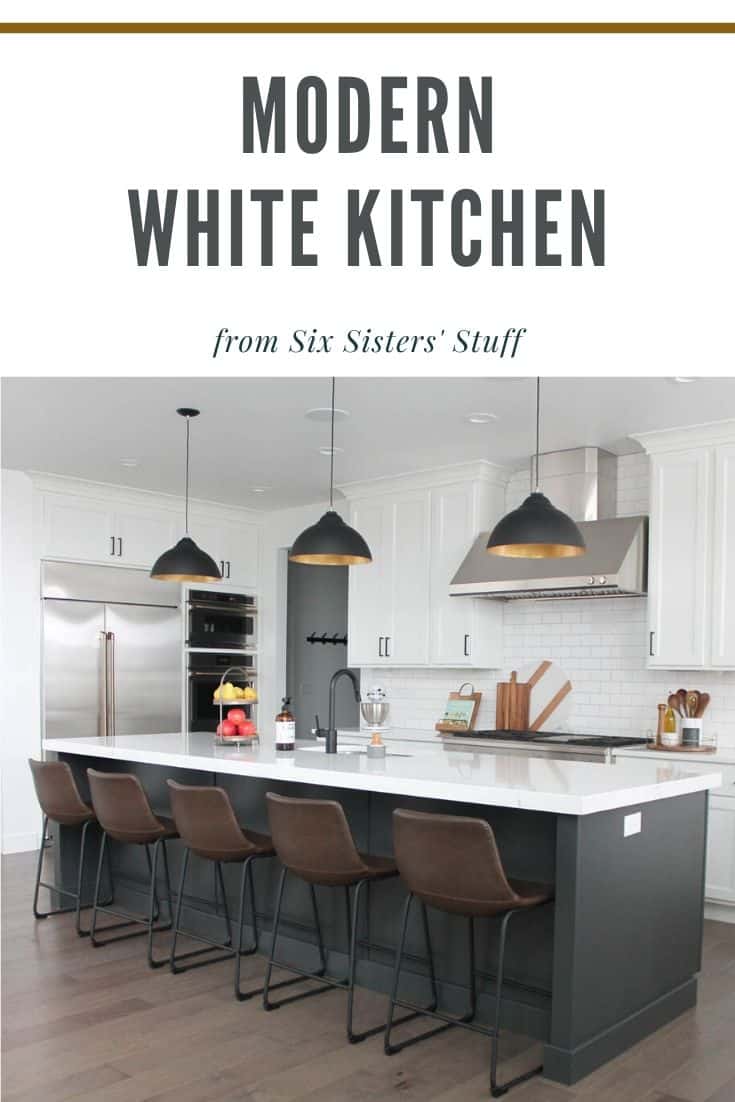 I love that Café Appliances allow you to give you a personal touch to your home.  With Café Appliances in Matte Black, Matte White, or Stainless Steel, you can add custom handles and knobs to match or contrast your kitchen palette for a custom look.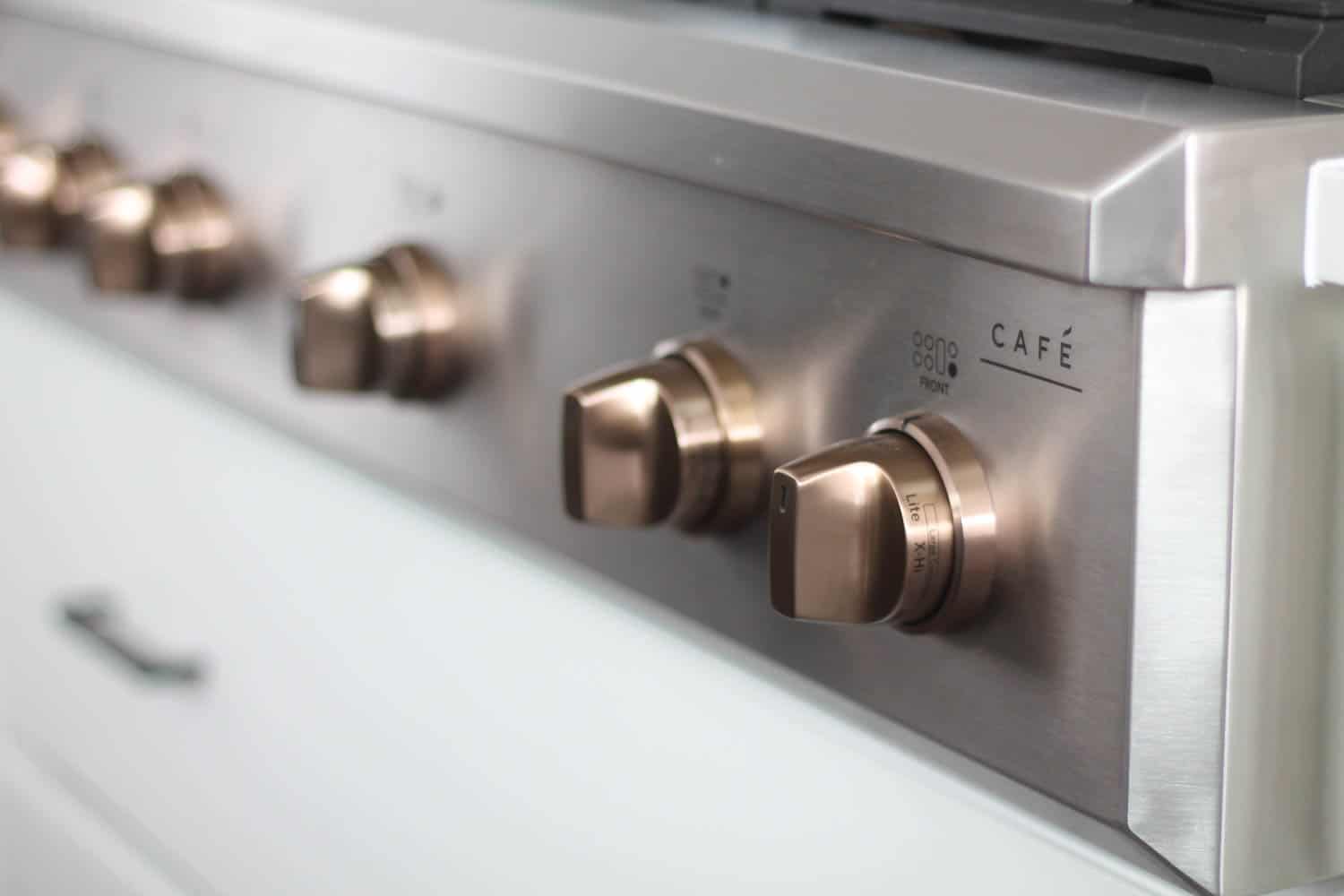 On nearly every piece in the Café Customizable Professional Collection, you have the option to change your hardware to a different finish to bring your personal kitchen vision to life.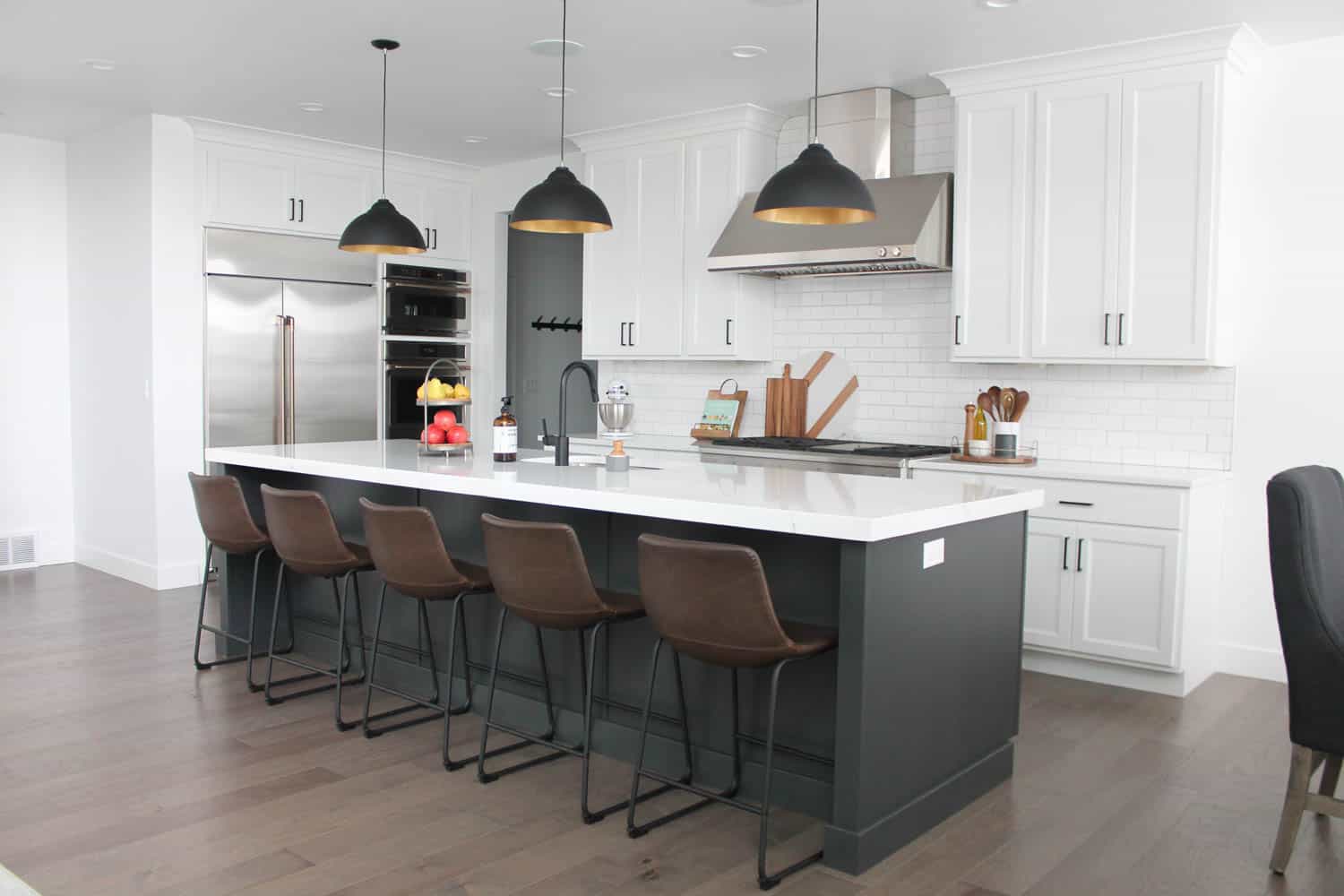 I wanted stainless steel appliances, but to add some color and depth to my kitchen, I switched out stainless hardware for brushed bronze to tie in some of my lighting.  I love how it turned out and the custom look it gave my appliances and kitchen!  Now let's get to the tour!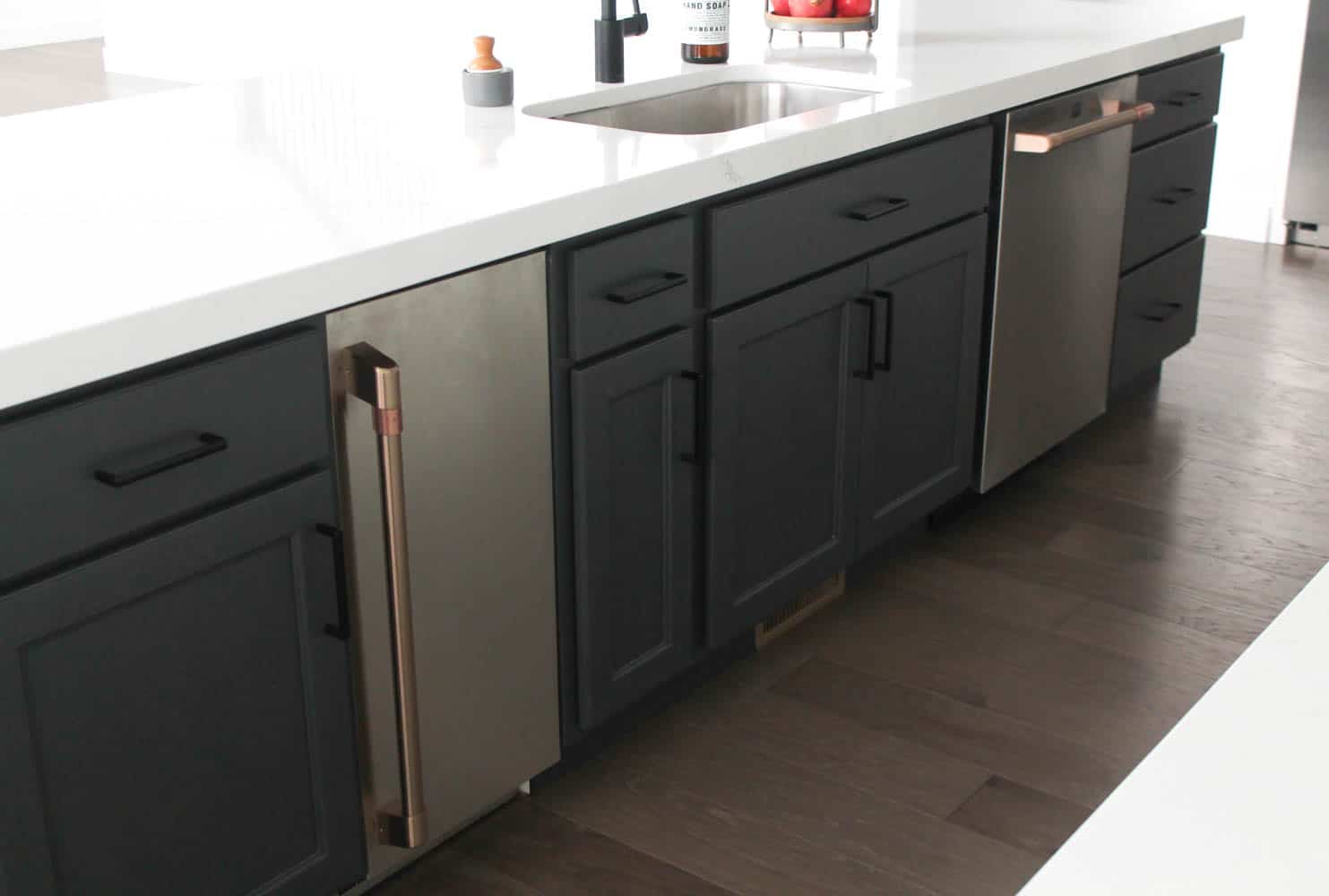 I can't go a day without Diet Coke, so as soon as I saw this Nugget Ice Maker, I added it to my wishlist!  People always say you can't have a favorite child, and I don't know if the same goes for appliances, but this just might be my favorite.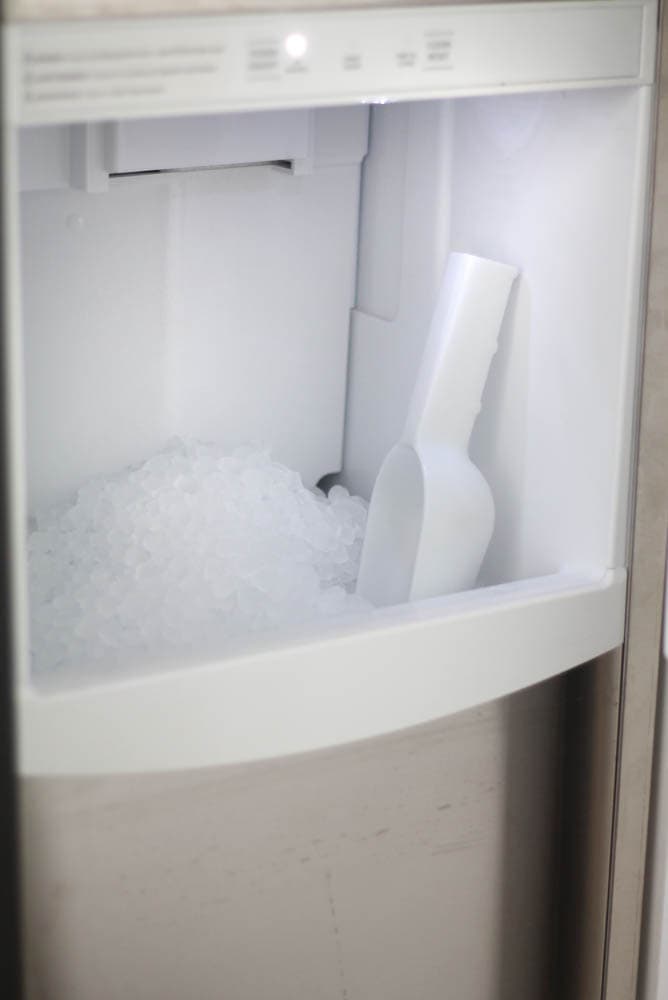 This ice maker can produce 56 pounds of nugget ice per day!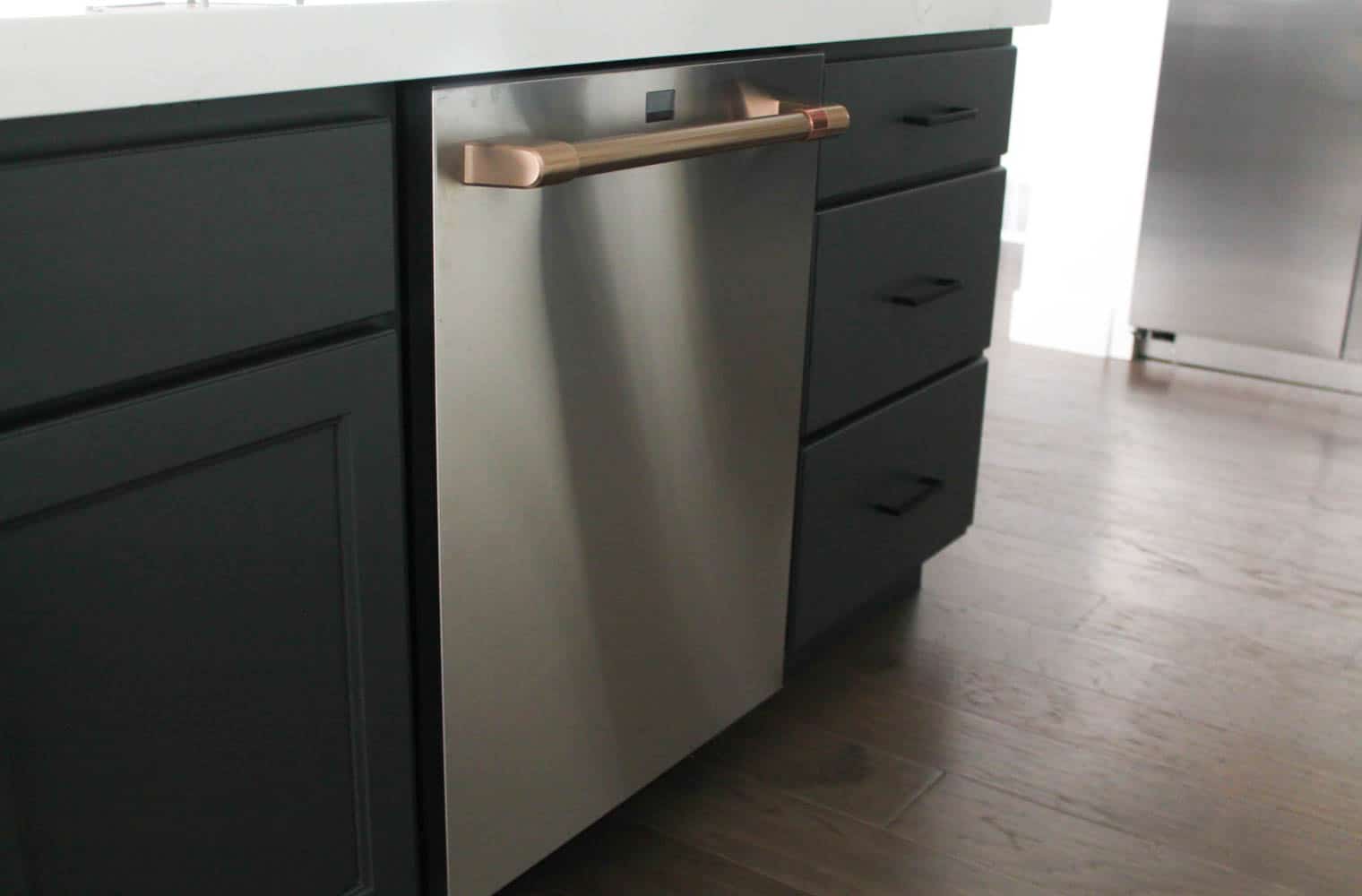 With 4 kids and a food blog, you can imagine the amount of dishes I am always doing.  I wanted a dishwasher that was efficient and spacious.  I chose the Café™ Smart Stainless Interior Built-In Dishwasher with Hidden Controls and am so happy with my choice.  My favorite feature is loading flexibility so I can wash larger items like platters and storage containers in the lower rack.  Besides it being a suuuuper quiet dishwasher, I love the LCD screen that displays the dishwasher cycle status.  You can see how much time is left is left on a load and when the load is clean (which we know we all need).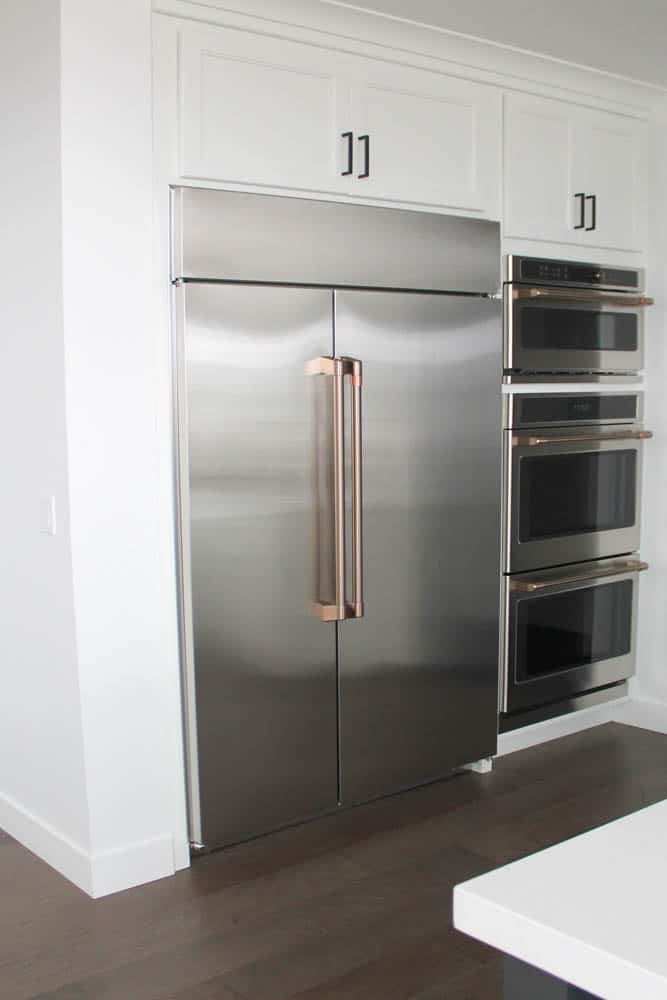 We plan on staying in this house forever, so I knew I wanted a large refrigerator and freezer.  Like I said, I love to entertain and with that comes the need for a lot of refrigeration space!  I think I literally started drooling when I saw this Café™ 48″ Smart Built-In Side-by-Side Refrigerator.  This fridge has so. much. storage.  The large door bins are life changing and free up so much shelf space for other items.  Another great feature of this fridge is the adjustable slide-out, spill proof glass shelves that easily shift and lock, and have raised edges to contain messes. They have saved me so many times!  I am going to be sharing some fridge organization tips and how we keep our fridge stocked and organized next month, so stay tuned!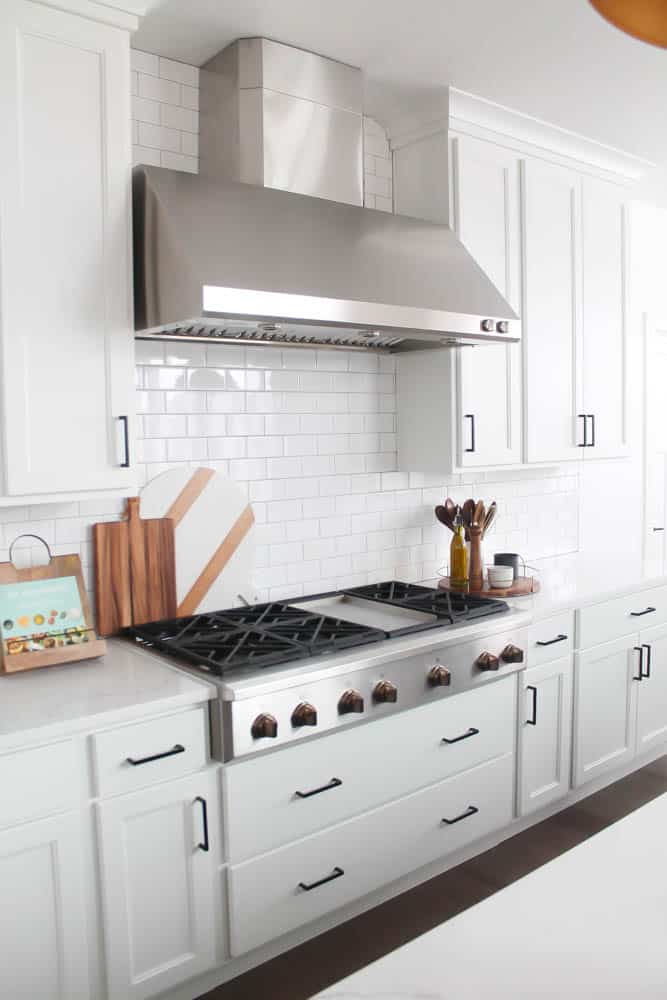 When I'm not scooping myself some nugget ice for my Diet Coke, I'm cooking at our range.
I wanted a large range with a lot of burners so we chose this Café™ 48″ Professional Gas Rangetop with 6 Burners and Griddle (Natural Gas) and Café™ 48″ Professional Hood.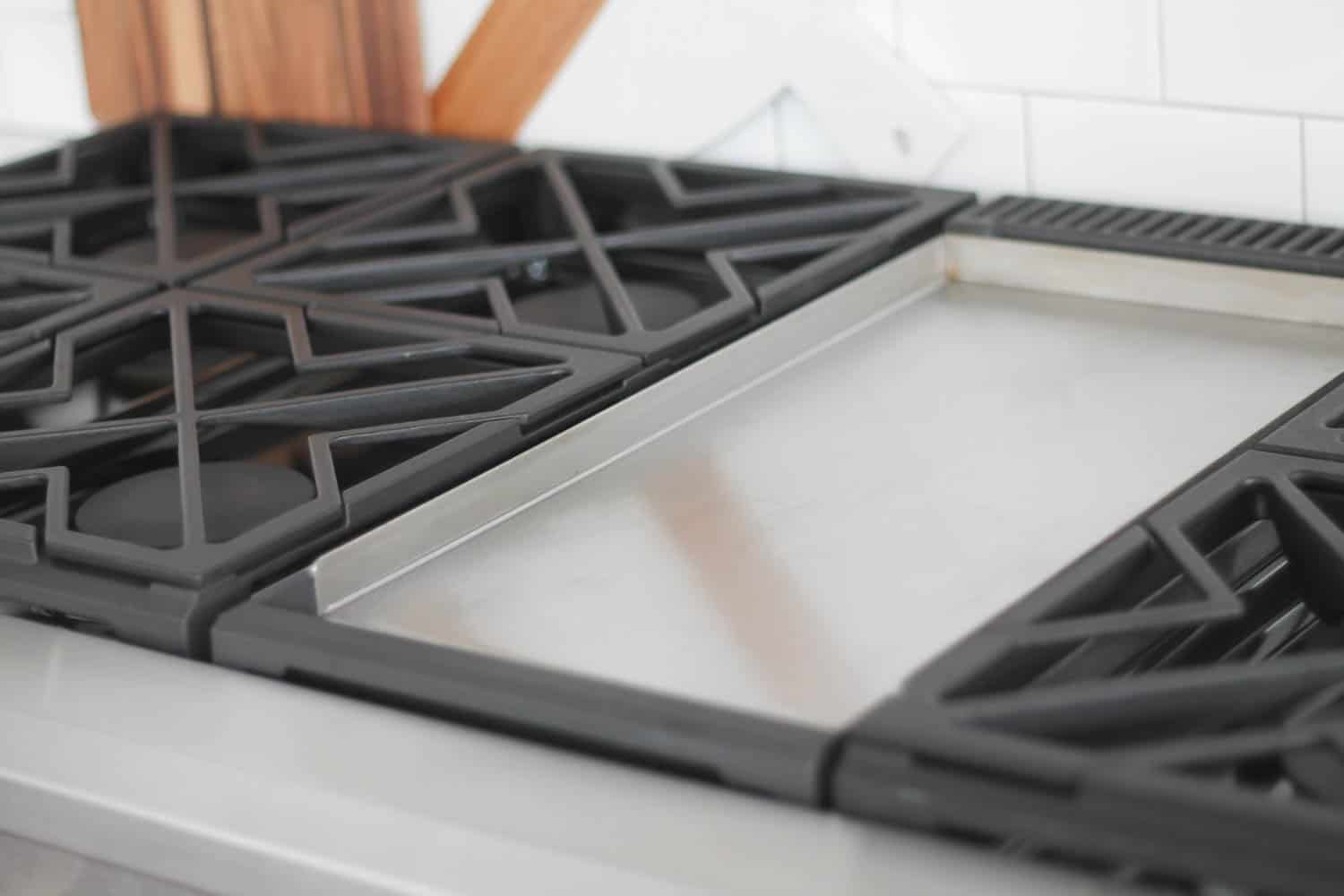 We make pancakes every morning on the stainless steel griddle.  It cooks them evenly because you can set the temperature and it's so easy to clean!  The cast iron grates are so sturdy so you don't have to worry about using heavy cookware.  The burners are sealed so it's easy to keep the cooktop clean which is so important for me (…recovering clean freak haha).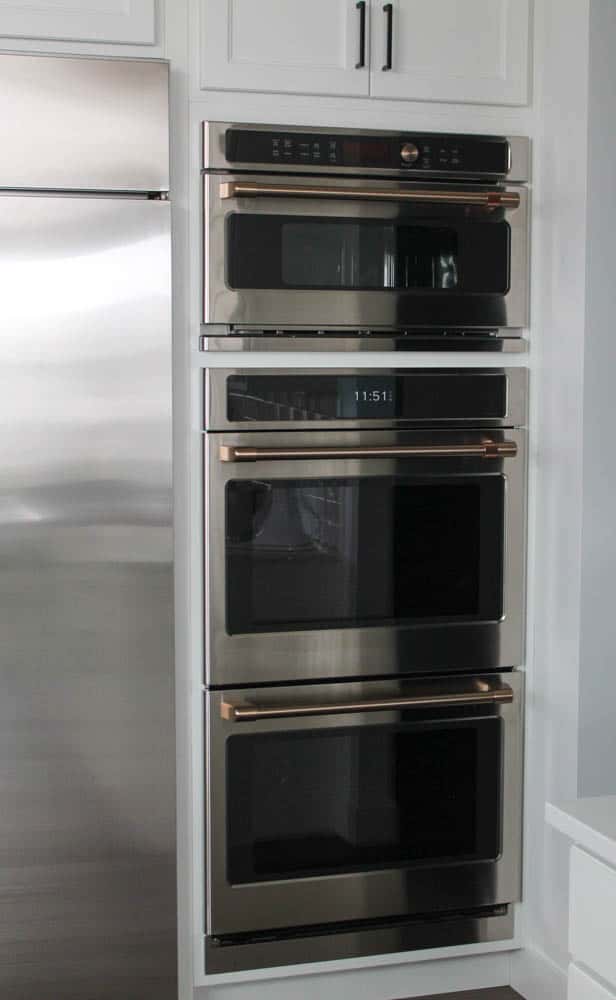 Have you ever been out running kids to all their activities or heading home after work and wishing the oven was already heating up so you could throw some dinner in the oven as soon as you are home?  I remember telling my husband a few years ago that I needed an oven I could preheat from my phone, and NOW I CAN using the Cafe Appliances Kitchen App and our Café™ 30″ Smart Double Wall Oven with Convection.  These ovens have a variety of cooking modes that eliminate the need for preheating.  My favorite mode is the crisping mode that perfectly crisps veggies and other foods (without oil) so they have the taste and texture of something that is fried, but without all the added fat and calories.
These ovens also have a full color, touch screen display so you can easily control all the oven settings from one place!  If you are wanting a smart oven with true convection and every extra feature you could ever want…. these are your ovens.  I still have some more experimenting to do with these but can't wait to show you more of their functionality!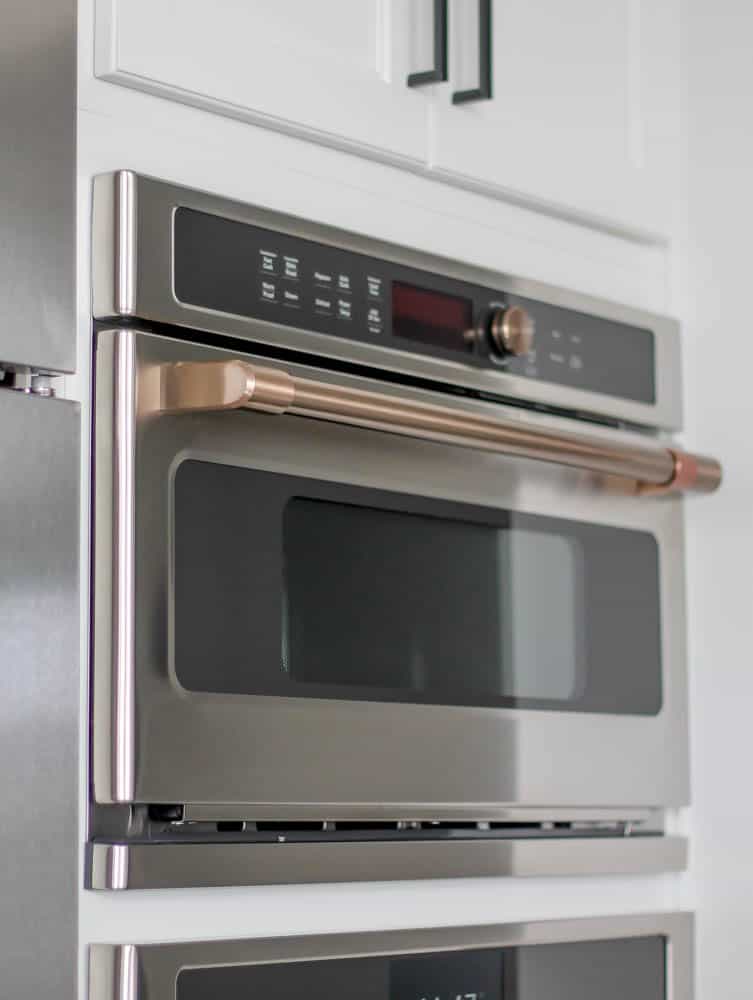 I have had so many questions about my "three ovens" in my cooking videos lately!  Although it looks like a third oven, it is technically a microwave on top!  The Café™ Built-In Microwave/Convection Oven has a convection cooking setting so you can get oven-quality results with convection and microwave cooking technology.
If you have a lot of mouths to feed, don't worry!  This microwave has 1.7 cubic feet of capacity so you can prepare large food in a hurry.  You can also customize your microwave with My Cycle, so it remembers the exact time and temperature settings of your favorite foods.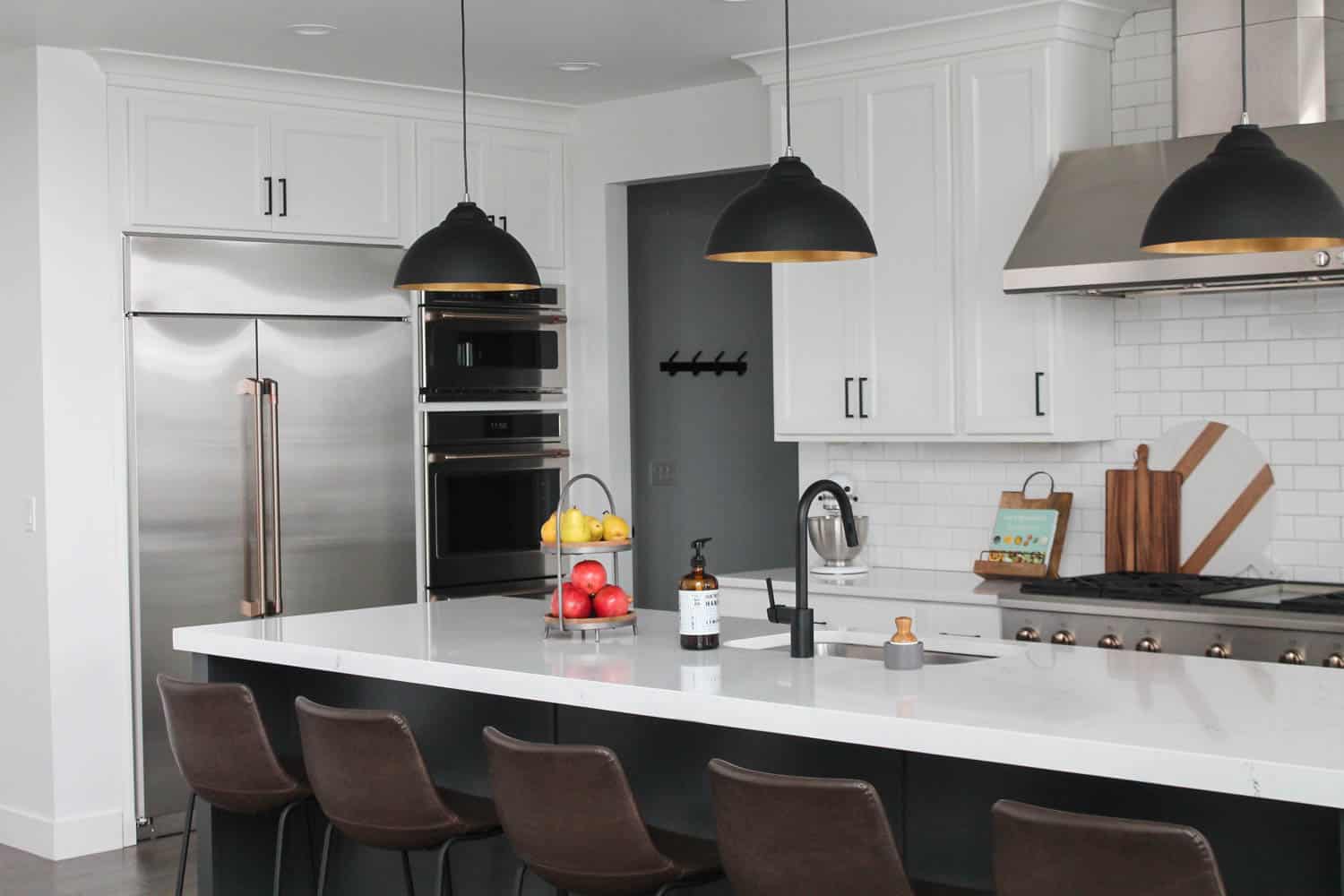 We couldn't be happier with our choice of appliances for our new home!  The service and quality has been the absolute best and they were the finishing touch our home needed.
If you are in the market for some new appliances, go to Café Appliances to see everything they have to offer!  We can't wait to show you more!