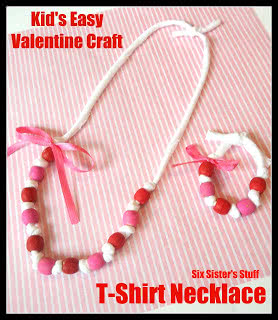 Valentine's Day is one of my most favorite holidays! My 4 year old daughter and I try and do some type of craft for every holiday so we decided to make a Valentine's Necklace out of an old t-shirt. My sister Camille made this cute
T-shirt Beach Necklace
in the summer so I decided to try something like it.
I had some old wooden beads that I got from a craft store (they are also at Walmart) and we painted them pink and red.
Next we got an old white T-shirt and cut a 1/2″-3/4″ strip (or strips if you want to make more than one). Once you have cut the strip, it should make a long skinny loop. Take that loop and stretch it out as far as you can- that is how you get the "tube" shape.
After making it tube shaped, I cut one end so I could thread my beads on. Make sure you tape an end with masking tape so your beads will go one easier. We did every other color and tied a knot in between each bead.
Then I tied the shirt string in the back making it her size and trimmed the extra material off.
I tied a little bow onto the necklace just to add a little something. Addy loved making it and is so excited to wear it to school!
We had some extra material and beads so we made a matching bracelet.