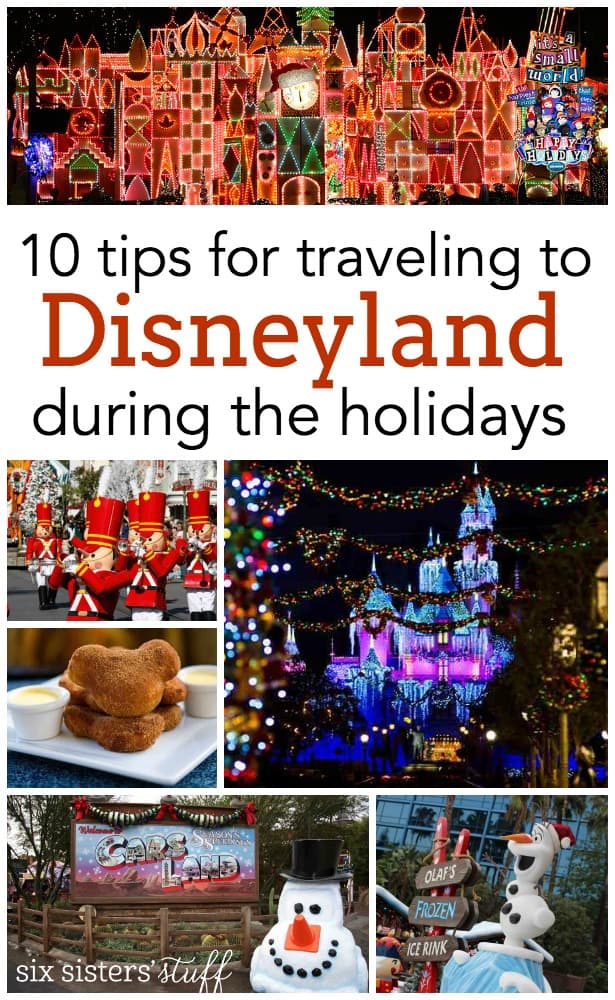 The holidays can be pretty stressful, so we make our holiday travel easier by booking our trips through Getaway Today!  They offer amazing package deals to your favorite destinations all over the world!
Disneyland can be absolutely magical during the holiday season!  The only downside can be fighting the crowds, so we've got a few tips to help you get the most of your trip!
1.  Avoid the weekends.  Weekends tend to be the busiest time at Disneyland year round but get especially busy during the holiday season.  If you can, try to travel to the park during the week to cut down on wait times in lines.  You can read more about the best time to visit the parks here.  The crowds are always smaller when the park first opens, so get there as early as possible to enjoy more time in the park.
2.  Stay at a Disneyland Resort hotel.  Add some extra magic to your trip by staying in a Disneyland Resort hotel!  You can book "in-room celebrations" to have a magical surprise waiting for your family when you get back to your room.  You will also have access to early park admission with "Extra Magic Hour" before the park opens to the public.  And of course, nothing beats walking out of your hotel room and being right in the park!
3.  Check out decorated holiday attractions.  Three attractions have are decorated for the holidays: It's A Small World Holiday, Haunted Mansion Holiday, and the "Jingle" Cruise.  Be sure to see the fun, festive decor on these rides!
4.  Enjoy all the holiday food!  Where do we even begin?!  Some of our favorite Disney holiday treats are the candy canes at Candy Palace on Main Street, U.S.A. and the Gingerbread Mickey Beignets from Mint Julep Bar.  Each person in our family gets a different treat and then we all share them so we can have a little taste of everything!
5.  Attend a tree lighting ceremony.  You can't miss the huge 60 foot tree on Main Street, U.S.A that has over 70,000 lights and 2,000 custom ornaments.  Every evening (around 5 p.m.) you can see the tree lighting ceremony complete with caroling and other Christmas magic!  There is a similar event each night in California Adventure.  You don't want to miss it!
6.  See the shows, parades and fireworks!  If you are in Disneyland during the holiday season, you can't miss "A Christmas Fantasy Parade" filled with all your favorite characters!
7.  Visit Cars Land.  Buena Vista Street and Cars Land have the most darling decorations you won't want to miss!  There are bell ringers and carolers that spread cheer throughout the park!
8.  Visit Santa.  Stop by Critter Country for a meet and greet with Santa!
9.  See the castle.  Sleeping Beauty's Winter Castle will be glowing with over 80,000 lights!
10.  Don't forget Downtown Disney!  You'll find beautiful decorations, live entertainment, and ice skating at The Disney Winter Village.  Also, may of the restaurants have their own seasonal food and treats.
Planning a trip to Disneyland? We?ve teamed up with Get Away Today to bring you deals on airfare, hotels, and vacation packages for your whole family. See how much you can save HERE.