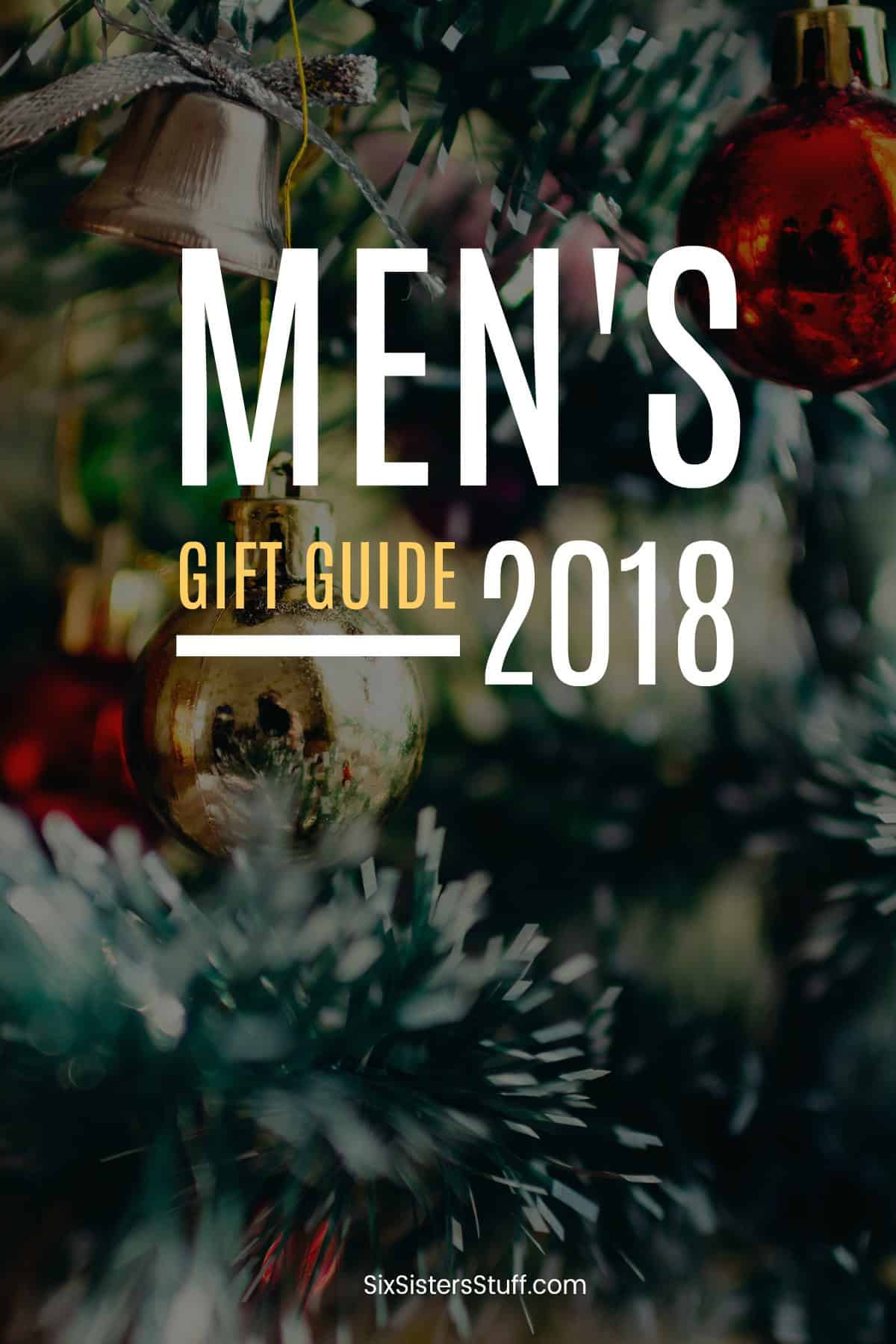 Anyone else think that shopping for men is always the hardest part of any holiday?
The six of us are constantly throwing around ideas of what to surprise our husbands with for birthdays, anniversaries, and pretty much every other holiday.
We've come up with some fun things over the years, and we wanted to know what you get for the men in your lives, so we asked the question to all of you.
Want to know the #1 response?
"I HAVE NO IDEA WHAT TO GET! PLEASE SHARE WHAT EVERYONE ELSE SAYS."
NO joke!
So we rounded up our favorite gifts and compiled them to help some of our other sisters out there. 😉
TOOLS. Every year we add to my husband's "stash" of tools. One year it was just a nice hammer and screwdrivers, and other years we've opted for full-on power-tools, but tools are always a safe bet!
BACKPACK. My husband actually asked for this one this year! I let him open it early so he could take it on our upcoming trip (and I made him take a picture for me).

FAVORITE MOVIE OR TV SHOWS. Star Wars, old seasons of his favorite TV shows (that aren't available to stream), and any Mission Impossible movies are always a safe bet at our house.
WORKOUT EQUIPMENT. Whether it's an accessory or system, workout equipment is always a win (especially with new years just around the corner!). These TRX straps were highly recommended as well as Hydroflask water bottles (does that count as workout equipment? I don't know).
GRILL or SMOKER. A bigger ticket item, for sure, but ALWAYS a good idea for everyone involved 😉 We love this bad boy from Camp Chef.  (That's how we make our brisket!).If you already splurged on a grill, grill accessories (like these baskets) or seasonings are a good idea, too.
VACATION. Get out! Book a one-night hotel where you live, stay at a friend's cabin, or jet to somewhere fun (we'd recommend Kauai) without kids. No matter your budget, you can make it work (even if you have to do a kid-swap with your friends!).
GOLF CLUBS. Another big ticket item, but a fun surprise! If your fella's golf clubs are up to date, maybe just a new driver, balls, tees, or gloves.
FUN TOY. Every year I throw in a fun toy. We've done these helicopters, or these remote control cars that drive on walls!
SEASON PASS. Whether the men in your life love golfing, skiing, or even going to the movies, a season pass can be the perfect gift.
SOMETHING TO READ. Some of the books we'd recommend for men: Phil Knight's Shoe Dog or Capital Gaines by Chip Gaines (okay, I read this one, too and loved it). If he's not into reading, try an Audible subscription for listening on the go. Perfect if he has long commutes.
Stocking stuffers:
Here are some of our favorite stocking stuffers for men:
SOCKS. Simple, basic, but definitely needed. We love the fun socks you can get from Pair of Thieves or Stance.
TICKETS. Whether the men in your life are in to concerts, art galleries, basketball games, or movies, tickets are a great stocking stuffer that can be small and meaningful or some pretty sweet (and maybe pricier) experiences.

POWER BANK. If you've followed me for a while, you know how much I swear by my power bank! You can find them anywhere, but my husband loves the sleek design of this Ridge one.
HEADPHONES. I'm not sure how or why, but I think Andrew has gotten headphones in his stocking the last four years. You can never have too many. We love these wired ones, but we love these over the ear ones, and you can never go wrong with Air Pods (I know a few husbands who are getting these for Christmas this year).
WALLET. We love the simple look of Thread Wallets or these RFID blocking ones.
WATCH. This doesn't necessarily need to go in a stocking, but it can fit! My husband loves his Fossil Smart Watch for every day. I love ARVO watches for "nicer" occasions (aka when I tell him he can't wear his smart watch in our family photos).
PHONE CASE. My husband has lost his phone case more than once. It's always nice to have a backup on hand (or to replace it if it breaks!).

A NEW TIE. Andrew is pretty particular about his ties, but I can always help him update his wardrobe with the excuse of a holiday! We love these ties (and they even have MATCHING ONES for the little fellas in your life, too!).
RING. Have you seen these silicone rings yet? They're perfect for wearing to the gym or while traveling, and you don't really have to worry about them getting lost or creating a problem.
GAME. We always get a new game or two to play as a family on Christmas, and this year it's this stocking-size one.
NEW BELT. Probably in the same category as socks or ties, but sometimes it's more of a necessity than a want. This one has rave reviews and comes in almost every color.
What's are you getting for the men in your life this year? Leave a comment below – we'd love to hear!