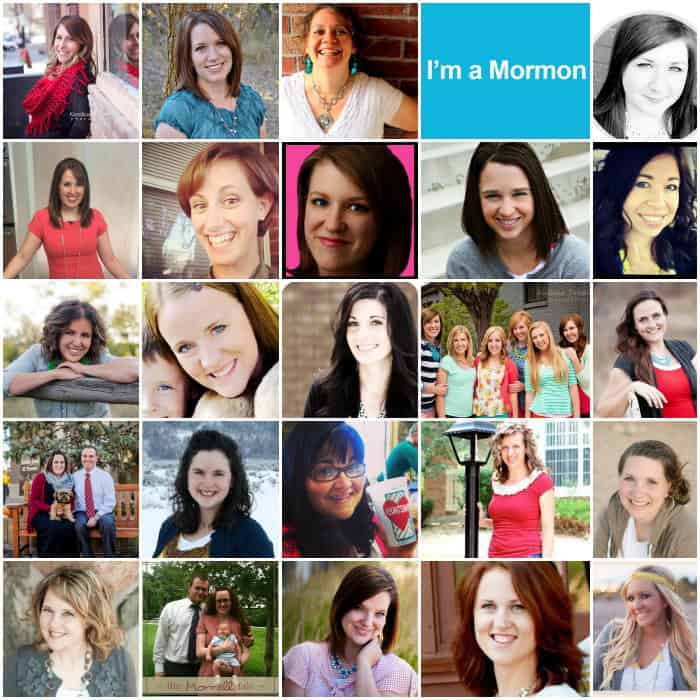 This is definitely not one of our usual posts, but it is something very near and dear to our hearts. As many of you may have noticed by now, we are members of The Church of Jesus Christ of Latter-Day Saints, or as many people refer to us – Mormons. You may have seen the "We Believe" button in our side bar, or caught a glimpse of it from our "About Us" page. Although we don't get too personal on our blog, our beliefs are a driving force in our lives. Essentially, our beliefs are what led us to start this blog, and we want to share with you that story today.
This post is not meant to sell you a product. It is no way, shape, or form sponsored! 😉 We are not speaking on behalf of The LDS church, but we are sharing our thoughts and feelings of our hearts. Some of you may not care, and that's fine. Some of you may be angry for sharing such personal stories – if so, we ask that you move on to the next post. We try our best to be respectful of all religions and people everywhere, and we ask the courtesy that you do the same. We truly appreciate all of your support – we would not be what we are today without each and every one of you. Why we may not know all of you personally, we love you. And because we love you, we wanted to share our story with you.
This is our family.
As you can tell, there are a lot of us – but we like it that way. 🙂 This photo was taken on Stephanie's wedding day last August. Since then, we've even added one more baby girl to the family who we love with all our hearts.
Rewind a few years to spring 2009. The three youngest sisters were still living at home, but times were tough. Our dad had started a business that was doing well a few years earlier – until the recession hit. And then his business partner left him – high and dry – to pick up the pieces, including all of the business expenses. He was trying to keep the business going despite many bumps in the road, but with little success and a LOT of stress. One Sunday in May, he realized that he was having quite a bit of leg pain (actually, it had been going on for weeks). The next morning, he went to the doctor where they did an ultrasound and put him on some blood thinners in fear that it was a blood clot. He returned home, but later that night he starting having a lot of chest pain. A few minutes later, he could barely breathe at all. Our mom immediately rushed him to the emergency room, but he was in serious trouble.  After running many tests, we were told that he had an 8 inch Pulmonary Embolism (or a blood clot) that was bigger around than a thumb and it was bridged over both lungs. Not only that, but there were more clots in his lungs and in his leg that were on the verge of breaking off and racing to other areas, which could kill him. With each doctor that came in to his room and read his charts, each would comment about his condition – "I can't even believe you made it here," they would say. Or "you are one lucky guy!"
However, his road was far from over. The doctors kept our dad sedated and on lots of medications. He was quite groggy, but he still struggled for every single breath. Our family began fasting and praying for his well being, but with each passing day, there was no hopeful news. The doctors just kept thinning his blood, making it impossible to perform surgery to put in a mechanism which would block blood clots from traveling, but his clots were not shrinking. Then, his lungs began to show signs of pneumonia, and other organs were starting to show signs of failure due to the blood clots. Our dad was serving as the leader of a stake in the church at the time (a stake is a group of a few congregations), and many members of the stake began to fast and pray for him as well. A special trip to the nearby LDS temple was planned to pray and ask for blessings from the Lord on his behalf.
On the night of the temple trip, things were looking very bleak.  The pneumonia was looking worse, and his organs weren't improving. While our dad lay sleeping, our mom sat in a chair at his dimly-lit bedside. It had been a hard day, and an even longer week. He just wasn't improving. While she sat quietly in the corner, pleading with God and offering silent prayers of help and comfort – my dad awoke from his sleep. Our mom, glancing at the clock, knew that the members of our stake were just leaving the temple. She told him they had gone to pray for him and to ask for blessings of healing, and he just smiled, closed his eyes, and drifted off to sleep again. Not more than 10 minutes later – two doctors entered his room. One came to report that the pneumonia was gone. Another came to report that his latest tests showed great signs of improvement. Just 4 days later, he was completely released from the hospital to recover at home. We firmly believe in the power of prayer and fasting. We know that our dad was healed because of the many prayers offered in faith in his behalf.
But that's not even the end of the story. While our dad was in the hospital, he was completely unable to work. Our mom only worked part-time during that period, and so there was not a lot of money coming in. In addition, with my dad being self-employed, he did not have health insurance. The medical bills were piling higher and higher as the days went on. A few weeks after he was released from the hospital, he received a phone call from the hospital. They informed him that he was chosen to receive special assistance from a charitable fund at the hospital, and ALL his medical expenses would be covered. We know without a doubt that it was a blessing from on high.

The next year, our dad struggled to get back on his feet. While his health was getting better as each day wore on, the search for stable employment was not going well. After selling what was left of his company, he applied for job after job after job, with each interview ending the same way "You're just overqualified, and we can't pay you what you deserve." It was heartbreaking to watch.

Then in 2011, we started our blog. We really used it as a way to strengthen our relationships with each other because we were starting to be pulled in all different directions. One sister was moving to California, another one was just starting college, and another one was headed to Missouri with her family. We started posting recipes that our kids liked, crafts we had made, and things we found useful to keep our families entertained. As we watched the little ticker in our sidebar that showed where people were coming from – we started to notice that people were visiting from all over the nation – and then from all over the world. We took it to our dad (who has a background in computers and business) and asked him how we could turn this into a little business for us. But we think the Lord had bigger plans in store. Over the next six months, we went from 10,000 pageviews a day to HUNDREDS of THOUSANDS of pageviews a day. Eventually, we were able to hire our dad, and what a blessing he has been to us! As we grew, we were then able to hire our Uncle and our neighbor (who were both struggling from the recession). Then we were able to hire our mom. Between all our websites and projects, we have now been able to employ 27 other people. We know that we would not have been able to do it without the help of God. While we owe a lot to you, our readers, we owe even more to Him for blessing us beyond our wildest dreams.
We are firm believers in the importance of family relationships, and we have found that the most joy, happiness and love comes through strengthening those family bonds. We've seen that as we have been able to work together to inspire others as well.

We are six sisters. We blog. We bake. We are Mormons.
We don't share to diminish your religion, beliefs, or life experience, but we share to add to what you already know to be true. To strengthen your faith in God and in His mercy. And now, just as Christ invited two of His disciples in John 1:39, we invite you to "come and see" – we've teamed up with 65+ more Mormon bloggers who are sharing their personal testimonies, stories of their own personal conversions, and  stories of how following our Savior, Jesus Christ has changed their lives. The light of the gospel of Jesus Christ offers a joy and hope that only following Him can provide. We hope as you click through and read their stories and testimonies of the Church of Jesus Christ of Latter Day Saints, you will feel uplifted and encouraged. We are by you! We love connecting with our readers, that is why many of us do what we do! Again, please be kind and considerate in your comments. It takes great bravery for us to open our hearts and our mouths to share with you such a tender and personal part of who we are. We share because we feel strongly the need to share the peace and the hope that is the Gospel of Jesus Christ.
We are proud of this part of who we are! And all of us wish to extend an invitation to all of you to see a film. A film entitled "Meet The Mormons". This film is not meant to be an "in your face" – you must join our church film. It is simply designed and produced to uplift and inspire you through six stories of those of our faith who have followed promptings to follow Christ more fully in their lives. We hope you take the opportunity to enjoy this film. We hope your hearts are made light as you feel the goodness that comes from following our Christ and Savior. All proceeds from the film will be donated to The American Red Cross. So not only will you be uplifted and inspired, your money will be going to an amazing charity!!
Scroll through all the photos below and click on the links next to the names to read more inspiring and uplifting stories.
Adrienne | Free Time Frolics , Camille | Chicken Scratch n' Sniff , Natalie & Rebekah | House of Sprinkles , Kathleen| Fearlessly Creative Moms
Emily | The Benson Street , Staci | The Potter's Place, Alyssa | Alyssa.Marie , Kristen | Capturing Joy , Aly | Entirely Eventful Day
Katie | Clarks Condensed, Larissa | Just Another Day In Paradise , Camille | My Mommy Style , Candice | She's Crafty
Anita | Live Like You Are Rich, Landee | Landee Lu , Tara & Devin | Salt & Pepper Moms , Mallory & Savannah | Classy Clutter Kelli & Kristi| Lolly Jane
McKenzie | Girl Loves Glam , Pam & Lisa | Over The Big Moon , Melanie | Forty Eighteen , Sky | Capital B Adell | Baked in Arizona
Andie | Maybe I Will , Shatzi | Love and Laundry , Robyn | Create it Go , Rachel | R & R Workshop
Tiffany | Feel Great In 8 , Katelyn | What Up Fagens? , Brittany | BrittanyBullen , Ginger | Ginger Snap Crafts , Stephanie | Crafting In The Rain
Chelsey | Cee Me Be , Amber | Crazy Little Projects , Kallie | Smitten By, Elyse, Kristen, Lauren, Steph, Kendra & Camille | Six Sisters Stuff Annette | Tips From A Typical Mom
Amberly | Life With Amberly & Joe , Taralyn | Keep Moving Forward With Me , Jessica | What Does The Cox Say? , Lisa | Mabey She Made It , Kiki | Kiki & Company
Kierste | Simply Kierste , Tayler | The Morrell Tale, Jennifer | My Daylights , Cambria | Live To Be Inspired, Danielle | Today's The Best Day
Amber | Dessert Now Dinner Later, Natalie | The Creative Mom, Bobbie | A Vision To Remember , Becky | Babes In Hairland
Lisa | Pebbles & Pigtails , Mandy | Sugar Bee Crafts , Krista | Reclaim, Renew, Remodel , Wendy | Musings, Miracles, and Mayhem
Nat & Holly | My Sister's Suitcase, Britni| Play.Party.Pin , Montserrat | Cranial Hiccups , Heidi | A Lively Hope , Ashley & Meegan | Flats to Flip Flops
Alexis | We Like to Learn As We Go, Amy | The English Geek , Mariel | Or So She Says Carrian | Oh Sweet Basil
Kirtley | The Gist of Fit | Aubrey | Dreaming of Someday, Natalie| The Messanos, Angela | Handmade In The Heartland
Are you also a member of The Church of Jesus Christ of Latter Day Saints and would like to share your Mormon.org profile as an added testimony? Feel free to link up your profile!!
If you have any questions for us (especially after this post!) we would love to hear from you. One of the sisters personally answers all the emails we receive. Please send them to SixSistersStuff at gmail dot com.