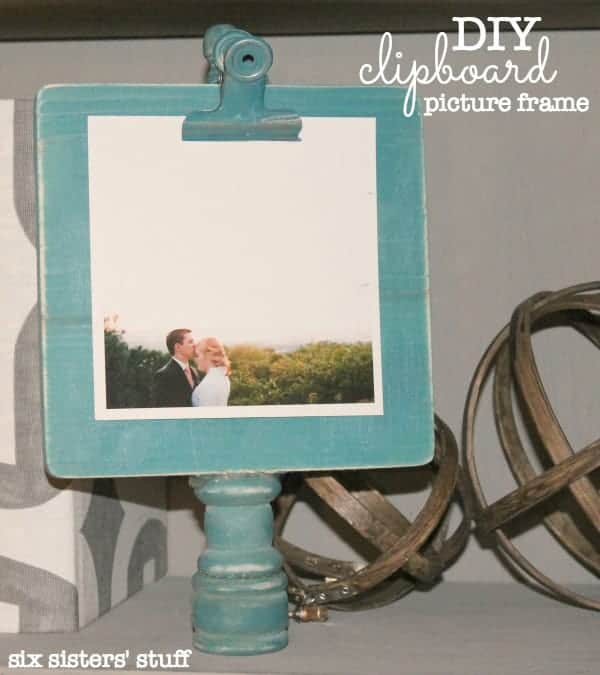 I was at the store other day and I saw the cutest clipboard picture frame. I immediately fell in love with it! I picked it up to look at the price – and it was seriously $35. Which I was NOT willing to pay!! I decided I could make one on my own – and I loved the way it turned out! (Don't mind the pictures – it's been a snow storm and I had to take them all indoors with a flash!)
Here's what I used: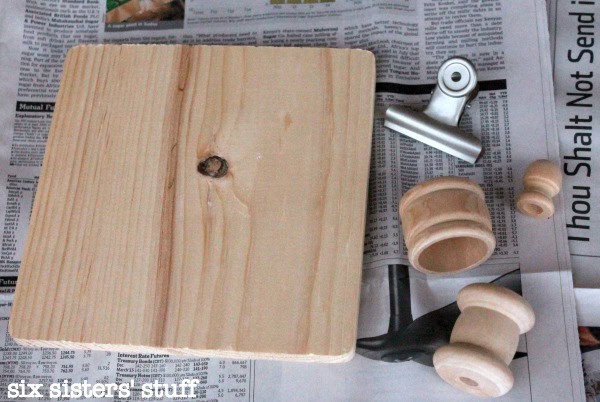 1 6″x6″ wood square (I found this in the wood section of Michael's for $3.50)
1 silver clip (I found this one in the clearance section in a pack of 5 for $3!)
Wooden piece for the top (I found that little one in a pack of two for $0.99)
Wooden pieces for the bottom (I decided to glue those two together – they were $1 each – but you could also use a candle stick bottom)
Paint or stain
Sandpaper (optional)
Glue gun
Directions:
Paint all the wood pieces (and the clip if you want!).
Once dry, you can sand the edges (I did this to give it a more unfinished look) – but you don't need to.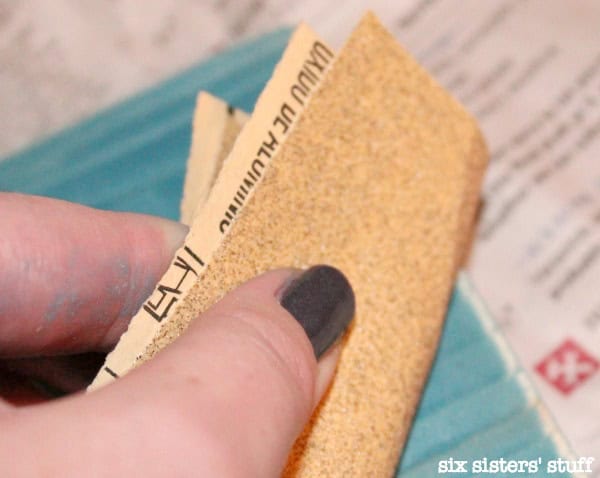 Next, I glued the bottom round pieces together with a glue gun (you could also use wood glue) and then I glued the square piece to the bottom piece. I glued the tiny knob to the top, and then the clip to the front.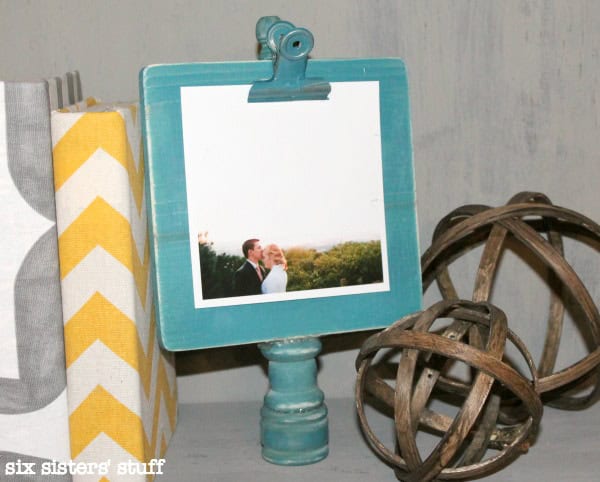 I made sure it was completely dry, and then I clipped my picture to the front (it's one of my favorites from my wedding – that Kenton Anderson is AMAZING!). And voila! You are done! Under $10 and finished in under an hour – now that's my kind of craft!
Looking for more simple ways to spruce up your home? We love this easy 5-step list for dressing up your kitchen sink (especially when you have guests on your way over for the holidays!).

Inspired by Softsoap?s new Décor Collection liquid hand soap line, these 5 simple ways not only make a small but pleasant difference. With delicious scents like Peony & Plum, Orchid Petals & Mint Water, and Wild Basil & Lime in beautiful packaging, They are a great way to treat yourself, your guests, and your sink!