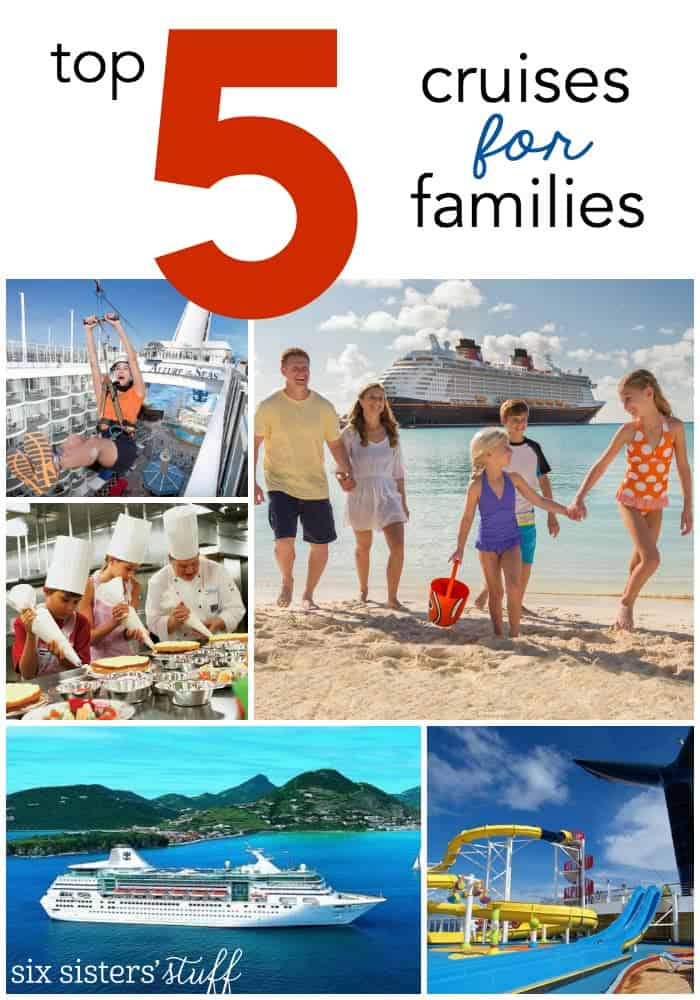 Last year, we left the freezing winter of Utah and went on a cruise with our whole extended family!  We love going on cruises because they are a really affordable way to travel with families.   We book our cruises through Get Away Today to get the lowest possible price possible. Get Away Today is the cruise vacation expert. They offer cruise deals on all of your favorite cruise lines including Carnival Cruise Line, Royal Caribbean Cruise Line, Celebrity, Disney Cruise Line, Princess Cruise Line and more. With three of the six of us having kids, we wanted to be sure to find a ship and cruise destination that was family friendly.
Here are our picks for the top 5 cruise lines and destinations for families: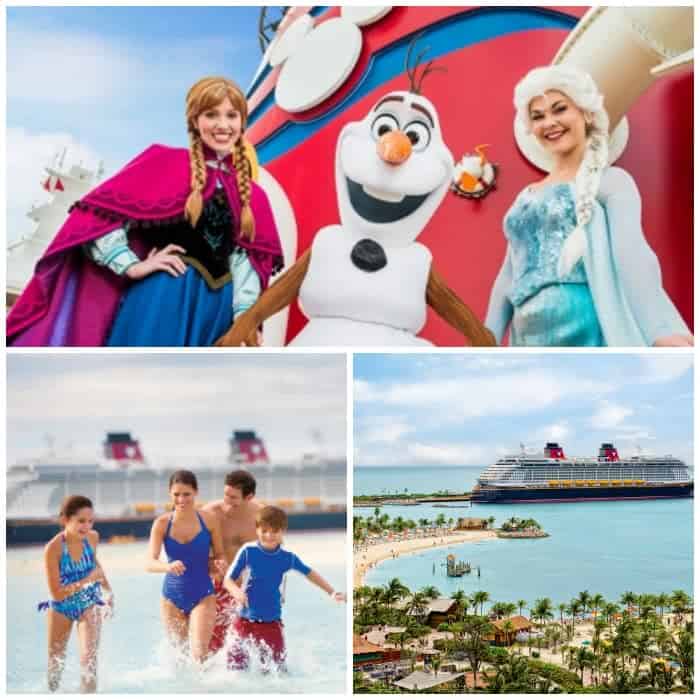 Disney Cruises are the absolute BEST cruises for families.  Every minute of a Disney cruise is filled to the brim with parties, character meet n' greets, musicals, tours, movies, games and on board entertainment!  On board, you'll discover amazing kids' clubs where kids can play from sunup until long after sundown with care provided by specially trained Disney counselors.
Disney Cruise Line also offers the most spacious staterooms at sea, and trust us, if you are traveling with kids this is A MUST!
Most Caribbean and Bahamian sailings stop at Disney's private island, Castaway Cay, which has unique areas for every member of the family to enjoy.
If you've ever eaten at the restaurants in a Disney park, you can only imagine what the food on board is like.  There is a large variety of restaurants for every taste as well as 24-hour complimentary room service.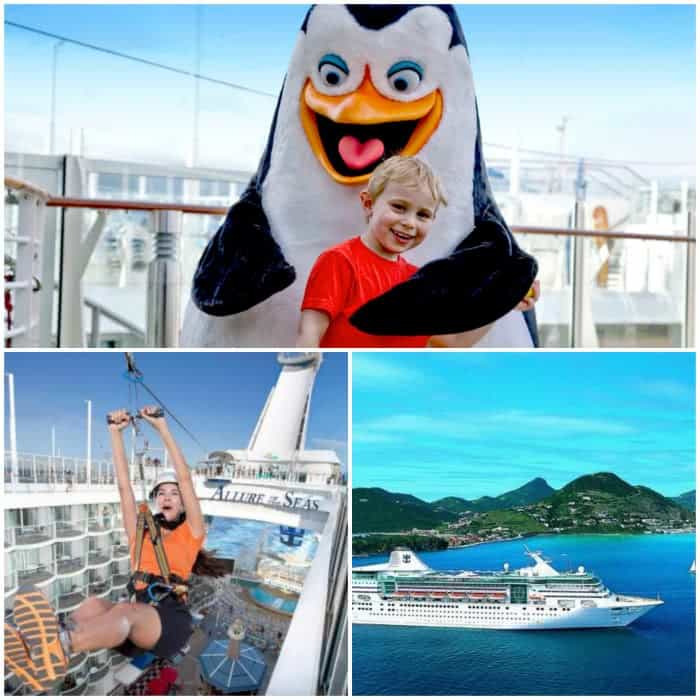 Royal Caribbean Cruise Line

My husband and I went on a Royal Caribbean cruise for our honeymoon and were so impressed!  Royal Caribbean travels to destinations all over the world and the ships are so beautiful, clean and filled with fun activities your entire family will enjoy!
With zip-lines, iFly, rock climbing, Flowrider and so much more, there is never a dull moment on a Royal Caribbean cruise!  If you have little ones, they will love having some of their favorite DreamWorks characters on board!  You can enjoy the DreamWorks experience aboard 5 of the Royal Caribbean ships.  From trivia, to scavenger hunts, to dining with your favorite character to themed family activities and more ? your vacation will be filled with tons of adventure with the DreamWorks Experience.
Royal Caribbean has also teamed up with Universal Orlando Resort for an exclusive vacation package.  You can book a package to stay a few nights at a Universal Orlando Resort Hotel (and visit the theme parks with early admission!) and then be taken to your port where you will board a Royal Caribbean cruise to the Bahamas or other parts of the Caribbean!  Sounds like the ultimate family vacation!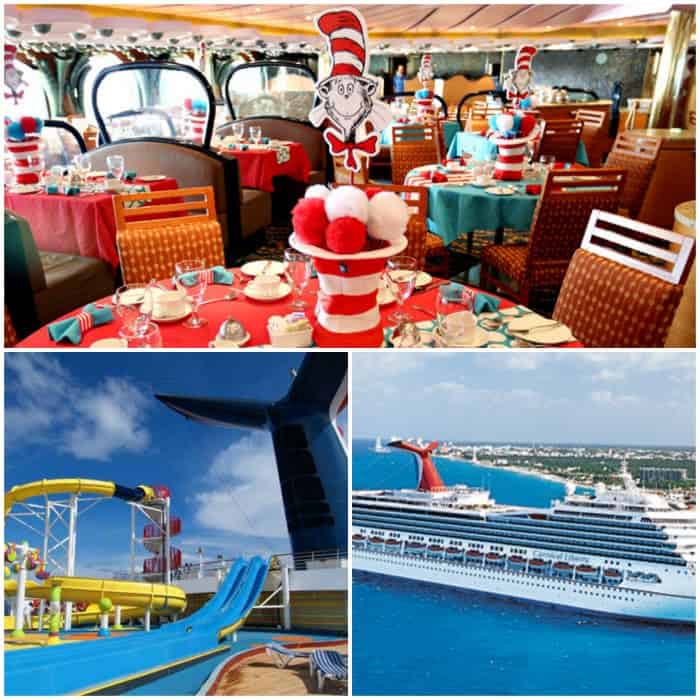 Carnival offers the most budget friendly cruising experience, which can help when you are traveling with a family.  We took a Carnival cruise to Mexico with our three kids (ages 5, 3 and 1) and had a blast!  Our favorite part was the awesome kids club, Camp Carnival!  Our kids loved when we would take them and ask to back every single day and would tell us about all the fun things they did while we were gone.  There were even some nights that we could select dinner from a menu for our kids to eat while there and we got to enjoy a romantic, kid-free dinner!
If your kids love Dr. Seuss, they will love Seuss at Sea!  You can attend a Green Eggs and Ham breakfast, watch the Suess-a-palooza parade, or attend Suess-a-palooza story time!
Carnival also boasts some of the most epic waterparks, waterslides and on board activities.  Did I mention there is an IMAX movie theater on board some of the ships?  So cool!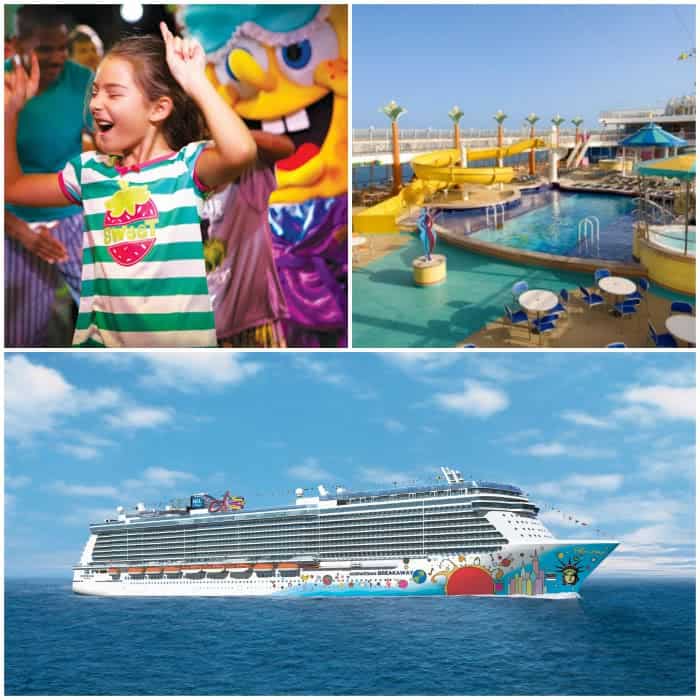 Norwegian's casual atmosphere makes it a great choice for families with kids of any age. Norwegian's newest ships, along with Norwegian Epic, offer all the mega-ship bells and whistles families have come to expect.
Norwegian offers a Splash Academy for kids ages 3-12, where they can do arts and crafts, sing karaoke and play video games.  Babies from 6 months-2 years can enjoy the small nursery play areas.  Teenagers can unwind in the space for teens 13-17 which has air hockey, video games, flat-screen TVs and a teens-only nightclub at night.
Some of the popular activities on the ships include rock-climbing and rappelling walls, bowling lanes and water parks with HUGE water slides.  The Norwegian Epics also hosts Blue Man Group, which is a great show for kids of all ages.  You can also find the Nickelodeon at Sea program where kids can meet and eat with characters like SpongeBob SquarePants!  One of the best things about cruising with Norwegian is that they offer two-bedroom villas!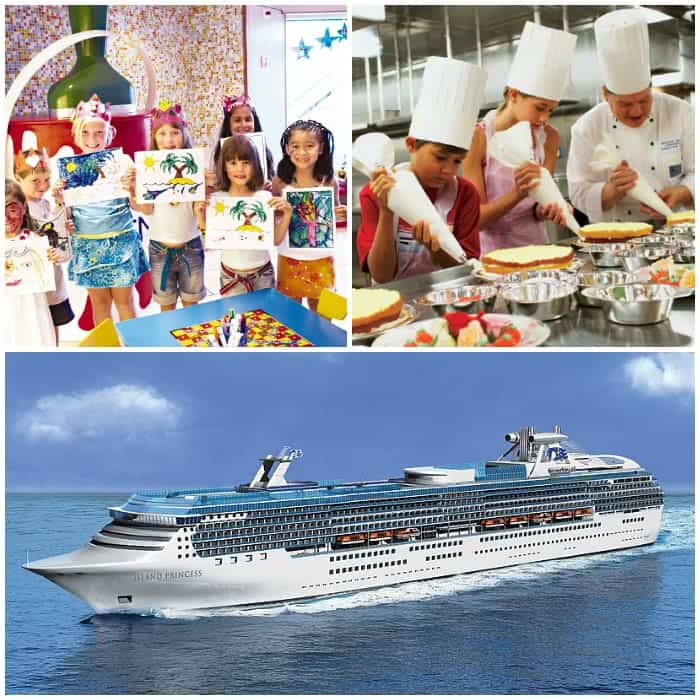 Princess Cruise Line
Princess' ships were designed with families in mind.  Princess's newest and largest ship, Royal Princess, has expanded kids club spaces, more dining options, a batting cage, laser shooting range and a bigger pool deck with a water and light show!  Princess Pelicans, kids ages 3-7, can enjoy arts and crafts like t-shirt painting, dance parties and a variety of games.  Shockwaves, kids ages 8-12, are entertained with scavenger hunts and science programs, and a junior chef program.  Remix, ages 13-17, features dance parties, dance lessons, foosball, skee-ball, shipboard Olympics and karaoke.  Between all the different activities offer and shore excursions, your family is sure to enjoy their Princess cruise!
Princess Cruises lets you choose between traditional cruise dining (same table, same time each night) or anytime dining (flexible dining between 5:30 p.m. and 10 p.m.). The poolside cinema also features kid-friendly matinees.
Planning a Cruise? We?ve teamed up with Get Away Today to bring you deals on airfare, hotels, and vacation packages for your whole family. See how much you can save HERE.